Post by Matt Draven on Mar 24, 2019 23:00:03 GMT -5
Suicide Watch
Episode 4O2 Arena
London, England
March 25th, 2019
The camera fades in to a scene of Matt Draven standing in the center of a WCF ring in an empty O2 arena. Dressed in his ring gear, and sporting a John Rabid t-shirt, Matt had his hands in the pockets of his tailor made cargo shorts as he slowly rotated about. It wasn't until he was facing the camera did this odd fellow tear his gaze away from the twenty thousand empty seats that surround him. With an incredibly cocky grin on his face it was clear he was feeling good despite the loss to Odin Balfore a week ago,
Matt Draven:
"YO YO! YO! Dub-See-Eff Galaxy! It's ya boi ol' Draven-daddy here and I got a couple of things to say before I tackle the challenge of opening Dub-See-Eff's Kingdom Come tonight here in London!
Ya see, I got myself a pretty interesting situation. On one hand I get to prove why
I
am the biggest damn draw this company has had in a while. On the other, I gotta put the boots to one half of the most interesting thing to happen to the place since I made ol' Rhab famous. Now I'mma break it down. Tonight I square off against Tempest Razazoomzoom and I gotta admit I'm a bit underwhelmed with the prospect.
Now get me twisted, she has been okay in the entertaining department with all her BDSM and stripper nonsense. It just it takes a bit more that for people to take actual notice of ya. Sure she and her little partner did away with Noblizzles, but is that really such a loss when a can of baked beans was more relevant than she?
I'm not thinkin' so.
Other than that she haven't really done jack. Granted some arrogant pricks could say the same about me, but to them I say I'm
STILL
the Dub-See-Eff Tag Team Champion! You don't have to like it, but you
DO
have to deal with it!
Now back to Razazoomzoom,
Now, as I was sayin' before I strayed off course, Razasoomsoom and her partner just
HAVEN'T
done anything of note despite their talk. They haven't destroyed anyone. They haven't offed anybody. Hell, they haven't done
anything
other than act like silly little girls with some major frickin' daddy issues.
The sadism shizzles?
The talk of witchcraft and whatnot?
Doesn't mean a thing to me. In fact, I've grown pretty accustomed to the shizzle after traveling around with a legit witch and seein' some pretty gnarly shizzle. Plus it doesn't help that we got legit gods, monsters, and whatever else runnin' about here in the Dub-See-Eff. Also, they claim to be satanists. To that I say; cool, which type are ya? Cause there's like five different types of satan loving nutjobs runnin' around this planet of ours.
What's up with that?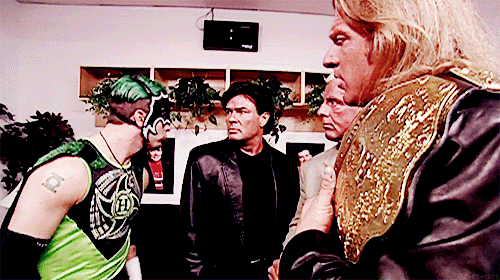 Anyway it doesn't matter if you're one of them Traditional Satanists, a Theistic Satanist, a follower of the LeVayen way, into SpiritualSatanism, or y'all walk the Sinister Path. Cause at the end of the night I'mma still kick your ass tonight here in this very ring!
Tempest Razazoomzoom, ya haven't been through
anything
quite like the Dub-See-Eff! The two matches that ya and your girl have had have shown me that. Ultimate Destroyer and Scotty
STILL
don't know what the flip is goin' on. Those two dudes from Victoria Secret or whatever? Yeah, there's a reason why they aren't spoken of let alone seen most of the time. They're just trash. However, I ain't like them. Sure I like to goof around and have a little too much fun, but when the chips are down and it's time to rock? There just isn't anyone that can compare to ol' Draven-daddy here.
Now I'm sure you're sittin' there, underneath whatever rock ya crawled out of, and you're wonderin' how I can be so damn confident in myself. Well, it's pretty damn simple Razazoomzoom. I've stood in the ring against some of them
BEST
that Dub-See-Eff can offer. Sure I haven't always come out on top with the Dub, but I have have always learned from these encounters. In fact, I could probably end this video and just show with a montage f clips from all of these badass matches. However, that would be pretty damn lazy and I ain't a lazy fella. Appearances be damned!
Now let's do a recap on what each of us has done thus far in the Dub-See-Eff.
Razazoomzoom, ya and your girl rolled ol' Noblizzle up like a burrtio and managed to get a Dub over a couple pairs over legit jobbers.
My turn. I've faced ol' Odinman, pinned Stephen Singh, made Lady Rhab relevant, made a can of baked beans more important than Noblizzle had been as Dub-See-Eff champ, and won the tag straps before Corestor Black decided that to deactivate them.
SO yeah, this shizzle ain't lookin' good for ya Razazoominatior. In fact, this panicky feeling you're startin' to feel is just your body's way of gettin' ready for the one; the only;
THE
Draven Effect!
Draven out!"
After finally ending his overly exaggerated rant, Matt removed his hands from the pockets of his shorts and walked over to the camera. He then grabbed onto the camera before quickly swinging his head forward to blot out the lens with his hair! It was there that the video cut.