Post by pythoness on Mar 16, 2019 22:13:36 GMT -5
Noa Kanon RP
Monday Night Slam 3/18/19
Xanadu Circle vs. Scott Slayer & Ultimate Destroyer
"Lust in F Sharp"
------------------------------------------------------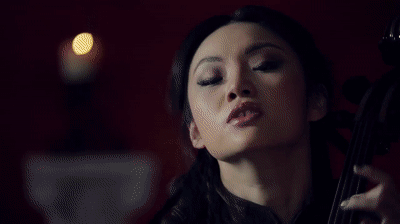 WCF.com exclusive! A clip is shown from a house show taking place over the weekend at some piece of shit town not too far from Casper, Wyoming.
The footage fades in half way through a mind-numbingly boring match that our commentators are trying desperately to make sound entertaining.
FREDDY WHOA:
"Oh my GOD! El Cerdo Extremo, with a vicious teabag to the face of Gustaw Koral! My God!"
ZACH DAVIS:
"My God is right! I'd hate to be on the receiving end of THAT move! Even if El Cerdo Extremo DIDN'T drop his pants to do it."
FREDDY WHOA:
"Whoa! What's this?"
ZACH DAVIS:
"Are you kidding me?"
The underwhelmed WCF Galaxy turns their attention away from the match as dozens of hooded women start to pour in to the crowd from the concession areas. Even the two men in the ring stop minding each other to look out into the crowd.
FREDDY WHOA: Looks like the University of Wyoming Indoor Tennis Complex is Haunted!"
ZACH DAVIS:
"You know what I just realized, Freddy?"
FREDDY WHOA:
"That I just inadvertently spelled U-WITCH?"
ZACH DAVIS:
"That we're doing commentary for a fucking college show."
The hooded women pour into ring side from the crowd and flood the ring. They grab El Cerdo Extremo and huddle around him while Gustaw Koral slides out of the ring and runs up the ramp to escape..
Gustaw stares at the ring from a safe distance as the Nameless Hags clear away from a now inexplicably bruised and bleeding El Cerdo. They turn toward the fleeing Gustaw Koral and one of them removes her hood, revealing to be Tempest Razum. She raises her hand, pointing at Gustaw Koral.
FREDDY WHOA:
"Just what the hell did they do to Pork Extreme?"
ZACH DAVIS:
"I dunno but it looks like Gustaw got lucky and-- Uh oh... Spoke too soon."
"The Omega Circle" by Candlemass plays without the intro and the lights begin to heavily flicker. Out from behind the curtains come Noa Kanon, and rushes at Gustaw with a drop kick to the back of the neck. She stands and looks down at him with a smile before continuing her walk toward the ring.
ZACH DAVIS:
"There's that maniacal Pythoness!"
FREDDY WHOA:
"Why Pythoness though? Isn't a female python still a python?"
ZACH DAVIS:
"Don't be stupid, Freddy. A pythoness is a soothsayer, a person who can communicate with spirits, or summon them. Noa Kanon is quite frankly all of those things. It has nothing to do with pythons or snakes at all. You might want to pick up a book every now and then. Learn some."
The Nameless Hags now drag El Cerdo Extremo out of the ring and up the ramp, also dragging Gustaw Koral away with them as they pass Noa Kanon. With only a robed Tempest Razum left in the ring, Noa Kanon enters through the ropes with a wide grin.
The music fades away as Tempest Razum hands Noa Kanon a microphone.
NOA KANON:
"Good evening, unfortunate souls of Laramie... I have some torturous words of clarity to preview the calamity of this upcoming Monday's tragedy... Ultimate Destroyer is teaming up with Scott Slayer, and in the process being dragged layer by layer into the lairs of our dungeon where we bludgeon our victims without budging even once as our system convicts him. Ultimate Destroyer, you're a pathetic little mortal, hiding from the horror behind the muscle and the morals. You know deep down you're no more than a little clown, dying on the inside, crying out your windpipe. You build your muscle mass to be able to withstand the pain, while I simply remain, take the punishment as a gain, maintain the same rage without an ounce of restrain. My disdain for your ways isn't a phase, I welcome the bloodstains. I want you to try try try, but after it's over you will cry cry cry, staring at the ceiling scared of your own feelings wondering why why why..."
Tempest Razum walks around Noa Kanon while she speaks, and by now has come to stand beside her with one arm around her shoulder in an amorous display of solidarity. Tempest smiles at the last why that Noa sang and whispers something in her ear.
Noa Kanon closes her eyes and inhales while nodding her head. She subtly steps away from Tempest, who watches on with an evil smirk. Noa Kanon caresses the corner turnbuckle sensually while speaking her next words to it.
Noa KANON:
"You and I will make sweet Love out of this pugilist encounter, dark art will spark from this Pythoness when you mount her... I want you to hurt me, Destroyer, enslave me! Wrap me in the razorblade blankets that you made me. Let my blood remind you of those days of happiness and Bliss as I smear it on your lips and nibble so softly before the kiss."
FREDDY WHOA:
"Uh... This just got kind of x-rated."
ZACH DAVIS:
"Not cool!"
FREDDY WHOA:
"Is she-- is she having an orgasm?!"
NOA KANON:
"Make me growl at the pain you inflict. Push your angry claws deep into the skin of my back! Slowly pull as I purr and rip open wounds of insult and tear your fucking face off with a vicious attack... Then console you as you whimper and writhe in pain, feeding my lust with the scent of your tears. Scream out loud as though there were nothing left to hear. I will just pretend no one is here. Like a studio audience they'll boo on cue, whistling and clapping, ooh-ing and ahh-ing to the cadence of the score, until my rage moves the stage out the door. The fourth wall broken...
The silence as well...
Damned both ways...
Ring the fucking bell...
Cut off your nose to spite your face, as deep as my love can hate..."
Noa Kanon drops the microphone and lets her face rest against the turnbuckle with a subtle smile and half lowered eyelids.
"The Omega Circle" by Candlemass players throughout the PA system. Tempest gets Noa's attention by gently rubbing her shoulder. The two of them smile at one another before exiting the ring together and beginning to walk toward the back stage.
FREDDY WHOA:
"Dude... What did I just witness?"
ZACH DAVIS:
"What the hell did Tempest say to her to have her get-- I mean GO off like that?"
FREDDY WHOA:
"I don't think we'll know any time soon. But I'll tell you this... I have goosebumps. I don't know what the deal is with these women but they scare and arouse me at the same damn time."
ZACH DAVIS:
"If they are prepared to back up their bark, I would imagine Scott and Ultimate Destroyer are in for one bad evening come Monday Night Slam."
The feed cuts out abruptly and we get a pop up from WCF.com asking if you are still watching.
Well...
Are you?