Post by Odin Balfore on Mar 15, 2019 16:35:43 GMT -5
______________________________________
PART ONE: SNUFFED, FILMED
Fade into Odin Balfore sitting in his magical Norse mansion, Lyfefort. Chill back with that Henny on the slow drip right into ya veins. Feels alive in the fire lit room of the roaring gleem of the wooden toy soldier fuccbois like Matt Draven. Dudes who think that they can march to the beat of their own drum like some kind of self winding Capuchin monkey. Fuckin sawft like a Reeses monkey too. We aint in on that goon bag yet. Not yet ( but we real fuckin close ). Its dahk in there. The stone floor is cold and the mounted jobber heads look on with those dead eyes. Sit next to the Gawd. Sit next to the best, pull up that polar bear chair and enjoy the evening with ya man. Popcorns in the popper, help ya self. Make sure you grab a few extra napkins cuz this is about to get buttahry.
The All Fathers sitting next to a PRO-JECK-TORE watching that 8 Milli flick on by. All Father looks over at chu, munches a couple pieces of that poped up corn and gets to gettin.
" Ah shit, ya'lls is just in time, I'm here going over the life and times of Matt Draven. The man who gave up the tag team championship rather then get his shit pushed in by the All Father for it. I don't blame him, if I knew the All Father was comin for my skull, I'd drop a belt fast too. Shee-it, son, your tragic career tells me everything I need to know. Shitty tag team champion and nothing else.
Now, I'm over here, tryin to be a nice guy -> tryin tah be a face, because, lets F A C E - I T, I am the most recognizable face on the roster.
You on the other hand, you're so out in the middle of the weeds, you sleep in Willie Nelsons sock drawer. Listen, I get it. I really do. I'm here with you on the plot, its just YOU aint up here in the plot. You call your shit the "Suicide Watch" and trust me, I'm watchin. I got my souvenir razor blades and my autographed copy of this Good Charoltte CD. I feel a disdain for all human life on this planet and that my parents just don't understand me. I think I'm in your head space. Tell me if I'm wrong because I want to make sure I fully understand what 'cant be understood' when I'm smashing the skull of this little EMO shitbag. "
Odin hits the play button as "Hate me" by Blue October plays over the flickering nothingness that is the sad career of Matt Draven.
Yo, real talk, I'd be a little emo shit bag too with credentials like that because for the life of me, even with my old man glasses the rose tinted
hindsight
, I just cant see anything there that I'm supposed to be on guard for. Cuz, like, who you beat except a cold named ' ya me at?' No one cuz its lookin like no one. Remember homeboy, girls dont like nice guys, girls like cars and money and you got neither. And don't tell me that WCFs payin you bank cuz I used to sign the checks in this place when I wasnt signing death warrants. I know how much ya'll make. I know what WCF is paying you and let me tell you its gratuitously generous at best. Criminal at worst. Even then, you still couldnt afford to buy food stamps- ya feel me? Like, were you something great back where you came from?
Yah, you and Morbid Wolf, you both. I fucking straight up love it when dudes like you and him roll through talking about the Metal Machines you used to be in the tri state area, rollin over on some potatah sack warrior in a speedo. Tell me about all the world champions you used to be. Tell me about the halls of fame you in that's plasted to the yellow, smoke stained VFW halls that you once called hallow ground. I bet you cried like a bitch when they had paint over that crude sharpie scribble that is the ' signature of the hottest free agent in all of pro wrazzlin'
Then you came here and you reminded about the true, real life, nobody that you really are. You look around in the sea of over 17 hunnit different WCF members over the 20 year span, nearly as long as you've been on this Earth that you have so much contempt for you and just weep because out of 1702, you might just be #1702. Dead last. Even Jason Barnes the NEWEST WCF TALENT has done more than nothing.
Because zero divided by zero is still better than Matt fucking Draven."
The All Father stands up and starts going into some sort of emo shakespearian monologue.
" Oh Hellena, Hellena, Hellena. Thy 1-21-1 guns, hasith thyn laid down thy arms for this beith not a scene, o' nay, yet let it be a damned arms race. For this a good day, yet this all feels the same, as some sort of brief candle has gone out, with the sadness and sorrow of a million screams. "
The ROMEO MCALLDADDY throws his popcorn in the fire, turns to you, to us, and laughs, casting aside his own monologue with a swat of his hand.
" You ever get dunked on by a
Shakespearean
monologue consisting of EMO band song lyrics, cuz you just fucking did. That's the power of the All Father. The the kind of craftsmanship that I
wield
. Yet you, here we are on Suicide Watch. Welp, the worlds here watching you, pull a Teo Blaze and fail upwards, so take this monogram razor blade and show the kids at home how you walk along the road and not cross the street. Teach em' how to dig their heels in the earth rather than skip that shallow stone. That if they are going to take a pill, to skip the
Advil
and take the adderall and get a fuicking clue. Go scoop ya beans and take this L that's coming to ya. And trust me, that L is coming to you. I guess you could say, its coming like a Bloody Valentine
Oh you fucking scrub, you have no idea what hell you've unleashed upon yourself for the sake of the starving artist mentality. You want to be an edge lord, you want to yell with the windows down and the system up, screamin at the world that you don't give a fuck. That's real shady of you slim
Now sit the fuck back down. All these attention grabbing atrocities that you anecdotally dribble out of your agape neck flap appendage is absolutely accinine. You aint got no fans, no loyal or sum far flung galexy from a time long, long ago. This empty reel behind me, bloviating all this white noise, the same white noise that you spew from your lips will be filled with highlights of our match this week because this isnt a suicide watch, its a gawd damn snuff film simply because I'm going to kill you this week.
I can already hear Netflix knockin on my door like:
They wernt but they are now
Fuccboi. Get flexed on by this lexicon.
What I'm interested in though is your game plan for your main man with these clobberin paws ready to shatter your jaw. This what you wanted right? You wanted those WAR drums to beat. You want those primal screams to roar and vibrate your soul as I walk down to that ring in hopes that I would make a legend. I don't make legends, Draven. I'll just make you famous. I'll give you just enough hype by adjacent association to get you into another TV title match for you to blow. Its damn near sickening that I know you have a smudge of talent and your rather snuff it out because you cant be bothered to try.
Oh and spoilers, pro tip: this weeks not the week to try. I'm not here to bury the roster and I don't need to start with an insignificant fuccboi like your gucci poopity-scoopity self, but I'll go pull that cat litter off the shelf and clean sweep a pleb that wanted to think that he could try to step to the MAN of WCF.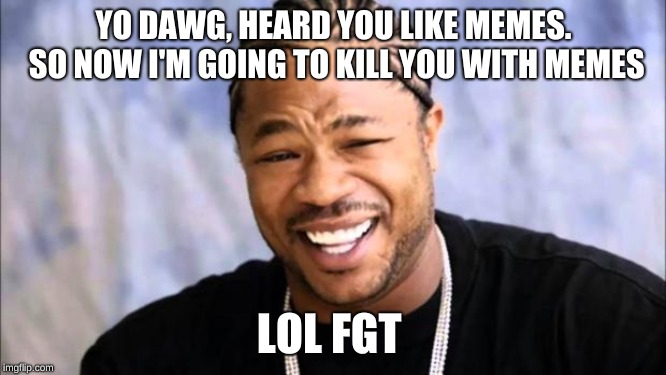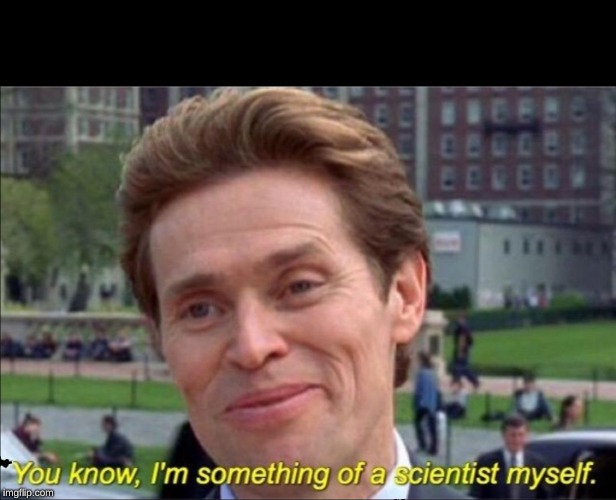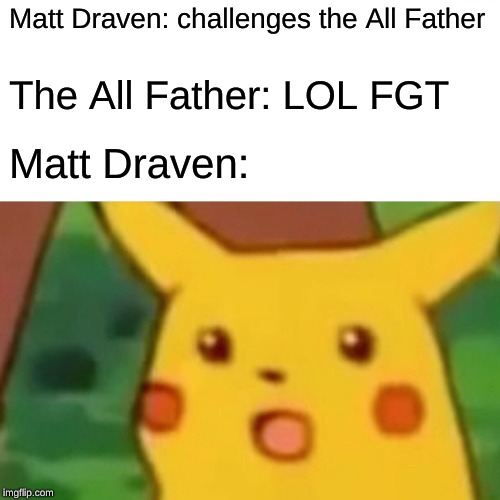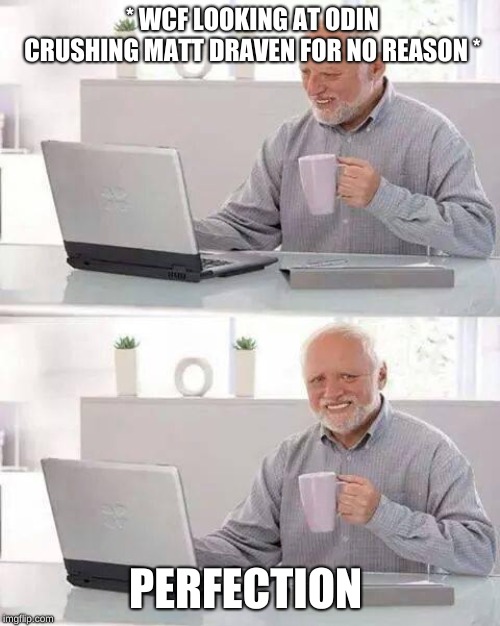 Do you see, Draven, this is just a sample of my power. Don't you worry, you'll see a little bit more in that ring. You're the warm up for Kingdom Come because trust me when I tell you that I'm going for You and that hardcore championship."
The All Father stomps and scolds himself.
" Shit, I'm sorry ( LOL fuck you, not sorry ) I always confuse you and Morbid Wolf.Don't know why. Must be my old age LOL yah. That's it. Don't worry Draven, I'm going to do to you what I'm going to do to Wolf and it'll be a little warm up before I go nuclear. Bah! I can already hear Mikey Extreme writing that Book of Extreme, trying to downplay the fact that I made him look like a chump because he was all on that Church nut sack but look where it got him, now that he's tryin to bring it all back. I'm going to go get that Hardcore Championship, be a two time Grand Sla, winner and more more distance between me and guys like you. In truth, I'm tired of the disrespect. So this week I'm going to stand on your windpipe and watch your face turn purple and know that your shitty memes cant help you. You're arial 'daredevil' style isnt going to help you because if you want to hit me, then you gotta get right in my chest and you gotta say it with your chest and that is when I collapse your chest. Chop you in the chest and give you a heart attack. That's my power. I could go after the World title any time I wish. I don't need no infinity championship, even though Teo has legit no showed half his career.
So before you start in on this, Draven, before you go into Suicide Watch episode three, know that you cant even out shine a man that don't even show up to 60% of his own matches. You cant even beat that pleb into the dirt. Then you sure as fuck aint got no chance against me. I'm going for you Draven, and Ragnarok is in my wake.
So I have spoken.. So it shall… come to pass.