Post by 𝘑𝘢𝘴𝘰𝘯 𝘉𝘢𝘳𝘯𝘦𝘴 on Mar 1, 2019 20:08:41 GMT -5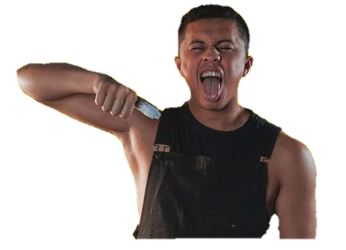 Gimmick
:
He call's himself "Super Ace" because he feel's he's the ACE of the business. However, his wrestling skills say different.
Height/weight
:
6'0" / 178 lbs
Alignment (Face/heel/neutral)
:
Face
Appearance/attire
:
He wears overall's with no shirt underneath, black wrestling boots. Wrist tape and elbow pads and of course.. knee pads under his overalls.
Entrance and music
:
"Come Out And Play" by Offspring
The lights begin flicking then "Come Out and Play" hits. As the lights around the ring begin flashing.. Jason Barnes comes out from backstage. He gets the crowd up and jumping as he makes his way to ringside. As he reaches the ring, he leaps onto the apron. He waves his arms back and forth before jumping over the top rope into the ring. He quickly runs over to the referee in charge and shakes his hand before taunting the crowd some more. As the music ends, he gives the crowd the sad face.. before stretching in the corner before the bell tolls.
Style (Technical, hardcore, brawler, powerhouse, high flying, etc.)
:
Unorthodox Style
Favorite Moves (At least 5):
Single Leg Dropkick
Springboards: Back Elbow, Crossbody, Dropkick, Spinning Heel Kick, Senton, Clotheslines, Swingblade
Mule Kick
Reverse Spike Rana
Hip Toss followed by Soccer Kick
Running Shooting Star Press
Different Styles of Enzuigiri Kicks
Tilt-a-Whirl DDT
Death Valley Driver (Usually Followed By Something Off The Top Turnbuckle) Frog Splash, Elbow, Moonsault, Leg Drop
Hesitation Drop Kick
Trademark move and description:
Small package driver
Diving Hurricanrana
Cheeky Nandos Kick (Superkick to opponent on the turnbuckle)
Finisher and description:
"Super Ace" Avalanche Standing moonsault side slam
(This is normally used for opponents his size and style)

"Point Break" Superkick
(Due to his size, the Superkick isn't all the effective. Normally it takes two or more to finally take effect)
"No Mercy" Calf Kick, Bicycle Knee, Superkick To Kneeling Opponent
(He uses this a lot. Not so much of a finisher per say, it's a combination that really takes effect.)
Manager? If so, name and description
:
Nope