Post by Odin Balfore on Sept 29, 2018 20:15:24 GMT -5
RP 2

WAR

World Championship

Odin Balfore
vs.
Bonnie Blue

Weep For an Angel

wordcount: 4023
______________________________
Prologue
WAR is the time when everyone tries to be something their not. A winner, a challenger… A Champion. I see a lot of hopeful eyes but know that there will be a lot of disappointed hearts. I could give everyone their due but I am not. I am not concerned with the efforts of those who will ultimately lose. Hell, I'm not even concerned about the eventual winner of WAR. All I know is that it is not me and I get to wait another year to make history in that match. However, between now and then in those 365 days, know that I'll be making history in other ways. After all, the WCF Championship is what this is all about. They all want what I already have. They all exist here because I will them all to exist here because without me as I have said time and time again - without Odin Balfore there would be no WCF.
Correction: without Odin Balfore and Corey Black ( and sometimes Jay Price ) there is no WCF. We three men who do not get enough recognition, not for our accomplishments but for our contributions to this company that has been up and down for nearly twenty years. I may have only been here for seven of those twenty but I am already in the top three names in WCF of all time, faster than anyone else. Even when I was not active on the roster I was behind the scenes as an agent or a consultant. Again, keeping this place alive. Then when Seth took off I was immediately contacted to return and well - Most of you know the rest.
Most of you know the rest and the rest of you won't know the rest of year. Let me be clear about that.
Indeed War is a time when people try to be something they are not.
But me, I'm still a Gawd
______________________________
Chapter I: TITS or GTFO
I'm in my gym shrugging
Persian
clubs made of concentrated dark matter although I can sense Bonnie Blues jealousy, bitterness and sorrow combined might give dark matter a run for its mother fuckin money; now hows that for some shit? I'm out here training throwing penta-tonnes of weight over my shoulder like the weight of Bonnie Blues crippling social depression. Yah, Queen of Horrorkore. More like Queen of Horror-krying; amirite? Shit, going awf up in this bitch.
But see that's the difference, puttin in work to put bitches down. I got penta-tonnes of universal weight and I got penta memes of of universal truth.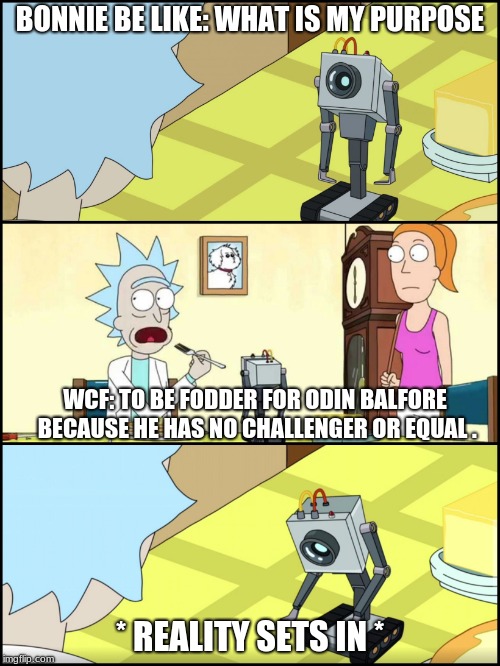 Bonnie Blues crying in the wifu arms of her David Sanchez cut-out, dreaming of better times when she used to matter to someone. Until that someone left her. Let me just tell as strictly as I can speak. That last promo- that was the decoy. That was the bait and this is the switch. This is that ' oh shit' moment where Bonnie Blue realized she fucked up. This is where the rest of the fed realizes that Odin Balfore can kill them like a small dog on a whim as while in his gym with a laser focus in his cold, dead grey eyes.
You can get calm, cool, Kush smoking All Father. You could get Ragnarok All Father. You could the All Father that don't care or you could get world champion All Father that's only been defeated for a world championship twice. Keep that in mind Bonnie Blue as you question your self worth and focus in on your own misguided pity. Keep in mind the work that this man put in while you were off playing grownd up guardians and sci-fi fantasy. You missed the real life. You missed the real deal and now that you realized that you want back in.
But if you wanna get back in you gotta get on knees and suck my dick.
You're here because there aint nobody here for me. You think that a couple of scrubs, Noble and Richards beating me means a thing to me? You think AY gettin one over on me means a thing to me? They don't undo everything I did. A draft in the attic doesnt crumble the foundation. The crazy cat lady screaming on the front lawn does not phase me. Come and fight me like your daddy dreamed of and live the nightmare that I put him through. Your daddys a legend right? Wrong. I decide who the legends are around here. I bestow the mantle. I crown the head. I put the wreath on the neck.
And then I break the neck.
Don't you see Bonnie there genuine politeness and then theres just the based gawds truth. I could be polite to you and tell you how you've earned this and deserve this through years of mediocrity. Yah.
Yah.. Mikey Extreme earned that too and look where he is now.
Mikey Extreme had a feel good moment at Ultimate Showdown and now no one's going to remember it.
I can see it now. Bonnie Blue wins the World Championship at WAR 17.. And no fucks were given. I'll tell you what though, you show me your tits and I just may spare a fuck or two or three.
To tell you the truth, as of right now I'm lock multiple yearly awards.
World Champion of the year? Yup.
Wrestler of the year? Yup.
But hey, best tits, am I right? That's got to be the most important of them all. After all, a strong self image is important. I'll keep that in mind and try not to break your nose or other bones. I mean, tits for titles, how hard of a trade can that be?
Funny too. Theres probably a couple noobs sittin there thinkin: ' what kind of fed is this?'
So good Bonnie Blues subjected herself to years of public ridicule and mental self harm just to be here. If that doesnt scream number one wrestling promotion in the world, I don't know is.
WCF: Come for the glory. Stay for the prozac.
But be careful, World Championship Wrestling is a pre-existing condition and may not be covered of some insurances.
See, Bonnie its not that you're insane, this is just a side effect of your pre-existing condition.
Allow me to medicate you.
Monday night, its not about you seeing a God or a legend. Its just about you seeing the truth and coming to terms with your addiction and how you're on the losing side of that addiction. The truth of the matter is that you might be a challenger for the world championship but you are not a world champion.
All of you at WAR, look in the mirror, minus the only one among you, the Kurt Navarros of the world. None of you are bound, set or ready for the hell I can bring upon you. I can kill you all in any way I see fit to do so but for Bonnie Blue, when we meet in that ring and I'm ragnaroking my dick through your lips and you bouncin on that RA RA RA trip - know that that's the closest you'll ever be to holding the ten pounds of gold on my shoulder; when I'm sliding ten pounds of thick all up in you.
Now if you'll excuse me. I gotta finish these sets. Holding up WCF and people like you on my shoulders takes training practice and time.
All of which you aint got.
___________________________________
Chapter III: All Roads lead to WAR BALFORE
Fade into the ESPN Studio. I'm sitting across from Max Kellermam; ESPNs leader in combat sports. I'm wearing a dark purple button up and black slacks with black boots. Kellerman is wearing a blue blazer and slacks with a blue and yellow striped tie. Kellerman with his smug little face and crack tooth smile warms up and rubs his hands together as the light come up and its go time.
" It had been said that all roads lead to Rome." He starts. " That all roads lead to ruin - to WAR and no one does WAR better that Wrestling Championship Federation. WAR is a company wide battle royal where the winner receives a chance to fight the world champion at ONE- WCFs biggest event of the year. Here today to talk with us is WCFs current world champion, Odin Balfore. Odin, thanks for being here.
"Thanks for having me." I say with a smile and a nod.
"Odin, you've been around wrestling nearly twenty years and have been in WCF for a long time. What does WAR truely mean to those in the locker room."
"Well Max, to win WAR is your chance at immortality. It comes around only once a year, its a big deal. You get to put it all out on the line and make a name for yourself. However as you can see by the championship on my shoulder, I wouldnt suggest it this year. You'd have to be pretty foolish to want it and potentially get your career ended by the All Father."
"Well you are synonymous with WAR."
"I am and that's because of hardwork. I may not have won it but I'm right up there with all the records. No one has the pedigree I have in that match."
"Its funny because this month you fight Bonnie Blue the daughter of the man who beat you at WAR ten?"
"Indeed she is but do you know something, do you know whose grown since then; me. Do you know who hasnt; Johnny Reb. Bonnie Blue being the daughter of Johnny Reb is only cathartic for her; not for me. The following month I beat Johnny Reb, so I got revenge. Bonnie right now is trying to justify her entire career on one match. Every ounce of her being and all the years in this business and its in my hands. So do I take pity onto her or do I quash her? I will not be brought into a holy war. I will not fight her shit stain guardian incel buddies. This is between her and I. My past against her future. Lets face it, My future does not depend on this match. I have three months to get the belt back and fight well… whoever is unlucky enough to face me. My career in was made in August of 2011. I was a legend in three months. The rest is just a slow burn that I have been able to enjoy. I'm here because I enjoy it. If I didnt return the company would not have returned. Simple fact. Period. End of Story. SJW had one bad night and called it quits - the golden boy saw that the goose was no longer there to lay him golden eggs. The Golden God learned how mortal he was. The Sand God proved to be a passing trend and Mikey Extreme let the brief brush with success go to his head and he too is no where to be found.
Let me as you, is that what Bonnie really wants? No. She wants vindication and validation. I'm sorry but I'm not sorry. WCF is not the place for little girls to get daddys appreciation or fix her own self image. Is she welcome in the ring; absolutely. However, this is not therapy. This is tragedy. This is heartache and heartbreak. Max, despite what people think about my business, this is a tough business. Guys die sooner than you think, we don't get an off season, we don't get protection and penalties- we get to fight. "
"Right but Odin, you cant tell me that things arnt predetermined. Its well documented that its all pre determined."
"Max, look at me. I'm really seven foot tall. I'm really north of three hundred pounds. Me and you are wrestling, you're slated to win. I can not do business and beat you up for real and no one is going to save you. Your life is in my hands. Sunday night, Bonnies life is in my hands and there is no one to save here. Max, I have good will and I have sportsmanship but I don't have pity. This is what Blue wanted and this is what Blue is going to get. There is no easy way out for her. Sunday at WAR shes going to have to be better than shes ever been."
"I have to ask, is to weird for you going so long between productive years? Your past productive year was five years ago. You have seven years with WCF but you only productive for two of them. How does that factor into this?"
"I know what I'm capable of. It shows all these new guys that I can step away and step back like nothing happened. I had no ring rust. I had short comings. Hell, I had to win a tournament just to get the chance. I did that and now I'm here. I've hear Bonnie talk about my past and how I was great or that my reigns are short. However, how much history has she been apart of; none. How many legendary matches or feuds has she been in; none. That's how it goes with all of my opponents, they have to first
acknowledge
that I was and am still great but then tey got to sneak in a disclaimer that maayybbbee they might beat me. I mean listen, my times not up, its not over and I'm not done with WCF. The worst she can do is take this away from me. Oh good, now I get to chase number six. Like I said before my entire career in WCF is all icing and cherries. Whatever I do breaks or ties a record. And the only thing I care about is making a good story. My legacy is not those titles. My legacy is what surrounds those titles. I'm the first winner of Fall of the Gods and Battle of the Gods. Those are meaningful. My story of me trying to get back MY WCF championship and winning Alternate Showdown is meaningful. I guarantee that this will be something to see. "
"Great, Odin. I'm glad you stopped by but that's all we have time for."
"Thanks for having me, Max. "
______________________________________
Chapter IV: Weep for an Angel
I write this to you. Personally. I want to address this to you personally. Without the cameras or the glitz or the pazazz of the wrestling world. When you beat me for TUS I congratulated you and patted you on the shoulder and told you that you could do it even when you said you couldnt. I don't hate you, BB. Hell I don't even dislike you. I respect your drive and your tenacity but I can tell you that it will only take you so far. However you know with my respect comes a certain level of competition; one that you know you're on the receiving end of - something that your drive cannot see you through. And that, BB, is your fatal flaw. You have tools or weapons that can seal the deal when it comes right down to it and even now you know that I have the soft gloves on. I don't do that out of disrespect. I do it to teach you the lesson; one I know that you don't have to learn the hard way. Deep down, you worry about losing this match - your spot - time lost and wasted. However, that's not true. That happens when you quit and I know deep down you are not a quitter.
You quantify your status by this golden trinket on my shoulder as if that'll make me the man or in your case, the woman. You want the respect and the symbol despite the fact that you have the respect and symbolic nod from the locker room across two promotions. This is important to you, I understand that but you cannot see the woods through the trees. You are missing the important things.
Its like with Extreme, number 903. The 104th world champion. You don't want what he got. Not how he got it or what he did with it. This championship can be a death sentence. I know that Dion was a world champion. Dionysus, world champ.
No one knows he had it, no one cares.
Extreme. No one will know he had it. No one will care. Up and Gone within a month.
Yes, your story is important. Yes it is compelling. You have been on the grind but the grind is your story. Once you get the championship, your one greatest driving force will be your biggest fall.
You like to think you are WAR FORGED.
Welp, better to be forged than forgotten. That's whats going to happen to you after this week. Same as every week. Just forgotten. Then you crawl back out cha hole, the same one you put yourself in and convince yourself that this week is the week that you [ insert rotating goal here.] I don't want you to fall again. I want you to rise but we both know it won't be off my back. I know that you say a lot of things about me, as if you're disappointed in me but remind me where I'm supposed to care when you drag around the chains of your own oppression. The Guardians.
If you need them to save you then you were never truly ready for me.
And you speak to me about James Wolf as if I know or care who that is.
You speak of roy speede and give him praise. He is a nobody and will forever be a nobody.
In truth, you catch me a bit perplexed. I have drive to defend my championship and defeat you but I also want to help you. Its just that you refuse to help yourself.
I suppose that's the difference between you and I. I know who I and how I need to change. While you strive to do more, become more, do better you fall back into them. They - that group that you feel makes you whole but only serves to hold you back.
You talk of Alex Richards but you know that I could easily… easily… rip him to pieces.
Everyone ripped to pieces. Savage, Singh, anyone, everyone. It does not matter if I beat a string of nobodies who won't be here in six months. That's what you don't understand. My career has transcended all your notions of what a wrestler should be. Everyone wants me to care and then when I do, they all want me to go away.
Dune, Extreme - they arnt here because of me. I did that.
Antebellum - gone. Because of me.
Vincent Augustine - gone. Because of me.
One way or the other I find my goals.
You on the other hand, people find you to find their own goals.
Don't get it twisted. I respect you. I like you. I just don't respect your friends or your life choices and you half the gall to try and damn mine. You mentioned how I was gone and I came back for a title shot. Wouldnt you? No serious. You wouldnt go anywhere for a championship opportunity? I mean you left WCF for UCI and WCF for ADUB because you went where you had the best opportunity to succeed so don't throw stones from that glass house of yours.
I had a falling out with Lerch. I know what I'm worth and what I earned. Through more hard work than even you have done in this company. You're a good girl you just need better direction.
You and me in the middle of the ring with you struggle to keep up and keep pace as I run you more ragged that you could ever have imagined. And you get to fail once again at capturing a belt that you once claimed that you could run through like you did in UCI. The only difference is that I was never there. You never had a challenge there and every time you had to step up you failed. You will fail again this week. I don't care what you think of me because the words out of your mouth are always going to be:
Two words that will never describe you and as I give you the lesson that you so deserve and the clinic that you so deserve because you need to be medicated in this business. YOu, BB will be medicated and humbled back off to some other godforsaken promotion to bitch and cry how you never got your shot but the truth is BB - you aint got no aim.
I'm going to rough you up. Its going to be a crime. Its going to be a felony. Its going to be a SCOTUS Nominee wet dream come absolutely fucking true and I'm going to do things to you in the middle of that ring that Alex Richards beats off too in the shower with a bottle of suds and bubbles. Women like you know the truth and like the truth you are all afraid to speak it because you dont want to be true
And Aex Richards is beating off to the fact that you name dropped him in your drizzle shits promo and gave him an emotional tug job.
Good job, Alex. Its all downhill from there.
Just like its all going to be downhill from you. You want rage and fame and gory glory. You want horror kore when you damn well who you're dealing with. And you'll get that gory glory. You'll get that Horror kore when I break your arms, my weeping angel.
When I break your legs, my weeping angel.
When I break your back, my weeping angel.
When I break your soul and there is no more angel to weep for.
That's what ragnarok does. It erases everything you have ever done and no one cares about you anymore and as you're struggling in the back to get your ego picked up like the humpty dumpty I'll be moving onto ONE to main event because I'm the only main event so I drag another Bonnie Blue Nobody to the best match of their life because that's what I fucking do in this company. At WAR I'm crushing your family legacy once and for all and retain the belt that lives and dies by my hands. Then we'll roll into the awards, I'll clean sweep - I'll clean sweep ONE and still be champion come this time next year. We both know that I only lose when I chose too and right now, this week I choose to abuse a woman.


Like you owe me money.


Like I cought you breaking into my house.


Like I caught you stealing from me


Like I caught you lying to me.


Afterall, you being here is the biggest lie of them all.

So enjoy your time illuminated by the GAWD, weeping angel.
Cuz I aint got tears for you.
Only titles for me.


At WAR, the All Father is coming for you.. and ragnarok in my wake. So I have spoken so it shall come to pass..


Now get ready to suck my dick.