Post by Odin Balfore on Sept 20, 2018 21:33:14 GMT -5
WAR
WCF Championship
Odin Balfore ( c )
vs
Bonnie Blue
wordcount: 4104
Prologue
Lets talk about the rise of the All Father and the fall of the rest of the roster. As soon as I took my championship back you saw the tide of the upper card phase out and back out.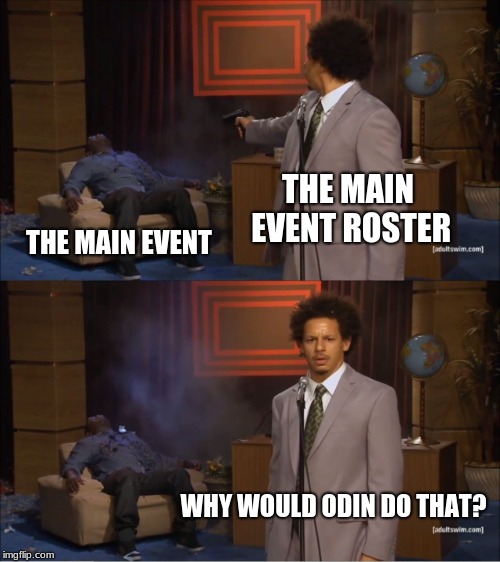 Yah, kinda like that. If Bonnie Blue thinks that shes going to one up on me cuz her daddy did one time, ten years ago, then shes got another coming to her.
We have gone from a small ( very minor ) collection ( more like loose gathering ) of people who thought that they had what it takes to keep me down and away from the top prize in WCF and now its come to Bonnie Blue reaching back in her prison wallet to come at me with how how shes earned this
Yah, you gone earn this, this week. But its OK BB cuz I like you. I got respect for your heart and your soul and your passion for this game that you inherited from your pops. However, you wana come up in here talkin all this disrespect in a way that I just cannot tolerate. You wana bring your guardian pals with you - cool. Suicide is less lonely that way. So lets just level it, Bonnie. You compared to me, there is no comparison. You can go back to the barn burner that I dragged Extreme through or the matches that I dragged Singh through. Or well, lets face it, every match I've wrestled where I'd have to take my opponent and carry them to an instant classic. I bet that's what you're hoping this is. Right? An instant classic. You're hoping that this week is your week.
You Bonnie Blue can keep on dreaming. However, that's what this sports about dreams, goals, nightmares and everything in between.
And I - I have been the cause of all of it
Travel back to WAR X, when Johnny Reb beat me to win the vacated WCF Championship; vacated because Seth Lerch up and decided that it was so. It was a momentous occasion for Bonnie's dad. Yet Bonnie will not be so fortunate this week. Seven years and she expects her life to come full circle, make her daddy proud as the world champion but the time witch is out of time.
Just a Time Witch, too late to her own success story.
Chapter I: After Ragnarok
The followers of Odin started their pilgrimage to Denmark, to take part in the celebration. It is WAR season and the God of WAR will be given tribute. They come from all over the world bearing gifts of alcohol, various cakes and smokables to be given to the shrine of the All Father. The shrine was simple, grey cobblestone, laid out in a circle with a granite monument in the center that stood fourteen feet tall of the All Father with a lamb slung on his shoulders. People prayed, some chanted and others just whispered their thanks in hopes that the All Father would hear them. Unbeknownst to them, the All Father was among them but as he made his way towards the base the shrine, the people took notice as he addressed them with the WCF Championship on his shoulder.
"My children, my children. I have done it. I have heard your cries and pleas and I have done it for you; for us. All of you here today will have your prayers answered. The cancers, cured. The jobs restored and the homes rebuilt. I have given onto you because you have all given onto me. You have all hoped and prayed and here I stand before you as the WCF Champion. Nearly a week from the day, I will defend this WCF Championship against Bonnie Blue, Daughter of Johnny Reb, the man who defeated me seven years ago. I tell you all this because it is a working of fate- as is my intervention in all your lives. I was once on a warpath to destroy the world - Ragnarok. Now that Ragnarok has passed, the rebuilding can begin. Today it starts with all of you. Come to me, touch my hand and all your prayers will be answered."
One by one the followers line up and touch Odins hand, as he grants them their wish for their loyalty. The scene fades to white out with Odins voice greeting our ears.


"I have caused a lot of destruction but I have also done a lot of healing in my career. This is only the next step. Ragnarok has come and gone. The roster has been shaken and rebuilt. The company has been put into a comfortable position with a competent leader in Corey Black and a capable and proven ring general to push the product to new heights. I will tell you now and truly that I am still the man that I have always been and the killer is still within me but now is not the time for death but for resurrection.
So how does one rebuild the company that he single handed-ly destroyed? Such rhetorical thinking gets one nowhere in life, much like bonnie Blues wishful thinking of being a champion. I may be in the giving mood to grant favors but hers, I cannot abide. It must be gut wrenching to know that the man that's giving out favors left and right has none left for you. As if you were Charlie Bucket when the candy man went crazy and gave out free candy. That's how down and out Bonnie is. Broke girl cant even afford free candy. Desperate wrestler cant even afford a gifted WCF Championship. However, this week there is nothing to gift. If I am to rebuild WCF then that is what I'm to focus on.
Step one: Secure a new deal
____________________________________
Chapter II: New Deal
Los Angeles, CA. Fox Sports 1, HQ
In a stuffy office with a bunch of suits that think they know 'TV' wait around a long tabled meeting. They were ready to cut a deal to add to
their
 combat sports lineup on FS1. I was fishing for a two hour time slot of 10 to midnight. I had on a black on blackshirt and blazer combo with the WCF Championship on my shoulder. A Mr. Royce and Mrs. Page were there to make the deal with me.
"Mr. Balfore." Started Royce. "We are to believe that your company, WCF had contracts with UPN and then on Netflix, is that correct?"
"To my
knowledge
, that's all correct, what they terms were prior to my joining the company I'm not sure. What I do know is that WCF can do alot better than the current deal with netflix. Netflix maybe taking over some of the market but its no secret that its stretching
itself
too thin."
"Perhaps we could do a better deal. WCF seems to pull in at the upper twos and with a broader audience and a company that's willing to put in the time with your promotion, no reason why you cant get it into the middle four range. I think if we put you behind Bellator, you should be able to achieve those numbers. However, we'll have to call in our consultant on this; he'll be the one to give you a final answer." Says Mrs. Page.
Theres a knock on the door when a tall, gruff Irishman walks in as Mr. Royce introduces him.
"Odin, this is Robert Faulkner."
"We've met." I replied. 
Royce and Page leave me and Faulkner to talk. He sits across from me and pulls out a baggy of green spice drops from his jacket. 
"Odin." He snarls, opening up the baggy. "Its been a while. I see you won yourself a shiny little trinket; not that it means much in the present company that you work for. Now, how many rat faced little shits did you beat for that championship?"
" I beat Steven Singh and then Mikey Extreme."
"Extreme huh; bunch of nances."
Faulkner pops a few spice drops in his mouth and starts crunching on them, causing his mouth to bleed.
" I suppose you want to know why I'm bleeding, I put thumb tacks in my spice drops. Gives it a good
crunch
."
" Yah, I wasnt thinking that. This getting a little weird."
"The blood lets me know that I'm alive."
"I think I need an adult."
"I am an adult, Mr. Balfore, unlike those you beat for your WCF Championship. I'm sure they wernt even a challenge for you. Now you come to me for a favor. Now you want to get on my network. Here I am, a man chewing on nails and the souls of small animals and children and you come to me with ten pounds of gold as if its a cross to bare You know nothing of crosses, Mr. Balfore."
"No, but I know of Wrestling, Bob. I know of
sacrifice
, of
handwork
, of conviction and
commitment
. WCF is where it is right now because of me. Without me here, we would not be having this conversation. No one in the Church would be here right now having this conversation with you. Dune wouldnt be here right now having this conversation and the Guardians would not be here having this conversation with you. They only care about what this title can do for them; not what they can do for the title. I'm here to make everybody money and get everyone paid. I don't need the money, I own a
government
. I own a nation, I do this because its in my blood, its who I am. I live, breathe and die for this. I have died for this and I am still here. If you want to make a deal, lets make a deal for WCF, if you want to insult me, I'll be happy to break your back over my knee. You won't be the first and you won't be the last. You might think that you're tough because you chew nails but trust me when I tell you, everyone shits bricks when they're up against me. Royce and Page know my terms. You either accept them or you made a mistake and trust me when I tell you that it is not within your best interest to make a mistake. "
"Odin, I like you. You have brass balls; unlike your contemporaries. I'll tell you what, I'll give you what you want but you need to go out there and
preform
. You need to pull down the numbers that they want or you can kiss this contract goodbye. "
" You doing that would be the worse thing you ever did."
"We'll see, Mr. Balfore. We'll see. Welcome to Fox Sports One."
_____________________________________________
Chapter III: A Deal the Devil can't Win.
In ice caverns of Greenland a livid Krampus hisses and fumes, knowing that Odin Balfore screwed him out of their bargain and became WCF Champion on less than selfish terms. That was the
bargain
 
after all
; Odin becomes champion, Krampus gets his immortal soul. Krampus toils in his workshop, crafting a device that can undo the damage that Odin caused. As he tinkers away he mutters to himself.
"Stupid fool, thinks that he knows better than me. Thinks that he can outsmart me. Thinks that he can put one over on Krampus. I'll show him. I'll show them all. Him and his precious followers. Once I finish this staff I should be able to undo his entire
legacy
 and make him nothing more than Odin Banning, a blubbering little fool who runs and rides from his wife and children. He thinks that this is a deal that the devil cant win but the jokes on him - I always win. I'll always find a way."
Krampus leaves his work bench and walks over to a large crystal ball the size of a globe and scrys into it.
"The Guardians, yes. Yes indeed. The White Knights of wrestling, easily
twist-able
 and
mold-able
 to my whim. Perfect to test run my new chronostaff. Perfect to destroy Odin Balfore, my arch
Nemesis
."
Krampus laughs wickedly before returning to his work to destroy Odin Balfore
___________________________
Chapter IV: The Witch verse the Wizard
Theres a press conference being held in another meeting room of the Fox offices to announce the new deal between WCF and Fox, as well as hype up WAR 17. Downstairs on the second floor was a large press conference room that can hold roughly a hundred people. The All Father stands at a podium as reporters gather to ask him questions. One reporter stands up and asks the first question.
"Odin what does WCF on FS1 mean to the company?"
"It means exposure. It means creating new fans and
opportunities
 for the company and go even higher. We used to be on UPN and then on Netflix. Its been a hard go with some of the characters that have come through the company but with Corey Black in charge and me in the ring, this should be fruitful
endeavor
 for everyone
involved
. I told everyone in January that I was going to build WCF in my image but that first we had to tear down the filth of the whine bag SJWs and the
entitled
 Steven Singhs. If you want change, you have to make change happen. If you want progress than you have to be willing to spill the blood. Look, anyway that anyone wants to slice it, WCF needs to grow. Seth Lerch was content with being on Netflix or just on our own WCF Network. All that gets us are neck beards and incels and one dude teaching english lit at the local community college. I always wanted to make WCF a global force in wrestling. Seth Lerch was against that however, seth lerch aint here no more. So in honor of WAR Seventeen, starting at Helloween, WCF will be broadcast from FS1. "
" Odin, Odin, what are your thoughts of this years WAR in general?"
"Outside of my friend Kurt Navarro winning, the whole match will be a
disappointment
. There is no one ready to win the match. All the new talent are just too green at this point. I'm going to end up fighting someone at ONE whose been with the company a month or two? No thanks, I hate it. I hope Kurt wins. I hope that its us two fighting at ONE. That would be something special. As of right now, WARs not shaping up to be something special and that's a shame. However, that's what happens when people stand against me. Next time, everyone should stand with me when I say that I'm going to make WCF better. "
"Last week Steven Singh cost you your match with Alex Richards, whats your recourse?"
" Steven Singh thinks that he's playing mind games. He wants to get in my head. He thinks that losing to Alex Richards is something to upset me. Ask Bonnie Blue at WAR when the entire Guardians clan fails to help her achieve the only goal shes ever cared about. Steven Singh is only good at making a run in and causing slight
annoyance
. Think about it, without Steven Singh I wouldnt be a five time champion."
"So do you thank Steven Singh for your success?"
"I thank Singh for being a moron. I thank Singh for being a push over. In fact, I thank all of WCF for being a pushover. Like wheres Singh in all this; waiting. He's waiting because he's a coward. I know that he's going to play out in WAR so that he can crawl out with the win but let me tell you something; if he was as
talented
 as he thinks he is- he would have stopped me. He didnt stop me. Nobody stopped me and nobody will stop me. The only people to stop me have been Seth Lerch and Seth Lerch aint here no more. Next question."
"What can we look forward to in 2019?"
" One word: History. Believe that. I'll be in WCF and I'll be making history. Events, championships. Its all going to be mine. I'll make damn sure of it and WAR is just the start. So I have spoken.. So it shall, come to pass."
_______________________________
Chapter V: Holy War
The All Father may have greeted his followers at the Church of Odin and told them all of great promises but while he was away in America, the church of Odin and his shrine fell under attack by two robed figures who ravaged the holy site with a staff that manipulated time. Odin's followers were powerless against it. They caused Earthquakes and fissures, they cracked the foundations and brought the walls down. They scattered the followers and sacked the grounds. They cackled and laughed. They enjoyed this fleeting feeling for if the All Father had been there, such unthick savagery would not be happening. They broke apart his hallowed walls and his likeness. They claimed victory for the Guardians. They mocked the All Father and his false glories. They professed for Bonnie Blue, the Time Witch and true champion. They planted Guardian flags on sacred ground. They erected banners with the Guardian Sigil. These White Knights had been corrupted by an unseen force.
They were on the wrong side of history. They just don't don't know it yet.
___________________________
Chapter VI: To Learn Real Quick
Bonnie Blue, I want to tell you something. Lean in real close.
This week I'm going to fuck you. I'm going to fill your guts till it spills over into your next clone. All this, everything that you see - the TV deals, the press conferences, those are acts. That's the gimmick. And you, before you even knew what you had you were out there stamping it, putting it on Tshirts and lunch boxes before the ink was even dry. How much did those "Guardian" Tees even cost you; you should get your money back. You have no respect for my time or my power and now, your time is up. Period. There is no pun on that. There's no spin on that. There is no flip side to getting clean rocked broad side by these clobberin paws of mine. The right one is a ratings boost and the left one just ends careers. I'm a nice guy out there for them ( read: the world), so that I don't have to be between those ropes. My heart doesnt ache or bleed for you. It does not sing a sad song for the daddy that left you behind. I'm your daddy now. My soul is not enraptured by the prospect that you might - maybe - sorta - kinda - coulda - shoulda - woulda - realized your life long dream of holding ten pounds of gold above your head. The dream you will realize is taking ten pounds of Nordic cock in your slick. Truth be told, you could come with all your Guardian pals. Bring the Transgender, bring the boy and that drunk 'best friend'
Yah
You and your papa Reb both like to drag drunken dead weight behind you on your way to mediocrity. Its a sick fascination with broken things. Makes you feel useful because deep down you feel useless. Its alright. The All Father understands. However, you need to understand that no amount of Alex Richards drunken buffoonery will mend that hole in your heart.
That large. THICK. Nordic cock shaped hole.
Only I can help you. Only I can give you what you truly need. Pure satisfaction.
No drunken bullshit. No geriatric tirates from papa reb or uncle Henry. Get you to step into the ring with a man. With a real athlete. With a real champion and a real Gawd. WAR is a very dangerous time in WCF. People are known to get hurt and get ousted from the fed. I don't need to preach to you the history; the history is in your DNA.
Now, you might think that you have the tools to beat me, that its in your DNA too. However, you couldnt be more wrong. I know that you see me and try to be strong and put on that show for the world. We all wear masks, on the inside.
Inside that ring, there is no mask with Odin Balfore. It is all raw talent and trust me, you will be getting it RAW. Next week when we meet in that ring and you try and show the world that you're on my level only to get knocked around like this was a 1985 Kavanaugh kegger. I'm going to humiliate you in the middle of that ring in front of millions of people and no one is going to help you. No one is going to stop me from asserting my dominance against you. I'm going to jack you up and ground you into a paste before I break your back over my knee and toss you to the wind like the after thought that you are and I walk out of WAR as the WCF world champion.
I have been running this show and this yard for seven years. You can name a host of names better than me but BB, I'm the only one left standing. Perhaps that's what everyone forgets. My longevity in WCF and in wrestling is not a fluke or accident. I am at the top of my game and better than I have ever been. That's what you're getting yourself into. You want to have the biggest match of your career - well you're about to get it. Biggest night, biggest match, biggest chance
Biggest regret. You'll regret this and you'll wish you kept your tits in the back when I made my challenge. Whats better is that you'll get to drag your Guardian pals into this and you saw what I did to the church. There is no church anymore just like after WAR, there won't be any more sci-fy geeks running around obsessing over some gaf in an episode that no one cares about.
Kinda like the gaff of you being in the world title match in a feud that not even I care about.
But truth be told, I'm going to defend against you anyway just as if you were someone who mattered. Just as if I cared enough. And don't take this as me underestimating you. I just undervalue you as a performer and as wrestler. Nice tits on you but if we're going for look, Buff Mustache would be everyone's supreme overlord
LOL
Fuck no. Get the fuck out of here with that noise.
Tell you what Bonnie Blue, I'm going to show you a new side of me that no one has seen yet here in our next week. You want it special, I'm going to make it special. Just like your first time. Hell, I think this is your first one on one championship match so why not really make it matter.
I'll a real woman of you yet and when your back is broken over my knee and you feel that pressure rising between your legs, just know that's what everyones first time is like and that gush that you feel is not just the blood coughing up from your lungs but your love box getting blown up like its never felt before. Then standing above you, as they lights dim and your vision fades is the one true champion that WCF has ever known. Your best efforts, for nothing. All these years - for nothing. Everything your clone daddy did in this company, erased in one swoop by the very man who made him. Now, the very man that make you just the same is about to break you into a million little pieces. Then you'll be carried back by your guardian friends and they'll tell you that its OK, that you did your best, that they tried everything and still failed.
Its not OK
It'll never be OK
And you will never be the same again.
You better learn real quick because this battle was over before it even began.