Post by Corey Black on Oct 1, 2017 16:05:00 GMT -5
The Tokyo Dome in Japan is a hotbed for wrestling action year round, this year it is the place WCF's annual WAR event takes place. The arena is outfitted with WCF's banners and colors, in the backstage area there is a table with microphones set up. Behind the table is a wall with different company logos, the ones that sponsored this adventure to Japan. Dozens - maybe hundreds - of reporters, journalists and wrestling fans sit before the table, waiting for the longest awaited press conference to date.

300 Violin Orchestra.

From the left of the room comes returning star Jonny Fly. He's wearing the nicest suit anyone has ever seen, blue checker print, sunglasses that cost more than the cars in Japan and the shoes! Sheesh. The crowd erupts, flashbulbs go off relentlessly. Everyone tries to ask a question all at once. It's near chaos in the Dome and there hasn't even been a match yet. Jonny pulls his chair out and uses his other hand to wave the crowd down, making them all stop asking questions. Jonny sits, grabs a drink of water, and smiles a toothy grin.
Jonny Fly
Does anyone have a question that doesn't involve a man wanted by authorities? I've already gone over this with your local TMZ, I don't have to do it again.
Almost silence from the people attending this press conference.
Jonny Fly
Nobody wants to know about my comeback, what I've been doing, how I've been? Seriously? The greatest wrestler to grace television returns to WCF and all you dumbasses can ask about is Corey fuckin' Black? God, I thought I was The International Icon, turns out you international folks aren't worth an icon.
Jonny gets up to leave but one reporter in the back stands up. There's no lights on him, a booming voice echoes throughout the Tokyo Dome backstage area.
Voice
I have a question. How is a guy that was accused of a crime by the biggest popstar on this very planet somehow in Tokyo, Japan? How is a man that you tried to take everything from standing in a room with you? How, Jonny, are you going to cope with the fact that you have set in motion the events that will end not only your career, but this very charade you call a life?
The man steps forward and begins walking with a purpose toward the table. Security attempt to stop him, but Jonny surprisingly calls them off. Corey Black walks around the table and stands right in Jonny Fly's face. Jonny clenches a fist, Corey puts a hand up.
Corey Black
I'm not here to fight you just yet. Hell, I'm not even here to give you a cheap shot, you seem to be an expert in the craft. This is nothing more than a man to man discussion.
Jonny looks out to the reporters, and back to Corey, shaking his head and laughing. Corey gets right up in Jonny's face and almost whispers to him, making sure nobody else in the room can hear what he's saying.
Corey Black
You think this shit is funny, do ya? The great and wise Jonny Fly, smartest man to come into WCF, I would think you wouldn't overlook key details. Like when you decided to put my former home to the ground completely.. you didn't think about Iceberg 7 having eyes on you the whole time, sending live video? European Pantheon HQ, Jonny. Our friend Polar left us gifts when he decided wrestling wasn't worth his time anymore. Sadly for you, your homework wasn't enough. The Dethfort was simply a diversion. A place that stood as a landmark, not a home. After Dethwar, something you likely should have seen on the news, Dethfort was all but wiped out. But of course, you didn't destroy it because it was a place I could have been in. You don't have the balls to knock on my door and place a tank in my face. You destroyed it because that's how you operate. You know, deep down, that the only way to beat me is to emotionally make me crack. Take everything I appreciate in life and bring it to the ground. I've ended you once and you can't bare to think I'll do it again. So, the remnants of my castle crumble. You've closed the chapter of my book I wasn't ready to end. I accept it, and I congratulate you on yet another act of sheer stupidity. A going theme within your time alive, isn't it? You couldn't ever keep yourself out of trouble, and this is no different.
What about the Minneapolis police department issuing a warrant for my arrest after Taylor made a video telling the world that I abused Nikki? The very same Minneapolis police department I've worked with for years. They even let me use a bunker outside of town to hold all my Avenger gear in, Jonny. Who the fuck do you think they're going to believe? An obviously stressed out popstar that has been seen with me for the better part of two years, or an asset to their police force for the better part of seven?
I don't have all the pieces to this puzzle, but you should be warned that the news got a bit of false information. Not only is nobody looking for me, they actually went looking for you. And what they found was quite interesting.. I had wondered why Nikki didn't ask me about flight plans. When I showed them the video of an illegal tank in Denmark, shooting down a national treasure well - they became quite interested in asking you some questions. Considering you stuck your head out and began asking me some. They didn't want to spook you, so they called for my arrest.. when they're actually looking for you!
But, that's the thing about authorities, if you give them a good reason, they'll stop looking for a little while. I told them they should wait until well into the night on October 1st. They agreed that I should put my elbow through your skull before they move in. And Jonny, that's exactly what I plan on doing.
Corey backs up away from Jonny's ear, Jonny's eyes widen. Corey speaks loud enough for the reporters to hear now.
Corey Black
Back in January when you challenged me to this match at War, you thought you just dropped the biggest bombshell this company had ever seen. Here, a long retired man steps back into the ring to battle his greatest foe one on one as he too heads toward retirement. You then spent months in hiding, while I battled some of the greatest names WCF has ever had to offer. FPV, Scarecrow, Creeping Death itself – but Jonny Fly was set in stone. You had the match you wanted, and you were content in watching from the sidelines – the very reason you claim to want to break me. I see right through your games. You're jealous that I'm getting a grand send off, and your retirement came at Fifteen by my hands. You deserved better, I'll be the first to admit. You should have had a parade and a bouncy castle. But you got too cocky. You put your career against mine, and once again, I prevailed, just as I prevailed in creating a legacy in which you're merely a footnote of. You've gone through your life being the best at what you do, but when you came to WCF, you finally found the thing you'll only ever be second best at. You're a former champion that has now become a relic. The irony is fucking palpable.
Time is running out for you, because you refuse to keep up. I created my own path, you simply decided to walk side by side with me until you saw a way out. You say that Pantheon has never been as successful without you. Wake up, last year was the faction's most dominant time. We owned EVERYTHING. And it was achieved WITHOUT YOU. Three fourths of this roster doesn't even know your name, let alone what you did. They know Corey Black because my name proceeds me. You are what you think of me. You are the dinosaur nobody wants around anymore. You're the guy coming in being granted big matches just on name value alone. I win King of the Deathmatch to get my title shot. I beat Thomas Bates, I beat FPV, I lead my team to the semi-finals of Trios and get dicked over, then come back with a smile because I live, breathe, and eat WCF. You came in here from where you came from with a chip on your shoulder that didn't leave until I knocked it and your head clean off. Now you're the wounded warrior, the broken down, retired shell of a wrestler, while I EARN title match after title match. Contrary to your selective, revisionist history, the same vomit spewed out by countless other wrestlers in this company. When I re-retire the legendary Jonny Fly, I'll use that momentum to once again leverage a shot at a championship, and when I win it, I'll dedicate the match to you and your honor. The Jonny Fly Memorial Corey Black Championship Victory. Hell, maybe I'll even create an event named after you so the world can laugh at the very thought. The first Sunday in October can be a day of remembrance, we'll remember all the things you did and threw away. The failed Hot Fries production, attempting to murder your own mother, your black step-brother who has also become nothing more than a meme. We'll joke that you took the time traveling Ranchero to the late 90s when Kate Winslet mattered. No, I'll do you one better.
Corey reaches into his hoodie and pulls out a stack of flyers. He tosses them into the air, people climb over each other trying to get one.
Corey Black
We'll open a park where the public can walk in and see exhibits detailing Jonny Fly's career. The many times he was wrong when he claimed he was right. Being put in jail as WCF World Champion and having the title stripped. Losing to Corey Black. You know, the greatest hits, the 'pillars' of your life. You can see Jonny Fly roam alone, wandering throughout his own self-absorbed fantasy land where he's the only person alive and there's nobody to challenge him, he's the best because he's the last. Welcome to… Flyjobber Park.
Corey laughs, then snaps back into Jonny's face as serious as ever.
Corey Black
Your reputation is circling the drain, Jonny. The only person asking you for a match is Joey Flash, and you continue to duck him. I had twenty people line up in an instant, each one clamoring to share the ring with their King. Your mouth runs and runs for eight months about how you're going to waltz in and dethrone me. You're sending me to early retirement. Your name is in bright lights because I allowed it. I gave you your breakout performance at XIII. I joined Pantheon to give you three nobodies star power. I didn't need any one of you, I could have retired right then and lived my life beyond anyone's dreams. But I didn't because I was grooming the next set of wrestlers that were to take over when I left. Where is Pantheon now? I put Jeff Purse down. I put Steve Orbit down. Kid Phantasm fucked off to fuckville when the heat got too hot. Jay Price is busy toiling in the low card in a failing tag-team. You? I put you down too, Jonny. But standing tall from the ashes of Earths Mightiest Wrestling Stable is Corey fucking Black, the ONE MAN the rest claim latched on to keep his career afloat. I used Pantheon to stay relevant. Motherfucker, Pantheon is relevant because Corey Black was in it! The I took what you idiots casted and molded greatness from it. John Rabid is poised to take this company over. I led Jay Omega to win War and the World Championship. I led Alex Richards to be UCI World Champion, these things happen because I am there in their ear, telling them exactly what they need to do. You did it on your own, congrats, but you have NOTHING to show for it anymore. You're a bitter little bitch. One of those jackasses that will probably take a knee when my music hits simply because you can't handle what's in front of you.
Reporters gasp, Jonny's eyes widen even more. The fire builds within him, but Corey is unrelenting. He steps forward, nearly nose to nose with Jonny. Corey's voice booms throughout the area.
Corey Black
WHEN I drop you tonight, I want you to take a few moments after the match to reflect on exactly what you have done. Before you are taken away, remember that you did this to yourself. You tried to screw with the most powerful man in this company. Without me, there is no WCF, there is no Pantheon, no War, no Jonny Fly. To you, I am the unattainable goal. To me, you're just another guy that put a knife in my back and deserves nothing. You're no better than Rick Mad, Torture or Jayson Price. I have kept my distance, I let you put on a show for everyone while in the back of my mind I knew that when this day came, you'd overextend your welcome. You'd pull some irrational nonsense that would only end up backfiring in the end. That's the Jonny Fly way. Nothing is as simple as walking into a ring and getting shit done. No sir, there always has to be a tank, or a master scheme to beat an opponent before you even step into the arena. You tried one last hurrah, and here I stand. Not broken, not beaten, and absolutely not afraid. You have a long list of Flyjobbers, the likes of which read as a who's who of WCF of the last five years. MY list of Blackjobbers goes back fifteen, and you're at the top. You're my greatest conquest. You are the most dangerous game, and you're the man I take the most pleasure in erasing.
Your grand scheme included a five on one match that, a surprise to nobody, didn't come to light. Even Seth Lerch isn't as stupid, he sees right through your games. You couldn't handle the fact that I was ignoring you. Month after month you'd show your face and run your mouth, but I'd just sit back with a smile. You couldn't take it. So two weeks ago, you finally make it to a Slam you know I am at. You call me out, you flap those gums like only you can. Try to spin reality to mesh with your own twisted vision, and you take a cheap shot. You claim to be here to put an end to something you can't even begin to understand. But when you attacked me, you smiled and walked away. You finally got one over on me. It took you two years, but your master plan finally took shape.
Cheap beatdown, knock down a castle, kidnap a manager, force a popstar to make false allegations, get the authorities involved.. it's a cute charade. You want to know what my master plan is, Jonny? My plan is to walk into the Tokyo Dome, in a country I honed my craft so I could become a household name, and fucking annihilate you inside a squared circle. We're the complete opposite, Jonny. But that's the thing, we already know what. We've been down this road a hundred times. Adventures through time, Freaky Friday horseshit, laughing all the way to the bank joking that I was an actual black man – but all good things come to an end. All the fun stuff becomes painful memories of what once was. We had it good, but you aren't one to share the spotlight. Remember when you asked me to be a part of your Trios team with Steve after everything? YOU asked ME. I didn't need Jonny Fly, you needed me because you know deep down that there is truly nobody better. Nobody else would have got that team to the Finals. Remember redecorating Dethfort with a bunch of silly shit? Remember Terry Robertsynn, singing stupid parody songs, laughing at Jeff Purse's weird OCD crap? All of that was thrown away in an instant solely because you, Jonny, are not equipped to be a functioning member of society, let alone a professional wrestling company. You're a sociopath inside and out. You could have left well enough alone, but that wouldn't be like Jonny Fly now would it?
Corey pushes Jonny Fly back, security tries to get between them but Jonny calls them off again. He laughs, licks his lips and gestures Corey to come get some. He doesn't.
Corey Black
You ooze confidence, but you resort to underhanded shenanigans. You don't have to do that shit. You can get it done in the ring against anyone not standing in front of you this very second. I won't beg you for an apology, I'll just beat one out of you. Some two-bit mafia fuccboi with connections all over the world.. who used to dress like Seth Green in 1997.
Confusion from the crowd, but Corey pulls out his cell phone and pulls up a photo.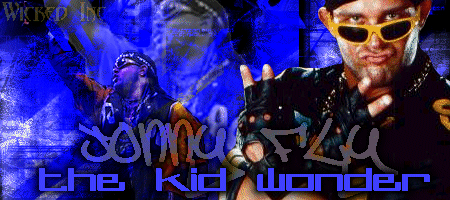 Corey Black
I'm supposed to be afraid of this chump. The man that has a list of Flyjobbers a mile long, the Kid Wonder. The guy that dropped a World Championship to join another company like a bitch. Always where the fuckin' money is, never about honor and competition. Deep down inside you that insecure dickbag still lives. The Kid Wonder is still there, and he's not confident. You thought you put him to rest, but believe me when I say this Jonny, when I dismantle you here in Tokyo, you're going to want to take that Ranchero back to when The Kid Wonder debuted and proceeded to be the butt of the jokes in two companies and never step foot inside WCF. You'll beg to go back and never even attempt to pretend to be hard-nosed, cool, collected Jonny Fly – you'll wish you were back in The Dynasty Hitmen simply because that means you can alter your life and never challenge me again. The Equalizer who used to own TnT Wrestling, who used to claim to be a legend, a cornerstone, the very best – before anyone worth a fuck even knew his name. Running around the indies like a goddamn #seasoned vet. Anybody could amass ten win streaks when the competition is made up of Adam Young's farm talent. You've been arrested, you've been framed, and most of all, you've built yourself up in your own head from day fuckin' one. DAY ONE. You thought you were the greatest to ever lace them up. While you'd go on to earn the praise, you never once did it the right way. NEVER. That's something you'll never understand, it's all you know. You can't do anything without hurting someone else. Be it Nikki, Steve, Jayson, Jeff, Taylor, Tina, your own mother, your tag partners or even yourself. You lost your parents at a young age just as so many of us have. But some of us turn that into a positive. I never had anyone like Ned to guide me. I didn't have the streets, I had wrestling. I had this business, the very thing you use to masturbate your own ego. You're a disgrace to the sport, and a disgrace as a human, Jonny. You always have been, you always will be.
The very first second we saw you on WCF television, you claimed the hierarchy in WCF was set to be changed. And you were right. Mount Rushmore of WCF in 2012 was myself, Logan, Gravedigger and Seth Lerch. WCF in 2017, we take out Logan and put in literally any motherfucker not named Jonny Fly. You're dirt, Jonny, and I hope you are listening closely. For every accomplishment you made within WCF, you were involved in exponentially more detriments. Your failures outweigh your successes. Your life teeters toward the side of negative. There's no saving you, even if you defeat me and get that monkey off your back, there's still a hundred more names you've crossed and will haunt you. I'm your ghost, I'll always be your ghost, and when you're awake at night sweating, watching me conquer WCF once again, when you see my grand retirement ceremony, know that I'll thank you. I'll applaud what you did, but in the same breath I'll spit on your grave.
After this match, you'll be the one put to pasture. I have an event in two weeks, Jon, where will you go? Back to obscurity where you belong. A long-forgotten fossil encased in amber. Hundreds of years from now, someone will uncover your remains. Someone will be bored, looking through the WCF Network and they'll come across Jonny Fly. They'll watch, be amused. After the five minutes of entertainment, they'll switch to the Corey Black Collection, an eighteen hour set of pure fuckin' wrestling. The most brutal interviews, the craziest matches, the best on the planet from 2002 through 2017. A fifteen year reign of dominance. Totally eclipsing you in every sense of the word. There will be one fan, one basement dwelling fuccboi who latches onto you and your career. He'll search high and low for your best of DVD.. but you're long forgotten. Hell, you've been gone for less than two years and you're already an afterthought.
Through all this, I know you'll just laugh it off like it didn't happen. You're the king of the no sell. On the outside nothing bothers you, but on the inside, you know I'm right. You KNOW who you are, you just put a suit on and pretend like you're not afraid of going back and living your own shitty life. You prefer the glitz and the glam of WCF, but I already took that from you.
I took the ONE THING that you had going for you – your wrestling career. You will never take mine, even if it isn't all I have. It is what I cherish the most in life. You'll never touch it, Jonny.
Fly doesn't know what to think. Reporters are sitting in silence, mouths wide open. Corey takes a step back and takes a deep breath. Jonny speaks first.
Jonny Fly
You fucking parasi-
Corey Black
No Jonny, just don't. You know you're wrong, I know you're just hiding your insecurities. Let me tell you that you're right, though, you're right to be insecure. You've put this wall up your entire career, it's time for it to crumble down. For all the talents you have, you lack humanity. You lack empathy and you lack compassion. You care for nobody but number one, yourself. You have shown me that for years. But I have also shown you exactly why I'm the very best, and I have the pleasure of doing that once again inside the ring through that door.
You've changed a lot since you began wrestling. You went from a hipster douchebag before it was cool, to one of the Goodfellas, and now you're a stone cold criminal hell bent on toppling the King. You've destroyed my castle, taken my steward and compromised my queen. The army I have amassed has been called off, this is one on one, Jonny. Rabid has his sights on the championship, Andre has his attention on War, and I have you in my crosshair. But I won't take the low-bridge. I won't disgrace myself by going behind your back and fucking with your life. I'll do what I do best, walk into the arena of battle and tear a bitch apart. I'll be eating pudding out of your fucking skull, Jonny, the only trophy I have ever or will ever need!
This begins with Pantheon, the day I agreed to join, you agreed to play second fiddle. Through your whole career it was Corey Black with his stable, Pantheon. Kid P couldn't handle it, and you can't either. The funny thing about Pantheon is when you step back and think about it, there is traditionally twelve Olympians. But not in Jonny Fly's world, in his universe only one person stands as Pantheon. Nobody else ever mattered as long as he was getting his due.
The Rogue God himself, attempting to come back to Olympus and defeat the rightful keeper of the throne. But I have gilded this throne since you left, Jonny. I have taken Pantheon to heights you couldn't. Even as a small unit, Pantheon continues to dominate this company.
That all comes to an end when you are conquered.
When you die, Pantheon dies, Jonny. It's not out of respect, it's because you were the reason Pantheon even still exists. I kept the group going because I had to show the world how much I truly didn't leech off of you. Without you in the shadows, there is no need. You're the Joker to Pantheon's Batman, I'm going to do what nobody else could – put an end to Earth's Mightiest Wrestling Stable. Our purpose is fulfilled. I have successfully created the future of WCF, and the future has no room for Jonny Fly anymore.
This world no longer requires your presence either. So please, WHEN you are mutilated and left inside the ring a bloody pile of bones, skin and bruised organs, go back to your retirement. Try to live your life without worrying about me – because I'm sure as hell going to continue mine without worrying about you. As you rot in your bed, in prison, or even hell, replay your career in your mind. From UWA to TnT to WCF, remember all the good times you had. When those eight minutes are up, reflect on all the bad, Take the rest of your life to ask forgiveness from whatever God you pray to. Odin would strike you down in an instant for destroying a castle creates by his people. Zeus would be disgusted by the man that bore the word Pantheon upon his chest for years. Jesus Christ would smite you and sentence you to an everlasting eternity of damnation for the things you've done this week alone. The Gods don't care for you, Jonny.
You don't even care for yourself.
I once did care for you.
That was my mistake.
Friends come and go, but brothers are forever. I thought you were my brother, Jonny. I thought what we had was more than just business. More than a jealous dick stringing a legend along to thrust a knife in his back, then take it out and plunge it in again and again. Of course I was wrong about you in the beginning, but now.. now I know exactly who you are and how your story ends.
Your story ends with the bells tolling, Jonny. I made this monster, and I will end it. No longer will you lumber through WCF spouting heresy and hatred. This is the end of you, either you can accept your fate and make plans for your future or you can do what you always do - ignore it and try to buy your way out. There's no buying me, though. You've built your casket, all that is left is for me to put you in it.
The bells toll for you, Jonny Fly. They ring loud and long, for your ending will not be a quick one. It will be a delight.
Corey spits in Jonny Fly's face and turns his back, pausing. Jonny wipes the saliva from his face and sneers, but relents. Corey nods and walks away, leaving Jonny Fly alone with reporters who just recorded pure fucking gold. He sits back down, pulling out the trifold from his pocket and using it to further clear his face.
Jonny Fly
Any other questions?
Hands go into the air, commotion resumes in the room. Corey Black exits the Tokyo Dome, outside is a bright and sunny day. He walks across the street into the hotel attached to the dome, and enters the elevator. Up, up, to the top floor and out, then into a room. All his gear is spread out on the floor, everything is all black with metallic black accents. Except one item.

There, laying on the floor, is a shiny, ruby red elbow pad. The very same one that Jonny gifted to Corey in 2015 before they battled the then Pantheon team of Alex Richards, Jayson Price and Scarecrow. (Untitled Sequel RP) Corey picks the elbow pad up and looks at it longingly. A gift from a friend, a friend turned enemy, and a gift that now means nothing. The ruby elbow pad is dropped into the garbage.

Just as Jonny Fly did to Corey Black, dumping him like he was trash.

This ends at War.