Post by Kevin Bishop on Sept 30, 2017 8:56:08 GMT -5
Fade in:
Ueno Park Tokyo, Japan
4:00 p.m.
September 29, 2017
Kevin sits in the park on a bench, he has his hair pulled up in a japanese style top knot and he wears his Johnny Cash-esque attire with a magazine held open in his hands.

The camera zooms in to the cover and it reads: WCF 戦争 (WAR): リウ・ムサシが壊れた (Broken down by Liu Musashi)

The camera pans around to a shot of the open pages and it starts reading through one wrestler at a time.

Adam Young

The man who has died and been resurrected for the sake of being WCF's local fall guy. Throw him at the big names and watch him sputter out. He even attempted a short stint in UCI after seeing the success of other WCF alum. Adam Young isn't a man to put on 6 star matches and it'll surely show at WAR if in fact he even lasts more than two seconds.

Adam Young has a heart and the boys in the back would push him to the moon if they had the chance… He's their personal mascot for what a hard working American is in this business and he will forever be their Yung Adam.

Ainsley Ivanovic

Ainsley is one half of The Very Big Security formerly The Very Big Alliance the rulers of the internet.

Ainsley is locked into riding coat tails, be it his partner William the Behemoth, a true stand out in the King of the Deathmatch this past year or even Steven Singh. Ainsley is only destined to be a supporting cast and he's not likely to lead any real ground breaking moments.

Amigat

The "Filipino" with a dream… Ugh, it pains me to see this man spell his heritage out like this… As an Asian man this is truly a disgrace. This man is going to come into WAR with all of the false bravado he can muster and it still won't be enough. Pit him against the likes of Andre Holmes and his relentlessness and the Philippino will be eating his meals from a straw until he dies of pure distraught and dishonor.

Andre Holmes

Speaking of Mr. Relentless… This man is a specimen to say the least… The only matches he loses is the ones he chooses to lose. Andre Holmes wants something, he will literally stop at nothing until he gets it.

A story no one has heard and you're hearing it here first… Andre was aiming to get one of my famous 7 star match ratings so he went out with me and my boys for an all night drinking fest… Mr. Relentless stopped at nothing that night to bag himself one of the baddest strippers at a strip club we stumbled into… It was a transy strip club and Mr. Relentless had his mind set so much that he didn't listen to reason… Now I don't know what happened after he left with FyreStorm… But I do know he left with arms full of Fyre if you know what I mean…

You're asking yourself what does that have to do with WAR and I simply say… Andre Holmes will be his relentless self out there and he's going to eliminate a lot of people… But this year, I don't think his want is going to be enough to get him this victory. Many sources say he's an odds on favorite, but his lack of promo-ship thus far has plenty shaken by that fact. Some aren't sure Mr. Relentless is going to be Mr. WAR this year, but his time is surely near… Sooner rather than later.

Bernard Core

Bernard Core is a man who had his chances at that top tier spot, but as the mouth off with The Handler brought forth recently… So many of The Handler's "projects" didn't pan out and this is just another athlete who will go down without a fight… No stand out moments in WAR for this man, only a swift lose put in his L column.

Biff Mustache

The baby face cock shower of UCI fame, can't grow a proper stache to be a true representative of The Stache Manor, but he surely has had UCI success where he failed miserably in the WCF. His college humor character didn't get over very well with the WCF crowd, but he did find a home with his family in UCI, which isn't a very big surprise considering what their talent pool is like over there… Their biggest story is some indy company trying to steal their programming… Talking about Must Turn Off Tv…

Biff threw away a UCI World heavyweight title opportunity and this professional journalist doesn't see him doing any better with one on the line in this WCF WAR.

Biohazard

The professional butt of the WCF joke… Biohazard is a card filler at best and unlike the other joke characters who are making their voices heard this year… I'm looking at Petrov and Hajeet… Biohazard is silent and I doubt it's apart of his mental preparation… The man truly has nothing of warrant to say that'll make him look decent going into this match… True story end of that guy...

Bishop

The diet coke of the more successful of the Bishops… This man has had his time in WCF before, so he's no rookie… But even his program with Gravedigger hasn't done him any favors. I'd love to go into more detail on Digger right now, but even his campaign of putting over younger talent isn't doing what he originally imagined. Bishop isn't the IT man to carry The People's title and this pissing competition with the two is only hurting what Kevin Bishop and Teo Del Sol did for that title.

Bishop is going nowhere and it's going to be evident in WAR this year.

Bomber

The black horse… The man who has come out of the gate from outta nowhere to drop bombs on his opponents… Pun intended.

Bomber is a vet on the indy scene, much like half of the newcomers to most companies nowadays… People love that world traveler wrestler gimmick… But the bombs he dropped were as close to truth bombs as he could come up with.

He talks a decent game, but only time will tell if he's going to do more than eliminate Yung Adam and Shadowlove.

Bonnie Blue

UCI's IT girl… She represents what a hard working woman can do way better than Dolly Parton and Susan Sarandon… Bonnie Blue fights men and she does it like no other female wrestler I can think of and Japan has plenty of tough women if you asked me.

But even with all of her toughness and her we are woman hear me roar mentality… Bonnie Blue declares herself a time traveler but it's a no brainer that this venture to WCF isn't one that'll end well for her. For someone who controls time, you'd think she'd go back to warn herself to not waste her time in WCF to begin with, since her most notable achievements came in UCI. If you don't believe me, ask HER, she'll kindly spend an hour or more telling you about her rise to success in UCI and how she is a cornerstone for the company.

She is the Guardians leader, but in WAR, there won't be a Guardian in sight and no matter the effort she puts forth, it won't be enough to push the little Guardian that could into the upper echelon of WAR finalist. Better luck next year...

Bryan Devlin

Who? The cookie cutter egotistical young boy who has to prove himself… That's the biggest thing I get out of this guy and there's not much else. Look for him to be eliminated quickly and play one of Odin Balfore's many eliminations.

Caleb Ronan

Hipster… Should I say anything more? The guy doesn't respect the art of wrestling which puts him on my shit list from the get go… I will pay to see him eliminated by Odin Balfore.

Cliff of Doom

Stand out from last years WAR and a talent who bucks the system to the point that he works as a clerk at CVS on the side… After dropping the ball as a mind molder of the youth being a teacher and all…

Cliff is looking to have a better year this time around, but not much has come from the man who I have heard through the grapevine is actually looking for retirement due to not fulfilling a promise he made to his significant other.

Dag Riddick

The Trump supporter to the max… He has as many backers in this match as legit backers who made Trump president to begin with. Dag Riddick has been off playing with trains or something, whatever the crazy europeans do in their free time.

Dag has had a career that has been carried and protected by the owner, Seth Lerch. Remember controversy makes money… Dag is very controversial and he is very topical in his approach… The thing is though, he will be just another victim of Odin Balfore.

David Sanchez

The Choke Arteest… He's been creepily silent going into WAR and many are curious if he's in the middle of picking up a director who will help him piece together a hollywood level piece that'll live up to THEE CHOKE ARTEEST standard.

Early in the year before he fell on his face, people would've imagined Sanchez as a sure on favorite to win WAR this year. Even after choking, you'd imagine a man like David Sanchez would be have something to prove which would give him that extra push he'll need to truly stand out.

Can the Choke Arteest choose to shed the nickname that he took on to shut up his haters or will he continue to choke on the rocket fuel of his peers who are climber more carefully than him? Time will tell it seems…

Ded Memry

His name is just that… a dead memory and he lacked anything of substance in his time in the wrestling world.

Quickest elimination to come.

Derrick Tuff

Simply put, this man is going to be Odin's first elimination.

Ethan King

The Everest workhorse and current hardcore champion. Ethan has an understanding of the landscape of WCF and he has navigated it wonderfully.

Now… Do I see him winning it all after entering at Number 1? Of course but I'm hoping for that nice twist in there… There's a handful of talent that scream top tier and I know without a shadow of a doubt Ethan King is just that.
Hear it here now from this credible journalist... Ethan King is the FUTURE of The World Championship Federation... 2017 has only just begun in his eyes.

Gonzo

Another name that has risen from the ashes of the past to try to make a name for themselves again… He was a major factor in DRG, but this is the year he is reminded that he should've stayed gone like The Mountain chose to do...

Truth be told, if The Gonz repeats his last year, he will have an okay outing but no promise that it'll stick yet again.

One thing he can rest easy on is at least he doesn't have to go out and be embarrassed by Jason Cash this year...

Gravedigger

A man who has done wonders on revitalizing his career over and over again.

Be it gang banger Digger or ring commentator… The People's Champion indeed knows how to get the job done. Without much effort he will be in the top 5.

Greg St. Matthews

If he actually shows it'll be a surprise… even bigger surprise is if he last more than two seconds.

Hajeet

Year of the Jobber! The Prince of all princes will have a stellar showing and he may attempt to steal Odin's elimination record.

Hank Herron

New to this world and with the wetness behind his ears, I don't feel confident for the guy. Add him to the list of Balfore eliminations.

Jay Omega

A favorite to win it all and there's plenty of reason for it… He knows what it takes to win and he knows what do with the opportunity that comes with the victory.

Hope he hasn't spent too much time in "space" because he's going to need some Earth type clarity if he's going to hope to win WAR for a second time.

Jay West

Nothing to get out of your seat for… Jay West is as exciting to watch as staring at water waiting for it to boil for my damn ramen…

Add West to Odin's belt of notches.

Jayson Price

Mr. Every title and a penis that truly tests the gag reflexes of any who attempt it… With or without permission, you know how he does.

He's a winner and it's hard not to see him put on a super impressive showing in WAR. If anyone could steal the show it is Jayson Price.

Joe Smarts

Odin will eliminate him with ease…

Johnny Alpha

Bland… boring… unseasoned… one sided… So many words describe this man… Winner does not. He is unrefined and he barely has anything of significance going for him.

If he truly believes he stands a chance at WAR and actually getting any eliminations, I'd love to get his doctor's name so I can get on his prescription that takes him to this fantasy land of his.

Kevin Bishop

The Plague… I mean The King of the Brotherhood… Sorry I almost forgot he lost that moniker to David Sanchez which didn't do a damn thing for either man… Wasted feud.

Kevin Bishop returns to WCF for WAR to look for a chance to show everyONE that he is still worth the claim of newcomer of the year of 2016.

Kevin Bishop believes he deserves a shot at the number one spot and especially after failing to get into Ultimate Showdown, WAR is his chance to skyrocket back to where he left off…

I see Kevin Bishop coming in strong but it's hard to see him reaching that top 5 spot again, I hope he proves me wrong, but it's not going to be easy for the former UCI World heavyweight champion.

Kyle Kemp

Welcome back *clap clap clap* Welcome back
Sure, not truly gone, but his approach to WAR has been a breath of fresh air and he has found his voice and bite once again.

Kyle Kemp is a star, plain and simple. He doesn't care what people think and he knows how to make his success stand out to the masses. Kyle Kemp could very well finish in the top 10 without even trying.

Leon Hayze

A man who has all bet defeated himself before the match even began… at least show you have a pair Leon… For shame, but Odin will destroy this man the rest of the way in WAR.

Luke Force

I've cried from laughter at this specimen of his own self made hype… This is ONE journalist who'd much rather see Luke Force perform at the Apollo on bring your own glock night than to have to be FORCEd to listen to more of his so called "sick" rhymes about WAR.

Luke Force is a man who says F.U. to authority and the system all together… I've seen men get taken out back and legs broke by a sledgehammer for disrespecting the company in the past… I don't see this snowflake finding a safe space anytime soon… I've heard WCF has zero tolerance for such actions…

To say Luke Force stood a chance at winning this match would be the equivalent of saying the dumpster fire that is Lilith is a surprise entrant and she's going to win it all….

Needless to say that's never going to happen.

Matthew Drake

Two words… Cannon fodder.

He is a young buck who is going to be full of bull headed cockstrongness but it'll cost him dearly in WAR.

Mikey eXtreme

This journalist can't help but think of Henry Spearman when I hear Mikey's name and their epic Spear vs Superkick match was a 7 star match from me…

But why is it, I am only thinking of Henry and not the U.S. title that Mikey put on the map? Why am I not talking about The Darkness that helps Mikey get there… That place of eXtreme that propels the man into a whole other side of himself?

Mikey doesn't let anyone forget about the U.S. title, but if he did for the title what he thought he did… Then why did it leave? Why does WCF have the Alpha and Omega championships?

Can Mikey get the job done this year? Word going around is, if Mikey doesn't win, he will take his blanky and go home.

Probably work in a retail warehouse or something…

Oblivion

The Monster IT… Oblivion is sick and he is sadistic and he has shown to be unstoppable at some points in his career… But not now… Not in WCF this year…

He did one thing and it didn't even stick… fed Lilith to sharks…

That's it…

He died and came back and now is regulated to UCI as their monster squad squash boy. Spencer Adams is off his rocker bringing him in and Corey Black is an idiot to get excited over Kevin Bishop vs Oblivion… What is going to sell there? Hype Creeping Death vs IT? Seriously? When did WCF start living that SYFY life?

Anyway… Oblivion is going to do okay but he isn't going to stand out that much… He'll probably just eliminate himself and do us all a favor.

Odin Balfore

My money… My money right here will be backing The All Father for most eliminations at least… It's kind of the hype that everyone seeks out… Watch the almighty Odin Balfore destroy the jobbers of yesteryear…

I do predict some surprise eliminations from War Balfore… Time will tell for sure.

Petrov

The Russian Cyborg looks to do what no curtain jerker has ever done… He will get some eliminations, but imagine if… This is a big IF… Petrov eliminates Odin Balfore… It'd shrink the thicks of the world and flags would be lowered at half staff…

Gods speed Petrov… Gods speed.

Red Dragon

Fodder… Easy elimination for Odin.

Rise

His name sets a bar for himself, yet he hasn't risen all the attempts he has tried. He talked a strong game his last run in WCF but he got hushed by The Brotherhood.

Proof is there, that Rise is all talk, nothing more. More fodder for The All Father.

Shadowlove

The man with the body of an Olympian and the win/loss record of a footnote on the industry. He claims every chance he gets that he's the reason better wrestlers surpass him because of his above average mind games that he plays so subtly.

He spent the better part of a year and a half trying to capture gold and the moment he succeeds, he lets it slip away one match later…

Again I say he will be a footnote… a very minuscule footnote that just so happens to have an asterisk next his name because of his ONE single title win in UCI.

He speaks a big game but he lacks follow through when it really counts… for that, Shadowlove will play victim to an Odin Balfore elimination.

Sidney J. Warwick

The politically correct warrior and a man who isn't new to success. SJW is having a bright 2017 and he is truly making a positive name for himself as well as the Alpha and Omega titles. Will he capitalize on 2017 or will he falter like CJ Phoenix and Kevin Bishop before him? Time will tell and WAR could potentially be a stand out point for him.

Steve Orbit

The Mack returns to WAR this year as he did the year before… He went toe to toe with Odin and it must've worn him out last year which lead to his elimination… I see Orbit playing it smarter this year and he'll probably spend the time working over the younger talent before aiming for the top dogs.

Watch for The Mack's Pimp style to really help him make an impact at WAR this year.

Tanner Tall

Just like his tag partner, he is destined to be just another Odin Balfore elimination… He'll be in good company it seems.

Trey Carter

He's evil and he's tough… I'd love to see him make an epic entrance and have a true stand out moment in WAR. One day he'll escape the Alpha division.

A bright prospect for WCF, just not sure if he's going to scratch the surface of this years WAR or not… I hope so, but that truly relies on Trey and his inner demon.

William The Behemoth

The other half of The Very Big Security and the true stand out from King of the Deathmatch of 2017. He is able to go and the journalist is interested in seeing him step toward Odin Balfore… True clash of titans there.

Wolf

Awoooooooo

Stand out performance in WAR XIV…

Sadly this isn't WAR XIV and this isn't the same Wolf of the past… Be that bad or good, I suppose we shall see once he makes that entrance. He'll have Bernad Core in there with him, so maybe he will keep him on the straight narrow as he has done in the past.

Kevin looks around and he notices the cherry blossoms dropping leaves down onto him. He rolls up his magazine and he stands up, stretching to the sky, then he starts to walk through the park.

V/O: "Talent come and go… WAR is a stage that many of us hope to truly make our mark that'll last longer than a single flash in the pan."

Kevin notices the Japanese men and women pointing at him as he walks past them.

V/O: "I've been in this land before and I remember doing everything I could to shed that gaijin outside image… I went to battle with some of the best early in my career and it is nice to be back here for WAR… Especially after just being in Japan with UCI. The Japanese fans respect the wrestlers who can be loyal to the fan base and the art of the combative sport by competing for as many companies as they can."

Kevin nods to a group of teen boys practicing kendo.

V/O: "To keep one's mind focused on so many styles really speaks volumes of your talents… That is what lead me to so many organizations and that is what will help give me the edge for WAR. I stood out big time last year and yes this year I may have come in holding my UCI title high… But now that Zombie McMorris is cradling it after Rite of Passage which is the perfect title after that match particularly. Easy to see that Spencer Adams has proven to be a man to give chances to the workhorses of the wrestling world and how those who do put the work in can truly capitalize when given the chance."

Kevin notices the exit to the park and Zander is waiting next to a taxi with a Japanese man standing next to him. A middle aged man wearing a Japanese driver's attire. The two are talking and laughing.

V/O: "Seth Lerch doesn't hand the opportunities very easily and I find myself being drawn to that challenge more so now especially after climbing to the top of UCI on two separate occasions. WAR is upon us and I will find my path once again…"

As Kevin walks up he hands the magazine he's holding to the driver very aggressively.

"Strong words Liu!"

Liu throws his hands up.

"Whoa hold up, Kev-O… You can't beat the press on this. I thought I stroked all the big names just right and I spoke truthfully."

"You are just fueling the fire like every other opponent in WAR… They think I'm a man who falls flat when it really matters and they think I'm going to fall flat in WAR just as I did in Trios and the Trilogy cup…"

"Yeah and it's a pretty high chance, Kev."

"You haven't been in the ring since before I left Japan, so where do you get off? You turned to journalism because The Ninja robbed you of your career… You folded and you're going to stand there and say I'm not going to make it this time?"

Liu goes to open the door to the taxi.

"You're driving a damn Uber for christ's sake!"

Liu spins around and puts a finger in Bishop's face.

"I am a JOURNALIST FIRST! This Uber only lends me a little extra cash is all… This guy knows what I'm talking bout."

Liu points to Zander and Zander tries to stay out of it.

"Yeah but Zander has never been a world traveling wrestler who stood at the top of Mt. fucking Fuji! How the mighty hath fallen, man."

"I haven't fallen, Bishop-San… I have surpassed my younger self and I am a better man because of it… There's a point you get to in your life when you see past the little things like Championships and being the best…"

Bishop lowers his head a bit, knowing that Liu is talking straight to him on a human level.

"Gold drives every competitor… If they deny it, then they are lying to themselves and the rest of us who step in that ring. WAR brings out the truths in every wrestler who competes in it, because we find out who is truly desperate and those who are scared to make a move. We've seen all shades of these WAR combatants and we are going to separate the boys from the men in just a few days… This guy right here is going to be the last man standing, I guarantee you that."

Liu shakes his head and opens his driver's side door.

"I hope you're right, Bishop-San… I'd hate to see you fall on your face again and disappear for another couple of months…"

Liu quickly gets into his car and Bishop looks to Zander.

"I should've left his ass on Mt. Fuji."

Zander starts to laugh with his phone held up to his face, causing Bishop to look at him.

"What's so funny?"

Zander holds out his phone and Bishop notices an Andre Holmes action figure for 97 cents.




"I begged Sean to get it for me and he actually said YES!"

Zander jumps for joy and Bishop chuckles.

"That's pretty cheap… Have fun with that big man."

Zander nods excitedly.

Fade out:

Hilton Tokyo Odaiba
5:30 p.m.
September 29, 2017

Kevin and Zander walk into the lobby of the hotel and they're met by Sean Craven dressed in a pair of holey faded jeans with a grey zip up hoodie and Karma Bishop dressed in a black and white kimono showing off a bit of her baby bump and the dress cut up to the mid part of her thigh, her hair is done up in buns. Sean holds a bag which he hands off to Zander, causing Zander to speed off down the hallway away from everyone with excitement. The three look at him and shake their heads together.

"You had to get him that figure, didn't you?"

Sean smirks and shrugs.

"The guy's a big kid… If I didn't get it, he was probably going to cry for hours."

Kevin looks to Karma and he checks her out up and down. She shakes her assets toward him with a big smile.

"You like?"

Kevin nods slowly.

"Yes I most certainly do…"

Sean looks away uncomfortably.

"I suppose this is my cue to leave…"

Kevin laughs.

"May be a good idea, man."

Sean pats him on the back.

"I'm gonna go check out the clubs around here, i've heard they're crazy. Good luck in your prep for WAR."

Kevin smirks.

"Thanks, be careful of the guys who are trying to hand out free drinks and pills… I'd hate to see you have a Hangover moment."

Sean smiles and shakes his head.

"Yeah, I'll keep my eyes peeled."

Sean heads off to the exit and Karma gives Kevin a hug.

"How are you feeling babe?"

Kevin shrugs.

"A weight has been lifted thanks to ZMac and he's the one who gets to deal with everyone gunning for him at Killing Floor… That means I get to focus on WAR without the distraction and without the extra pressure to carry my World title to a WCF ring."

Karma rubs Kevin's shoulders.

"You have nothing to prove to anyone, you know that right?"

"You say that, but WAR is what brings us all back and it is the desire to be at the top that does it… I was climbing last year and I fell flat on my goddamn face in 2016. Everyone has thrown that in my face, hell I just ran into Liu Musashi and he did the same damn thing, except other than in person he printed the fucker."

"But honey, you already won your World title in UCI, shouldn't that be rewarding enough… I mean hell, you beat their records and you raised the bar. No matter what that Time Witch says, you rose UCI up higher than she did and you did it faster. Who the fuck cares that she was held back from Spencer Adams in favor of you. You proved to be the better champion than her and she's going to be a pissy little girl about it, until another person comes along to steal her attention. Bitches are always like that, right?"

Karma laughs.

"It's the WCF though… Shadowlove always pissed me off with claiming that I couldn't favor two companies and that I only had allegiance to WCF when I was the champ in UCI… He's probably half right… I went to UCI to prove that i could do it alone and I succeeded in winning their gold… I made it look easy and my Brotherhood wanted that easy street for a change, so I allowed them to do so… But the longer I was champion and the more I saw what we were doing in UCI… I fell in love. I wanted to carry it on my back, that's why I regained it… UCI was built out of spite of WCF and then I came along… I built a goddamn bridge to allow talents to work for both without fear of backlash. So Shadowlove can go suck off his Vietnamese hooker and go cry about losing his TV title as soon as he got the damn thing."

"Yeah, but you know he just likes to think he's a master manipulator and he thinks he's good at getting in people's heads… Truth of the matter, he's just annoying as shit and people want to shut him up… But they get trapped into some keyboard firing squad with the guy… You do best when you steer clear of the internet, you always have."

"True, that's why I had Steven the Keyboard jockey early on in my career…"

Karma scratches her head.

"Whatever happened to that guy?"

Kevin shakes his head and shrugs.

"Went off with Lester somewhere and I never did hear back from him… That's weird…"

Karma puts her hands up.

"I swear I didn't kill him."

The two laugh together.

"You're fucking crazy, you know that?"

Karma gives a goofy smile and shrugs.

"Yeah but you love me… Anyway, what's next?"

"Next is WAR… Then it is on to Killing Floor to get my UCI World Heavyweight title… Then it is onto ONE to become the first two represent both companies… A man is nothing without goals in his life and I a man who makes his goals a reality. These idiots think they're competing with the same man who fell flat during the Trilogy Cup and the Trios tournament and threw away a year of brilliant rookie climbing…"

Kevin's eyes flash black and then back to normal. His voice comes off a bit darker as if something more is talking through it.

"They once feared The Creeping Death and I'm going to show them what true POWER IS once again… Corey Black never won WAR, but this year… YES, this year Kevin Bishop WILL."

Kevin grabs Karma by the back of the head.

"Now give daddy a kiss."

Kevin pulls Karma in and he kisses her hard. As he pulls away his eyes are black and hers flash a purple hue.

"My dark queen…"

The two smile at one another before kissing again.

Fade out:



Fade in:

Hilton Tokyo Odaiba
6:00 p.m.
September 29, 2017

Zander sits in his hotel room at a wooden desk, putting some serious pressure on the leather office chair. In front of him on the desk he's holding onto a handful of action figures and he has a toy wrestling ring set up.

He holds the Andre Holmes figure up and he smiles at it.

"I got you now Mr. Relentless…"

Zander starts moving figured around and he throws together some props as well until he has Andre standing with a bottle of beer and a cell phone.




"Aww the poor guy's drunk dialing Jack Schlongson…"

Zander disposes of the bottle and then moves Andre around with more props and he stands Andre up with a towel and a bottle of baby oil.




"Is that gonna be a sad tissue or a happy tissue, Andre?"

Andre gets moved to the ring and bent over in front of a Saint Remi figure who has him in a peculiar situation.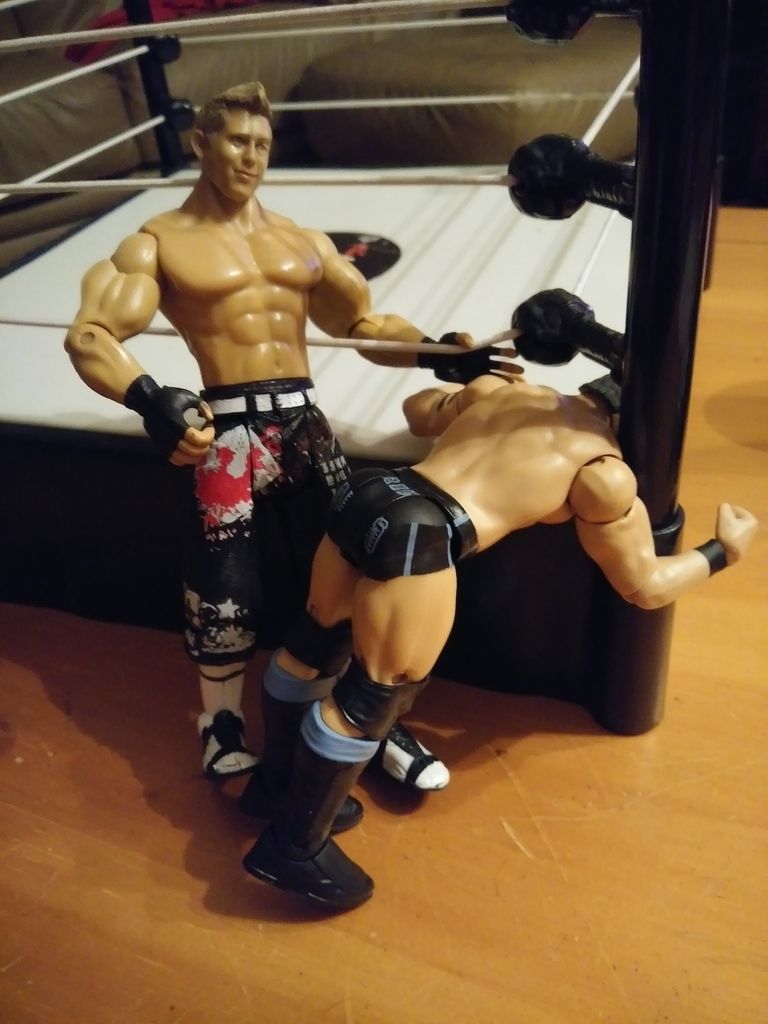 "I call this one St. Remi's revenge…"

Zander now brings in a Wade Moor figure into play and places him under a blanket prop and he comforts the sad Andre.




"Good guy Wade Moor making the save to remind Andre that he WAS a special member of Pantheon."

Andre goes down under the blanket prop now.




"Uh oh, Andre is such a giving lover…"

Wade gives Andre all he can handle it seems.




"I almost forgot to show off the water color changing special…"

Zander pours a bottle of water on Andre and his skin color changes dark.




"That was fun… Hopefully Kev likes it… Funny thing is, Andre truly is relentless with all his cranky fueled anger… He hates people who like to make fun of him or have a good time… So you gotta stay tuned for more Awkward Andre Holmes Relentless moments to come."

Zander smiles.

"Andre is going to be so pissed off…"

Zander cackles and then starts to cough before hitting his inhaler.

Fade out: