Post by Xtreme on Jul 22, 2017 0:43:54 GMT -5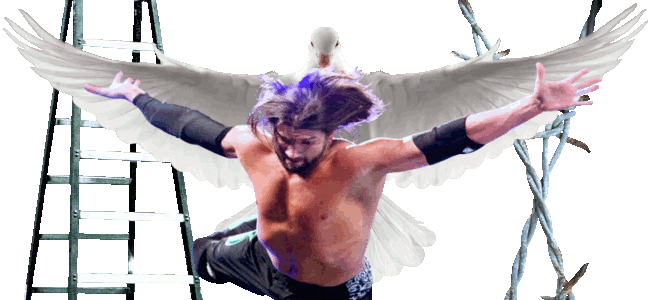 7/21/17
Undisclosed Medical Facility
Morning
Jaice Wilds sits on an examination table, patched and bruised. Simon Kalis stands concerned beside his friend, looking over some x-rays. A doctor walks into the room, holding a clipboard.
So, good news. Very minor concussion; nothing a little rest won't help. And since your... match, you called it?... didn't involve too much physicality elsewhere, the rest of your body is healing up quite nicely. A day or two of relaxation should aide you to heal up quite nicely.
So he's good. That's good to hear.
Indeed. Two or three nights of rest and relaxation; he should be good as new. I don't know what it is about people in your business, but you all heal quick as hell. I'll have the staff ready to clear out, Mr Kalis.
Thank you, doctor. I appreciate you flying in on short notice.
No disrespect, sir; not even the US Government pays what you do for my team's services. For what YOU'RE paying us, I'd have my team permanently relocated to Kalistan tomorrow.
Simon and Jaice chuckle at the mention of Kalis' private island, the former shaking his head.
No need for all that. You come with the highest recommendations, and you prove your team is worth every penny. I look forward to working with you again.
Kalis and the doctor shake hands, the doctor shuffling off. Simon turns to Wilds, sharing a nod before he pulls out a phone. Jaice pulls his shirt on, Simon hits a button on speed dial.
Nayeer. I need to schedule an immediate pickup. Two passengers, direct flight to Kalistan. And tell Marion that I want her team on standby. Got a guy here needs a deep tissue massage and some of that homemade incense. No, I'll call Tamika myself. Thank you, though.
Kalis hangs up the phone, flipping through the contacts as Jaice grabs up his duffle bag.
Calling the wifey? Tell her I said hi.
You can tell her yourself when we get to the house. She makes the best herbal...
Send the plane back for me tomorrow.
A woman's voice is heard on the other line of Kalis' phone. Simon looks up at Jaice as though he just watched his friend smack his mother, looking at the phone's screen.
I'm sorry, Mika. I have to call you back. No... I think the doctor might have missed some brain damage and I want to get him to recheck the scans. Yeah. I love you, too.
Kalis hangs up, sliding his phone into his pocket. His gaze never shifting from Wilds. Kalis takes a moment.
I know, Jaice, I KNOW, that you're about to tell me you just want to see the Empire State Building or the Statue of Liberty before you leave. Because I know DAMN. FUCKING. WELL. That you are not about to go fight Andre Aquarius tonight.
Jaice stares back at his old friend, just as intensely and twice as serious.
I have to finish this, Aaron. You know...
ARE YOU SERIOUS RIGHT NOW?! Do you realize how much I've spent this week? I put you up in the best hotels, got you access to the finest training facilities, flew in the BEST medical team in the world, TWICE... I have spent the majority of the week trying to look out for you, supporting you...
And I appreciate all that, Aaron. I didn't ASK for any of it, but I am grateful that you did what...
And after ALL this, and HEARING the doctor say you were LUCKY more than once this week, and you want to risk your life one more fucking time?! FOR WHAT?! You're out, Jaice. You could win in twelve seconds tonight and you STILL aren't going to the finals. Why don't you cut your losses, heal up and see what Seth can do about a match at Ultimate Showdown??
Simon and Wilds stare each other down for a moment. Jaice breathes in deeply, placing his bag on the floor. He looks back to Simon, keeping his hands to his side.
I knew the risks, Aaron. I watched last year's tourney, and I understood what it is I signed up for. I knew from day one that there was a chance I could be retired or worse.
When the brackets were released, I knew who was on the board. I knew that guys like Oblivion, FPV, Wade Moor, Jason O'Neal, and Crow McMorris were in on this. I knew in the back of my head that there was always a chance I wasn't going to take this. But for the sake of my pride, for the purpose of moving forward with my career, I had to silence those voices and believe in myself.
Knowing the risks, and knowing the competition, I pushed forward. Not because I needed to win, but because I needed to prove to myself that I could hang. That I was worth the contract I signed. And so far, I can honestly look myself in the mirror and say that I am, in fact, worth the money they're paying me.
Simon grunts, his eyes starting to calm. The fists he had balled slowly unclench, Kalis sighing as he begins to realize Jaice is more stubborn than he's willing to deal with.
Look, if the Order wants to drop me over this, so be it. I respect your decision. But this...
Is YOUR decision. I know. Fuck.
After the shit I went through with Lucious, I should understand by now that all my Generals are just as hard-headed. And the shit we pulled in Pioneer and REBEL...
Both men chuckle, Kalis nodding. The two embrace for a moment, Simon pulling back and placing his hands on Wilds' shoulders.
Look. I've got to get back. Brian's coming home from camp and Tami's Aunt Flo is still in town for two days. Just... promise me that after you kick Andre's teeth down his throat, you'll call me so I can fly you out for a few days.
Wilds nods, the two share a knowing glance. They shake hands, Wilds grabbing up his bag as Kalis gets back on his phone. Simon pats Jaice on the back as he leaves, turning away from the door.
Hey, honey. Yeah, no, it's okay. Just... Brian's coming home from camp today. Yeah. Tell him I'll be home in the morning. Okay. I love you, too.
7/21/17
Statue of Liberty
Midday
The scene opens on the Statue of Liberty. Various patrons shuffle in and out of the iconic landmark, the camera picking up various conversations. A small group gathers a few feet from the statue, looking up. The camera pans up, finding Jaice Wilds perched atop the Statue's torch. A close-up shows him grinning, looking out to sea. He looks down, tapping his ear as he points to the camera. He mouths something; and within moments we can hear him with crystal clarity.
We good? Okay, cool.
So. End of the Line. As of last night, I am officially out of the finals for the King of the Death Match Tournament. I know, I know; I'm disappointed, too. But look at what I've accomplished.
I went undefeated in my first two matches.
I fought to a draw in my third match against a former World Champion in Frank Patrick Venable.
And, sure, I lost my Celebrity Deathmatch against Crow last night. But Charles Manson was released with a damn blade in hand. Even WITH my skills, escaping alive from THAT guy is an accomplishment in and of itself.
So I choose to look on the bright side.
Jaice takes a breath, enjoying the air. He watches as a flock of birds passes by, grinning. A moment passes, he speaks again.
So tonight, I finish this tournament as a man of honor. Tonight, I face one of the Whitest Kidz U Kno in the form of Andre Aquarius. Not for points; because points don't matter for us. Not for glory, because there's no guarantee that either of us gets more than our paychecks and a pat on the back after tonight. Tonight is all about respect.
Sickwa... Nope, not saying that.
Sickle-cell Watermelon. Last night, you took a rocket launcher and blew the hell out of an abandoned mall. Tonight, you face the King of Xtreme, who will bring the boom straight to you.
Tonight, there will be not hot oil vats or salty pretzels; only pain with a side of blood and flesh.
There will be no elevators, Andre. Just me going up to collect fun little trinkets so I can beat you down.
A breeze blows through as Wilds pauses, his hair surrounding his face. He takes a moment to brush it back, continuing.
I'm going to make this short and sweet. I gained the title of Xtreme Aerialist by going one step too far and ripping opponents apart. I go out there and I lay EVERYTHING on the fucking table, week in and week out.
You can bring all you have. You can hurt me, rip my flesh, splatter my blood. But at the end of the night, there is only one man who gives his all, only one man who DESERVES his spot in this tournament, only one man who will risk it all to gain even more...
Jaice. Fucking. Wilds.
Andre... prepare thy anus.
A chopper is heard closing in. Wilds flips the bird, looking up as a rope ladder starts past. Jaice jumps, grabbing the ladder as the OoC chopper takes off towards the Hammerstein Ballroom. We follow for a few moments before he fades into the clouds, and we fade... to...

Static.