Post by Xtreme on Jul 20, 2017 21:58:33 GMT -5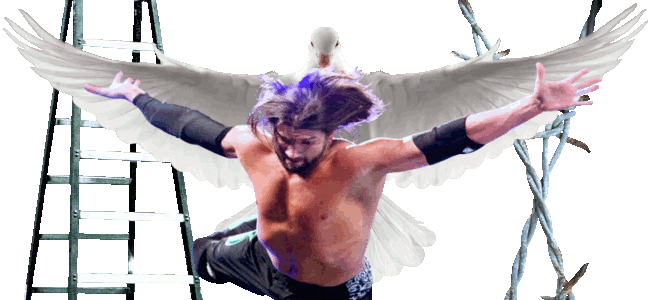 7/20/17
"Poseidon's Trident"
The Order of Chaos' Private Yacht
Morning
The camera opens on a high-tech gym, Disturbed's "The Game" blaring over the sound system. Pained grunts can be heard somewhere in the gym as a dark figure stalks into the room. Kalis turns down the music, walking over to the crossbars. Wilds hangs upside-down, sweating and in pain.
Jaice! What the fuck are you doing? You should be resting up right now. The medics said you need at LEAST your eight hours if you're gonna compete tonight.
No time to rest. Got... augh... Crow McMorris tonight. He's undef...EEEEEAT...ed so far. Can't... let him get another one...
Kalis shakes his head, walking over to Wilds' duffle bag. He shuffles through it, turning to Wilds angrily.
Where the hell are the pills we got you?? It's one thing to be stubborn, but we got connections to provide you the best painkillers known to man...
Jaice pulls himself up with another curl, grunting in pain as he comes back down.
No pills. Pain... augh... builds character. Work thr...OOOOooooOooOooOo...ugh it... makes you... stronger...
Kalis walks over, Jaice moving for another crunch. Kalis stops him, looking Wilds dead in the face.
You want to break yourself before you MAKE it to your next death match, so be it. But I didn't go to all the trouble of importing these things for you to waste them and kill yourself. Keep training; I can respect that. But for God's sake, man. Take the fucking pain pills.
Wilds looks at Kalis, the former letting out a pained sigh. He bends up, pulling his legs off the bar and hitting the floor. He walks over to a locker, pulling the imported bottle of pills from within. He downs two capsules, closing the lid and placing the bottle back in the locker room. Jaice looks to Aaron.
There. Happy?
Jaice winces, holding his side. Kalis puts a hand on his shoulder, sternly looking to his friend.
I know what this means to you, Jaice. I can see how badly you want it. But you have to give your body SOME time to heal. As much as you want to win, you can't possibly want to ACTUALLY die right now.
Jaice inhales, wincing sharply. He takes a moment to meditate, easing himself off the thought of his injuries.
Like I told FPV. I'm doing this for respect. *grunt* If I can't get that... much... out of this whole thing, I have no... point in being here.
Simon nods. He walks to Wilds' duffle bag, grabbing his water and bringing it to the Xtreme Aerialist. Jaice takes a few swigs, nursing his sides.
Respect is indeed important, Jaice. But it's not going to get you anywhere if you're not around to appreciate it. One hour. Then I want your ass back in your cabin.
Jaice begins to protest, but a knowing glance from Simon hushes his backtalk. He nods, Kalis leaving the room. Jaice walks to the high bars, wincing as he reaches up and starts into pained pull-ups.
7/20/17
Somewhere Over Virginia
Midday
The scene opens on Jaice Wilds, barely waking as the sunlight hits his face. A moment passes as he surveys his surroundings; a private jet furnished by the Order. He notices a cup with two pills sitting next to a bottle of Powerade, a note between them. Jaice downs the pills, following with a swig of Fruit Punch as he reads the note.

"Jaice
The General who is to become a King. The Order is with you. Good luck tonight.
-A. Simon Kalis"

Jaice grins, leaning back in his seat. A shuffling noise is heard, Jaice looking up to notice the camera. He motions for it to come closer, clearing his throat.
You know, for a guy who lives and thrives on high-octane, no rules matches... The past few days have been more than I originally bargained for. I mean, sure; I wasn't locked in with a rabid bear, or injected with some undead morphing serum... or drowned... but three straight days of over-the-top extreme rules matches have taken a toll on me more than usual. Doctors say going through the rest of the week like this could potentially injure me permanently.
To be fair, though: I've never been one to back down from a challenge.
So fuck doctor's recommendations and let's focus on the matter at hand, shall we?? Monday night, I kicked the ever-loving shit out of Damian Simmons. Last night, I obliterated whatever was left of Udy. Tuesday, I went toe-to-toe with FPV and managed to muscle out a draw.
That means FPV and I are tied for second place in our block. And the only person standing between either of us and Block A... is the man I face tonight. The as-of-yet undefeated Crow McMorris.
Jaice sits up, opening a compartment under his seat. He pulls out a large manilla envelope, throwing it on the side table. A few papers scatter out, Jaice flips on the big screen in the room to show a paused match containing McMorris. Wilds inhales, grabbing his midsection.
Crow McMorris. Eldest known son of Zombie McMorris and grandson of Buddy Roman. A former People's and Internet Champion here in WCF, and the inaugural World Champion in UCI. A near 7 foot behemoth who thrives on inflicting unwavering punishment on his adversaries. A powerhouse brawler who loves using his size to intimidate and dismantle his opponents.
I've been watching tapes of you for days now, trying to figure out what it is I'm up against. You've got a similar kind of endurance that I faced with your father recently at the Battle of New Orleans. And that whole 'macabre undead colossus' thing is pretty damn intimidating. This paperwork is literally EVERYTHING on you, Scarecrow, and I am puzzling in my head just what it is that makes you tick.
Jaice shrugs, grabbing another swig of Powerade. He shuffles through the paperwork, chuckling as he looks back up to the camera.
I'm sorry, Crow. I just realized... your father is Zombie and you're Scarecrow. I mean, if you ever had a kid, he'd be Sandman or Boogeyman or some shit.
Seriously. What's with the smoke and mirrors bullshit? You and your father with the mystic ever-living dead man thing. Is that supposed to scare people?? I mean, I see SOME people fall for the premise; you've won your fair share of matches from the psychological edge alone. But come on. Anyone with an IQ higher than their shoe size knows you're a mortal being with weaknesses and fallacies, JUST like everyone else.
At some point, all your accolades and all your accomplishments end up coming to an end, no?
You lost your UCI World Title to Howard Black. Did you ever get a rematch? Cause you never WON it back, so you clearly failed.
You won the People's Championship without ever pinning the champ, then traded the People's Title for the Internet Championship during Ultimate Showdown... Sure, you can say you never really "lost" the People's Title; and gaining the Internet Title in the mix was no doubt a lateral move... but I gotta wonder why, Scarecrow, you didn't WIN Ultimate Showdown and become World Champion.
Really, Crow; when you start breaking down your legacy, your claim to infamy starts falling apart. Never won the World Title, despite having the opportunity at Ultimate Showdown. You couldn't beat the champion Johnny Reb and picked up the People's Title via a third party. Then trade over for the Internet Title, which you have to "die" to give up in order to avoid having an actual title LOSS on your record.
Then you come out here with your smoke and mirrors, acting like you fucking matter, like we should give a fuck what the king of scapegoats is doing...
Jaice takes another gulp of Powerade, shaking his head. He sits back, pushing a button that brings up the leg rest.
You know what I think, Crow? I think you're an overhyped legacy who thinks he can play Boogeyman all because daddy's been doing it for a while. Fuck, at least ZMAC snorts coke; the hell do you have? A legacy draped in just as much glitz and sparkle as your face.
You thought LAST night got explosive for you, Crow? Bruh. Tonight, I'm gonna blow the roof off like Ariana Grande, hear? It is in my goddamn job description to make shit look good; and you're a project I'll need all week for.
We got us a Celebrity Deathmatch? I don't give a damn WHO is in that arena with us or what the hell their influence is on the match. What I do know is that I can get a decent nap for half the match, all while you're checking out the mirror trying to figure out what in the blue fuck is staring back at you... then wake up in time to beat you like Joe beat Michael.
Wilds shakes his head, playing the video. Howard Black applies the Kimura Lock, causing Scarecrow to pass out and lose the match. Jaice pauses, turning back to the camera.
And there he is. The inaugural UCI World Champion, who couldn't stand the pain of a Kimura Lock. And yet, here he is, barely a year later, trying to become King of the Death Match.
You've faced peons thus far, Scarecrow. Udy, Damian Simmons, and yes; even that pathetic excuse for a fall guy, Andre Aquarius. Men who don't belong in this tournament. Men seeking glory where only blood is to be found. Men seeking to heighten their careers in a place where one is beaten down, down into despair; down into obscurity; down to the very core of their souls where they become weak to the calls of death and tragedy. But I tell you, sir.
I tell you, Crow, that this is MY dominion. Tables, ladders, chairs, kendo sticks, barbed wire, trash cans, Super Nintendos... ANYTHING that can be utilized as a weapon... these are my playthings. I live by the proverbial sword. You can bring anything and everything you want with you; this is MY playground. King of the Death Match? You're about to learn, Scarecrow, that I am the King of Death.
Jaice smirks, placing the manilla envelope back in its compartment. He leans forward, wincing a bit but keeping in stride with his confidence.
Your father got one up on me. I don't intend on letting that particular family legacy repeat itself. Tonight, Scarecrow, you learn the reason why they call me the XTREME Aerialist. Tonight, you will understand why nobody- NOBODY- outguns me in a hardcore stip match.
I don't care if I have to plow through the Giants and use the Olson Twins as weapons to smack . I'm going to drag your ass to hell and leave it there while I continue on my path to Corey Black and the title of UNDISPUTED King of the Death Match.
I will see you, Scarecrow McMorris, in New York.
Jaice sits back, resting his eyes. "Burn It To The Ground" is heard as Wilds drifts off, the camera panning the cabin before we fade... to...

Static.