Post by Wade Moor on Jul 20, 2017 19:37:21 GMT -5
King of the Deathmatch
Night Four (aka not this shit again)
Ice Road Trucker Match or some shit because why not
Wade Moor vs Damien Mathew Drako Fgt
The scene opens on top of an out of control, speeding truck, where Wade Moor and John Rabid are hanging on for dear life. John Rabid looks extremely confused as to why the two of them have found themselves in such a ridiculous situation.
John Rabid: (Yelling) OY MATE, IM A TAD PERPLEXED AS TO WHY WE HAVE FOUND OURSELVES IN SUCH CONFUSING CONUNDRUM!!!
Wade Moor: (Yelling back) BECAUSE THIS IS THE STATE OF WCF IN TWO THOUSAND SEVENTEEN. WE LIVE IN A WORLD WHERE GINGER GNOMES CAN BE WORLD CHAMPION AND FAT FUCKS LIKE THE VBA ARE PRAISED AND REWARDED ON BAD HUMOR AND PERTURBING SITUATIONS OVER GENUINE CHARACTER DEVELOPMENT AND ACTUAL PROMOS!
John Rabid: (Yelling back) THATS INSANE!
Wade Moor: (you fucking know what he's doing) IF YOU THINK THATS INSANE, WAIT UNTIL THE SCENE TRANSITIONS!
Scene transitions to a shot of a runaway train with the words WCF marked on the sides.
John Rabid: WHATS THIS THEN?!
Wade Moor: WE HAVE TO STOP THIS TRAINWRECK BEFORE EVERYTHING WE'VE WORKED SO HARD FOR COMES SKIDDING TO AN UTTER AND COMPLETE HALT! ALSO ITS CARRYING ABOUT A HUNDRED TONS OF THAT ZOMBIE MUTAGEN THATS GOT MY BOY SCARECROW ALL FUCKED HALF TO DEATH!
John Rabid: DID YOU JUST KILL KAYFABE?!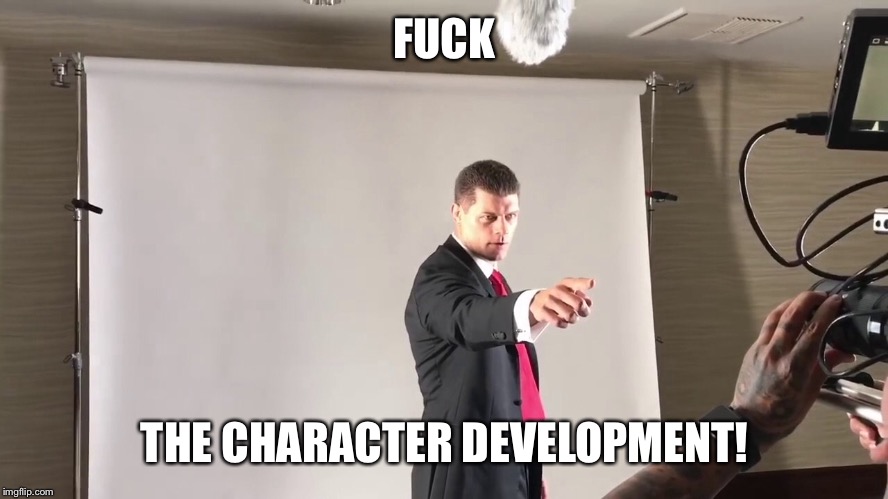 Wade Moor: STILL, DIE FUCK DIE FUCK STILL FOOL BUT YEAH I GUESS I DID!
Down aways of the track, we see Bonnie Blue tied down.
John Rabid: WERE DOING THIS TROPE NOW TOO?!
Wade Moor: I DONT EVEN KNOW WHATS HAPPENING ANYMORE, STATE OF THE WCF IN TWO THOUSAND SEVENTEEN FOR REALS, MY MAN. I SHOW UP WEEK IN AND WEEK OUT PUTTING IT ON FOR THE MILLIONS WATCHING AROUND THE WORLD, AND WHAT DO I GET IN RETURN? MATCHES AGAINST BUMS LIKE BALE PASCAL, WILLIAM THE BEHEMOTH, AND DRAKE DAMIEN WILLIAMS DAMIEN OR WHATEVER THE FUCK HIS NAME IS!
MAN IM TIRED OF KEEPIN MY HEAD DOWN AND MY MOUTH SHUT. Y'ALL ABOUT TO SEE A DIFFERENT GODNILLA IN THIS BITCH. A MAD ASS GODNILLA BOUT TO TAKE BACK WHATS HIS, STARTING WITH THIS KING OF THE DEATHMATCH TOURNAMENT! Y'ALL LINE ME UP WITH THIS MATHEW DRAKONUS LOOKIN COCKSUCKER AND IM GONNA KNOCK HIS ASS OUT, BUST HIS TEETH, MAKE HIM WISH HE NEVER SIGNED HIS NAME ON THE DOTTED LINE. MAN, I WIPE MY ASS WITH LOSERS LIKE THIS DRAKO MALFOY WANNABE FAGGOT!
Y'ALL GOT ME FUCKED UP, YOU KNOW. TRYNA BE SERIOUS UP IN THIS BITCH GETTIN FUCKIN ATE BY PLEBS LIKE THE VBA, FUCK OUT OF HERE.
John Rabid: WOW, THATS (CATCHPHRASE)!
Wade Moor: THATS (CATCHPHRASE) INDEED, JOHNNY MY MAN. GOTTA COUPLE OF JOHNNY COME LATELYS UP IN THIS BITCH ASS TOURNAMENT MAKING A MOCKERY OF THIS BUSINESS, MAN. IM IN IT TO WIN IT AND OTHER SUCH SHIT SO Y'ALL PLEBS BETTER BEND THE KNEE AND SUCK MY FUCKING DICK.
Scene cuts to Wade, John, and Bonnie wrapping the situation up nice and tight.
John Rabid: WE GONNA GIVE THEM SOME EXPOSITION OR SOMETHING?
Wade Moor: WHY MAN? NOBODY WATCHES THIS SHIT ANYWAYS!
John Rabid: YOU RIGHT
Wade Moor: OH SHIT THAT DUCK-CANO'S ABOUT TO EXPLODE LETS GTFO HERE NIGGA!
The three of them cruise off in a AC 130 because