Post by Xtreme on Jul 18, 2017 20:32:43 GMT -5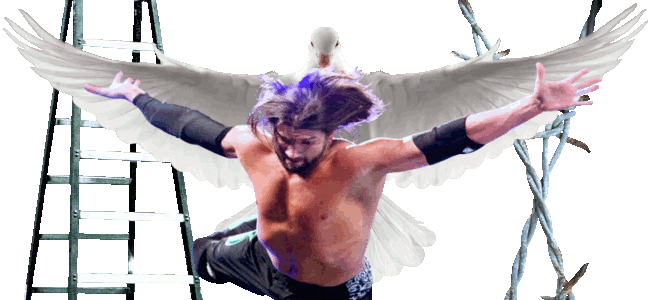 7/18/17
Legacy By The Sea
Midday
The scene opens up on a bruised and wrapped Jaice Wilds. He takes a swig of Gatorade, stretching his free arm. After a few moments, he takes a deep breath, holding his chest as he turns to the camera.
As if there was any doubt. Last night's King of the Death Match round was a damn joke. Sure, I took a bit of a beating, but that comes natural when I'm in the ring. The fun part is that my opponent tonight took a bit more damage than I did. Granted, he was involved in a match where he was against a LEGITIMATE opponent in a match where you had to DROWN your opponent. So I got off easy by comparison.
In all honesty, though, that simply evens the playing field at best. My opponent tonight is a former World Champion. A man who understands the kinds of things I bring on myself because he's been there. A man who has earned his stripes in glorious battle, much the same way I have.
Tonight, ladies and gents, I face off against none other than
F... P... V.
Wilds sighs, raising an eyebrow. He takes a moment to gather his thoughts, addressing his opponent.
Frank. I'm not going to sit here and feed you some bullshit. I respect you. You're a two-time World Champion, and that is amidst a decent array of accomplishments. I've managed to cuff exactly zero WCF Championships as of yet... but I'm also one of the most anticipated stars in the business.
I don't know how long you've been watching, Frank, but I've never been in it for the titles. It's never been about the accolades or the achievements for me. I'm an abducted alien illegally smuggled into the states, who became an acrobatic superstar in a traveling circus. Dropped the unitard and makeup for a shot at fighting my way to glory. Years down the road, made friends with a well-connected beneficiary who aided me in going from being a South American with a green card to being a legalized citizen of these United States.
I've garnered a few lower tier titles. Was one-half of the inaugural and ONLY tag team champs in one fed. Broke a man's 26 match win streak to win a singles title in another. And while I admit those moments were some of the most memorable of my career, they aren't the most IMPORTANT.
Having come up in the circus, I learned two things above all. Your coworkers are your family, and you're only worth the love of the crowd. So that's what I strive for, Frank. I put it all on the line- heart, mind, body and soul- night in and night out. All for the love of that crowd.
Wilds takes a moment, standing. He walks over to his mini-fridge, pulling out a cup of pudding. He closes the door, ripping the top off and throwing the lid away. A scoop later, Jaice is in taste bud ecstasy, turning to the camera.
I put out a challenge a few months back. A non-title match against any champion in the fed. Did you see who answered the call?
Joey. Fucking. Flash.
Then World Champion, Joey did something I never in my life thought I would see. He took the humble challenge of a virtual nobody and offered me a World Title match.
Seth never made it happen. Apparently, despite signing my rather weighted contract- compliments of lawyers paid by my beneficiary- Seth just didn't see the draw of Jaice Wilds in a World Title picture.
But Flash did. One of the most decorated, most acclaimed stars of our era looked at this young upstart and saw potential. He saw a sparkle that outshined the other plebians in the lower card, and offered me the opportunity to prove myself.
Seth never gave me that chance, Frank. I fight tooth and nail EVERY. GODDAMN. NIGHT. And Seth feels the need to keep me fighting in the lower card. So I jumped at the chance to run the gauntlet. UCI had the Battle of New Orleans, and I pounced on the opportunity to prove myself. I come back to WCF, beaten and bruised by ZMac, and I get thrown into a three way for the Alpha Championship. And when Damian Kaine ate a pinfall, I found one last outlet to prove my worth.
For you, FPV, this tournament is just another series of matches. Another chance to show the world why you've held that top spot not once, but twice. Another opportunity to take the limelight once more.
Jaice downs his pudding cup, tossing it behind him. It ricochets off the wall and into the trash can as Wilds looks intensely into the camera.
I want you to understand me, Frank. I want you to listen VERY. CLOSELY. Because I need you to understand just what this tournament means to ME.
I have not had the chance to revel at the top of the proverbial mountain. I haven't had the opportunity to prove myself against the top brass. I haven't main evented a pay-per-view or been head-to-head against a reigning World Champion.
So with the names in this tournament- Crow McMorris, Wade Moor, Andre Aquarius... and Frank Patrick Venable- this is my chance to shine. This is my big chance to prove; not that I belong in the World Title picture, but I sure as HELL belong in the main event. That I don't just have the guts, but the fucking SKILL to put on 5 star matches with the best of the fucking best. This is my chance, Frank, to prove that I can hang with guys on your level. Not to defeat you, not to upstage you, but to be mentioned in the same damn breath.
You probably see me as a pest to swat away. Some lower card nobody who got lucky- or unlucky- enough to be slated for this tournament. And part of me SERIOUSLY hopes that you take me lightly, only so I can prove as much to you as anyone else that I DO have the talent to stand with the upper echelon of this business.
Wilds walks over to the bed, grabbing a shirt and throwing it on. He smooths it out a bit, looking back up to the camera.
All these guys in the tournament. They're looking at each other like Corey Black. Thinking that they're going to unseat a legend and cement their legacy in this business. That's what this is all about, right? Getting to that big match with Corey, propelling into a World Title shot somewhere in the not-so-distant future??
Not me. I see YOU, Frank. I'll see Wade and Oblivion and Andre and everyone else when I meet them in the ring. Because I don't give a damn about Corey Black right now.
I'll repeat that for the guys in the back.
I. DON'T. GIVE. A. FUCK. ABOUT. COREY. FUCKING. BLACK.
I am in this to face the top tier and to show what I'm made of. To show this company, these fans, and the boys in the locker room that I can talk with some balls because I CAN back it the hell up. Whoever I am up against this week, THAT is who I am facing. If and when I reach Corey, that will be when Creeping Death is a factor to me.
Until then, Frank, I've got a few more pressing issues. I have you tonight. The Lone Wolf gets Xtreme tomorrow. Thursday, I face off against the inaugural UCI World Champion and Friday I get Aquarius.
I have past and former World Champions on the docket. I refuse to let any of them leave thinking I'm less than worthy competition.
Tonight, FPV, consider me an underdog or perceive me as a fellow World Title Contender. It doesn't matter. Just go in knowing for certain, when all is said and done, you will be singing my praises just as much as I do yours. Win or lose, my only goal tonight is to gain the respect of a seasoned veteran and a former World Champion.
By any. Means. Necessary.
Wilds reaches under the bed, pulling out a duffle bag. He slings it over his shoulder, heading for the door. A thought crosses his mind, he pauses and spins around.
By the by, I hope you got a little water logged last night. Weapons are my specialty... you might need the extra padding, friend.
See you later.
Jaice exits the room, the door slowly closing behind him. The camera pans the room, resting on what appears to be the casing of a length of barbed wire...

Static.