Post by Xtreme on Jul 17, 2017 11:29:30 GMT -5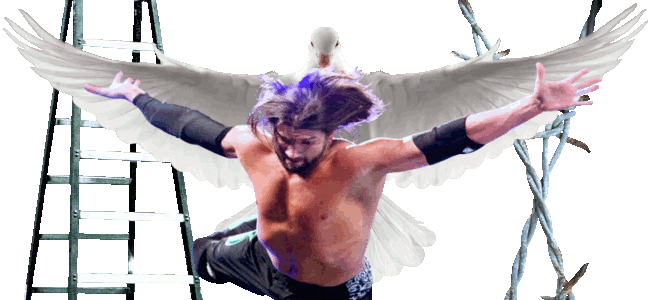 7/16/17
Slam
Post-Tag Team Match
Jaice holds his head as he looks to the ring, watching the Very Big Alliance celebrating. He shakes his head as he looks to Teo, also quite disappointed. The two stare each other down as Jaice tries to mouth his apologies, Del Sol taking a breath before shaking his head and brushing off his shoulder. Wilds nods in understanding, looking back at the goliaths in the ring.
7/17/17
OoC Private Jet
9:42 am
The camera fades in on a large cabin, occupied by various faces. As we pan the room, two men enter the cabin, drinks in hand. They are seated at a small table, discussing wrestling matters.
I just don't get it, Jaice. I know what you can do, and there's no reason a couple of mentally deficient mammoths should have got that one over on you...
Look, I get it. I'm the last General still in the ring. You don't have to keep reminding me of what that means for our image.
This isn't about the Order's image. This is about YOU now, Jaice. You did a hell of a job when we were running shit in the AoWF; and I have nothing but pride in you. I simply see more for you than this mediocrity you seem so content in.
Wilds takes a moment, sipping his drink. The black man with the eyepatch drapes a hand on his friend's shoulder, assuring the Xtreme Aerialist. Jaice looks up, a sheepish grin.
I'm not content with mediocrity, Simon. I'm not content with midcard filler status. It's just...
With the Order, I wasn't alone. I had a brotherhood, a fellowship. Even when I WAS in the ring by myself, there was an understanding that the Order had my back. You, Kaz, Scotty, the Cowgirls... you guys were all sitting in the locker room, cheering me on. This is the first time I've felt honestly... alone...
Simon Kalis chuckles, patting Wilds' shoulder. He sits back, placing his drink in a cup holder.
Jaice. You're NEVER alone. Yes, Scott and I have retired and moved on to the business side of the Order. Tami is at home with our children and Meghan... well, who knows what the hell she's getting into? She calls her father once a month to say she's alive and then causes havoc.
Bottom line, Jaice. Just because you're by yourself in the ring doesn't mean you're alone. Scott, Tamika, Adrian and I still flip to Slam every week to cheer you on. Hell, Brian is the head of Japan's biggest pro wrestling fan club- YOURS.
Kalis takes a drink, noticing the camera. He nods towards Wilds, who looks up and sees it as well. Kalis motions for Wilds to take it, sitting back in his seat. Wilds breathes in deeply, contemplating.
Many men in my position would be upset about a loss like the one I took last night.
I could blame Seth Lerch for making a match where Teo and I weren't the only solidified tag team.
I could blame Teo for not being able to stop the VBA from attacking me while I got ready to polish off the match.
I could blame a handful of people for a dozen reasons. But I'm better than excuses. The fact of the matter is, Teo and I weren't fully on the same page. And despite our chemistry, my inability to key him into the final breakdown was mostly my own fault for not taking the initiative to plot with Teddy before our match.
Teddy, I hope you accept my sincerest apologies for my lack of communication. Should the opportunity ever arise, I give you my word I'll do better by us both.
Jaice places a hand over his heart and bows his head, one catches an approving nod from Kalis. Wilds looks back up, refocusing.
But the past is the past. And I cannot allow a misstep to derail progress.
I have been given the opportunity of a lifetime. The chance I have been looking for since stepping foot in WCF. A chance to prove that I'm worth my weight. A chance to prove that I still have what it takes to survive against the best of the best. A chance to prove that I am a main event star. And that road truly begins this week with the George A Romero Memorial King of the Death Match Tournament.
Wilds pauses.
That's a lot of words.
No shit.
Both men take a swig of their respective alcohols, placing their cups in their holders. Wilds takes a breath, looking back to the camera.
I'm slated against some of the top brass in this tourney- FPV, Wade Moor, Andre Aquarius, Oblivion... my old nemesis Jason O'Neal... Crow, Psychopomp...
I mean, these guys are no joke. Multiple former World Champions, former contenders... if there was ANY time for me to prove my worth, it is this very tournament.
Tonight, I start with... some new kid. Damian Simmons. In a chairs match. So, basically, Seth is throwing a guy with a foot and a half on me... and giving me the means to cut him down. Okay, I can work with that.
Wilds places his hands together, palms apart with fingertips touching.n He takes a breath, focusing his thoughts.
Damian, allow me to introduce myself. By name, I am known as Jaice Wilds. By reputation, I am the Xtreme Aerialist whose ten year career spans 7 plus federations and resulted in 4 title reigns. I've faced men twice my size, I've gone toe-to-toe with World Champions, I've been in matches that would make grown men break down out of fear alone.
I am the suicidal, homicidal, high-flying freak of nature who will kill himself to gain that win. And to a new kid like you, I am the WORST choice for a first opponent.
This tournament is built to seperate the men from the boys. To divide the strong from the weak, the upper class from the bottom rung. These matches are designed in such a way to literally end careers... and yours has only begun. The reason that I am your worst case scenario is quite simple: in the very real event that I retire you from injury, your legacy consists of exactly two matches, both losses. Your career ends before you have a CHANCE to run for a title; before you have a single opportunity to become more than a footnote in your own career. Tonight, you run the VERY real chance of becoming a one-hit wonder- that one hit I allow you to get on me before I beat you like an old, dirty rug.
Wilds sits back, raising his glass. A swig; he swallows and takes a breath before continuing.
Honestly, Damian, tonight's bout is nothing more than a throwaway match for me. I have all the skill and experience to put you away before the starting bell rings, and that's BEFORE the introduction of foreign objects. Bottom line, Simian; you're outclassed, outgunned, and out of luck. IF you survive tonight, you have but to last through Sunday to say that at least you made it through your first real trial.
Welcome to WCF, Damian. Enjoy your stay.
Jaice raises his glass, taking a drink. He focuses on his friend as the camera pans the cabin, fading out.
So... who is this FPV?
Static