Post by Jack of Blades on Mar 12, 2007 18:02:39 GMT -5
"As I was firing huge amounts of money into the sun with the aid of my specialist 'Wealth Cannon' on a lazy Sunday afternoon, something of note happened. The doorbell rang. This visitation by an unknown source of course meant that I had to find clothes with which to dress in. I think I should now remind you at this point that it being a Sunday and my involvement in firing my 'Wealth Cannon' both necessitate my nakedness. In fact, as it was both a Sunday and I was enjoying my cannon, I was doubly 'nude' if you will. Anyway, as I opened the door, I found that on my doorstep was a young girl of about eight years. Upon seeing her, I thanked my decision to actually dress myself what with the memories of the 'Sethgate' scandal still fresh and haunting us all. After narrowly avoiding seeing my winkle, the girl asked me if she would like to buy some cookies. Impressed by the young entrepreneur, I took it upon myself to launch a hostile takeover which involved me shoving my foot up her rectum and starting the sprinklers. Now in possession of two hundred boxes of 'Cream Coconuts', I was aghast to hear that I had not so much brutally crushed potential competition as I had crippled a charity. You see, upon attacking the young girl, I was informed by an employee that I had actually just beaten up a girl scout who was selling said cookies to raise money some starving kids in Africa or Harlem or somewhere. There was even a pamphlet on it. A pamphlet whose front page was marked with the photograph of a hungry, tearful orphan managing to retain a wistful beauty despite his situation. His eyes shed a tear for the parents that had so little opportunity to nurture him. His frame weaker than that of Ellis Island's. As I looked deep into his eyes, deep into those windows of a person's inner-being, windows that demonstrated hope even in illness and impoverishment, I had an epiphany: I don't have enough money. Therefore, in a feeble effort to make some more, I have established a new medium for which the WCF to expand into and assimilate: film. Yes, I have asked the creative geniuses that make up my WCF roster to pitch ideas for films in which we can conquer the Oscars with. And to you, faithful fans, I demonstrate the results." - Seth Lerch.
Name of Film:
Logan's Run.
Scriptwriter:
Logan.
Genre:
It's so fucking out-there that it can't be classified with 'words.'
Tagline:
"The Boudle is back."
Director:
That French guy who directed that film...the one that was on last Friday...it had those two girls starring...they were naked...naked girls.
Starring:
Me as 'Logan' and a bunch of other boudles.
Feature Time:
124 Mins.
Poster: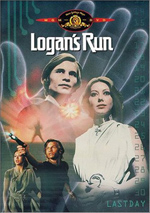 "You see the film will be a success because the title has my name in it. Genius."
Plot:
So, it's like the future and shit. I'm not talking about one of those lame-ass futures where robots have taken over. Nah, I ain't taking no shit from any robot. If robots take over the future, I'll eat my fucking hat. When I get a fucking hat. I don't mean a hat that actually 'fucks.' I don't want any headwear of mine to sex themselves up. Anyway: robots! Yeah, if robots start to take over the world, I won't stand for it. I'll be like 'Cyber-Boudles, kiss my ass! Which is made out of skin. Unlike yours. You have a metal ass. Like a Vietnam veteran. And they're fucking useless. No-one likes veterans. And nobody likes you, you Vietnamese robot bastard!"
Shit, maybe robots could take over the world. I mean, thinking about it, maybe they are already trying to. Like on Wednesday, I was making myself a Snickers, Beef Jerky and Viagra Smoothie to get my sugar level and wang up. And my blender starts to go mental. Starts spitting shit out. I was like 'fuck you, blender, you ain't becoming president.' And I kicked it into trashcan thus saving the world from those metal bastards making us their personal bitches.
Anyway, it's the future and everything is cool. The two worst things about modern life have been solved: hunger and dandruff, because Dominoes Pizza know owns the world. So, everything is cool. It's all good in the hood! Except when you turn thirty, especially if you're a girl-boudle because that's when your boobs start to go south, you get shot in the face.
So, the main character, he's called Logan. And, he's turning thirty. But he's like not as aged as the others his age. He's still really virile. Like, in this one scene, we see him inseminate a small lump of marble. So, he's like 'fuck you, I'm not dying.' So, he gets a machine gun and starts firing at these fuckers. He's like 'pnewnewenewnewnewnenewnewew.' In case you can't read, that last sentence was me pretending to be a machine gun.
So yeah, he's like 'I'm thirty and I ain't taking this shit. Why? Because I'm fucking Logan.' Oh yeah, in that sense he really is a 'fucking' Logan because he gets to have sex with a lot of girls/men/waste disposal units. I mean we're gonna have a lot of sex in this thing. We can get Jenny Agutter to get her tits out like she did for that other film called 'Logan's Run.' But she must be like sixty now. I ain't having any sixty-year-old tits in my movie! (Perhaps the deleted scenes.)
So, Logan decides that he's not gonna take this shit and so we have this really cool fight scene where he kills fifty guys with a comb and a cigar butt.
"These two guys are gonna be important in the movie. When I say important, I kind of mean that they're gonna share screen-time with me. I get to fuck them. Yeah, I'm not too sure why they're dressed up like the ghosts from 'Pac-Man' but the one on the right gets to sit on my face for forty-eight minutes."
Anywho, so here I am, kicking the shit out of these guys. And then suddenly this virginal princess arrives on the scene. I'm hoping we can get the girl with three tits from 'Total Recall' to play her. But still, she arrives and she's like because Logan's so cool, he gets to live past thirty as long as he constantly supplies semen for the most attractive of the species to mate with.
I'll be honest: the film's plot is actually going to take about seven minutes to run. The remaining two hours are just gonna be spent with me involving myself in sexual activities with the cheerleaders from the Indiana Colts. And those girls who were in that film on Friday. And Jenny Agutter. It's going to be a fucking cult classic! I've even got a T.V. show planned 'Logan in Paradise.' Yeah, it's going to follow from where the film left off. Admittedly, the episodes are gonna just consist of some hot chick sitting on my weiner for sixty minutes but think how marketable this shit is gonna be. And, oh yeah, in the end, I win the World Title. Also, Seth, if you get Bob Saget to play me, I swear to Boudle-Fuck they'll be hell to pay.
Memorable Quotes:
"I'm Logan, I've got my penis out, who wants to be cut in half?" - Logan.
"I'm Logan, I've got my dinkle out, who wants to bleed for a week?" - Logan.
"I'm Logan, I've got my sword out, who wants me to dip it in their poo harbour?" - Logan.
I'm Logan, a mighty pirate, and um...who wants me to shove my cock up their shitter?" - Logan.
Estimated Budget:
$40,000,000
NB: I'll be honest; it'll probably only cost about $5000 to film on a DV camera but you know drinking debts and that honorary parade...
NB2: I'll be honest; I've kind of already made the film using my webcam and featuring those college girls who live nearby my crib. It only cost me the price of a keg of Jagermeister, but shit, is it popular on YouTube!
Seth's Comments:
"You know, the real thing that pisses me off about this is that each time I make an effort to extend the WCF's focus beyond wrestling, you fill it with sexual inneundo. The football league? Your cock was out! The record label? Your cock was out! The weird kind of penis-puppet theatre I tried? Well, we all had our cock out but yours was in some girl's ass. Stop ruining my plans!" - 1/10