Post by Jack of Blades on Mar 13, 2007 16:58:52 GMT -5
"As I was sitting there on a Saturday night, drinking myself into a lonely, lonely stupor, something of wonder happened. Kept away from chronic pneumonia (I had decided to switch the central heating off in my household to punish the maid for her inability to differentiate between 'crotch towels' and 'crack towels') by my authentic fireplace, I noticed the flames beginning to quell and dissipate. Quickly feeding the fire with unmarked fifty dollar notes, I was soon brought away from the brink of chronic illness (unlike my impossibly inept maid, who later died in the casualty room). With the fire ignited, I returned to my copy of 'Razzle' 'Titus Andromicus' only to be rudely interrupted by sporadic whimpers of suffering. At first thought, I came upon the answer that it was my maid coughing up her lungs as her body heat dropped to startling levels. However, I then remembered that as punishment for her placing of cotton socks in the same wash as polyester, she was trapped in 'solitary' for the night. Following the sound, it took me to outside my house, where, in the street, I came upon a sight that would forever etch itself upon my being. There it was. Shuffling in its pathetic self through the darkness looking for warmth and food was a mongrel of a dog. Ungroomed and untrained, the dog sniffed its way through the ebony of night trying to find some compassion from a loving source. To add to its harrowing story was the fact, that its front left leg was missing. Presumably amputated by pervert amateurs looking to entertain themselves on a drunken binge, the dog's limp only added to the effect. And so, after running the dog over with my Porsche, I came to a conclusion: I don't have enough money. So, as a result, I have decided that the WCF is to enter a new generation with a new realm of entertainment to dominate: cinema. Ignoring the logical complains of Hollywood, I have instead decided to take any thoughts and possible plotlines from the creative prodigies that together form my WCF talent. The following is just one of the many possible contenders with which to take under consideration next February." - Seth Lerch
Film Name:
The Lawnmower Man.
Scriptwriter:
Lawnmower 'Prometheus' Jones.
Genre:
Rom-com.
Tagline:
"A Tale of Romance, Revelation and Rotary Engines."
Director:
Black & Decker.
Starring:
I'm thinking Jeff Daniels to play myself and Sandra Bullock for Lonnie.
Feature Time:
Depends how much fuel Lonnie's engine has.
Poster:
Plot:
Lawnmower Jones, forced to emigrate from his native Scotland after leading to the national soccer team to World Cup victory against neighbouring England (trust me, this joke will kill them in Blighty), finds luck, fortune and a whole lot more when he moves to the good ol' USA.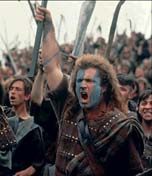 "Scotland 2 - England 0"
Finding the practices of his new nation hard to understand (they don't have flushing toilets in Scotland), the aloof ignorance of our hero often leads to comic hilarity. However, Jones is about to find out that the 'American Dream' doesn't come cheap when, unlike Scotland, local stores don't take turnips as official currency.
"Danny Vice has a cameo role."Taking a job at the manor of the local senator, Lawnmower Jones finds a whole lot more than a wagecheck when he is introduced to the beautiful yet prissy daughter of the Senator whose attractiveness is only outdone by her wit. Could it be love at first sight? Quite possibly as Lawnmower Jones' crossed-eyes means that he isn't actually staring at the daughter during their meeting. No, instead his glare was focused on the gorgeous piece of lawncare equipment that she was using to attack the gardener. After a series of embarrassing scenarios with the lawnmower, Jones and the inanimate object soon start a love-affair that takes them all the way to the grassy plains of the White House.
"The 'orgy' scene."
As they begin to trim the President's bush, things soon turn sour for the pair. Not only must Lawnmower Jones contend with another suitor of Lonnie's, yes, that's right the evil 'Sir Snootiepants Esquire Knobjockey' has his eyes set on her grassbag as well, but he must also resist temptation from the new 'GrassGobbler5X000' model. Can this eternal love survive such difficulties? No. Lonnie somehow contracts hepatitis and after consuming the wrong oil for her motor, stalls. Jones, finding her wheezing out some unhealthy fumes, cannot live without her and draws the last bit of the poisonous petrol from her gas tank.
Memorable Quotes:
"So, this guy fucks lawnmowers?" - The Audience.
"Really?" - The Audience.
"But, wouldn't that hurt?" - The Audience.
"Oh my God! It almost sheared it clean off." - The Audience.
Seth's Opinion:
"Dear Christ, did you just transpose some crap romantic comedy plot onto Romeo and Juliet? New low." - 4/10