Post by Jay Omega on Sept 5, 2017 13:55:22 GMT -5
Your Name:
Josh
Wrestler's Name:
Jay Omega
Real Name:
James Owen Megaron
Height:
6'1"
Weight:
226 lbs.
Gender:
Male
Age:
35
Hometown:
Toronto, Ontario, Canada
Now Residing:
Aboard the ISV
Khybaris
, berthed in Sativa City, The Imperial Isle of Maritopia
Nationality:
Terran
Alignment:
Jay Omega defies alignment labels
Style:
Striker
-Picbase-
Chris Pratt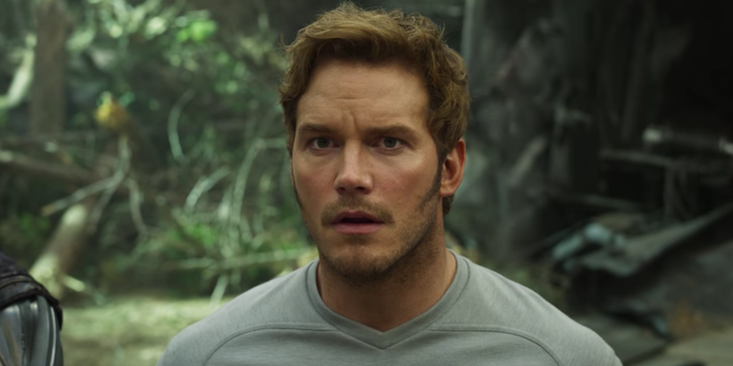 -Appearance-
Short, light brown hair above electric blue eyes in a face too young for his years. Scruffy facial hair kept short, as though he rarely shaves. His arms and torso are well defined, though not overly muscular. He has his personal symbol tattooed on his left bicep, resembling a stylized Starfleet insignia crossed with the Greek letter omega, as well as a red and white yin yang tattooed on his right inner forearm.
-Attire In-Ring-
When in the ring, Jay wears black, DC skate shoes, and sturdy black utility pants. His upper body is covered by a tight gray sweatshirt, under a ruddy, red leather vest. Jay also wears fingerless black gloves, and a single black elbow pad on his right arm when competing.
-Attire Out Of Ring-
Omega's fashion sense tends to be more relaxed, leaning toward denim, and heavy metal T-shirts. Though he is just as likely to walk around in his ring gear, as he likes to be prepared for battle at all times.
-ENTRANCE-Entrance Music:
"
Legend
" by The Score
The arena lights dim to about half, and "Legend" by The Score hits the P.A. system. Neon lights in a range of colors strobe in random places throughout the crowd in time with the electric guitar. A thin layer of fog floats across the stage, and Jay Omega struts out to the top of the ramp as the lyrics kick in. Omega stands on the stage for a moment with his hands on his hips and a cocky smirk on his face, then casually makes his way down the ramp, crossing back and forth to slap hands with fans. At ringside Jay hops up onto the apron, then vaults over the ropes before crossing the ring and climbing up to the second turnbuckle. Omega poses for the crowd amidst a flickering strobe effect from thousands of cameraphone flashbulbs, then drops down and leans back into the corner to await the bell.
-MOVESET-

-Strikes-

1: Various martial arts kicks, from Tae Kwon Do, Muay Thai, and a bit of Krav Maga
2: Various styles of punches, ranging from boxing to Jeet Kune Do
3: Multiple Shotei palm strikes in rapid succession
4: Rolling Wheel Kick
5: Spinning heel kick
6: Enzuigiri
7: Superkick
8: Busaiku knee attack
9: Springboard forearm smash (think AJ Styles)
10: Facewash
11: Corner clothesline
12: Stinger Splash

-Grapples/Throws-

1: Various suplexes (if it ends in "-plex", he can do it)
2: Float-over DDT into mounted elbow strikes
3: Gutwrench powerbomb
4: Backdrop Driver
5: Diving bulldog
6: Scrapbuster Slam/Boss Man Slam (vs. running opponent)
7: Snake Eyes/jumping neckbreaker combination
8: Butterfly backbreaker (Jericho style)
9: Asian Mist (multiple colours, dependent on situation. Red burns, black blinds, blue induces sleep, green blinds & burns, yellow paralyzes)
10: Jumping piledriver
11: Spinebuster
12: Scoop slam
13: STO and variants (running, reverse, into corner, etc.)
14: Numerous DDT variations (snap, tornado, reverse, etc.)

-Aerial Moves-

Special Note: (While Omega is capable of nearly any high-flying feat you can think of, these are merely his "preferred" aerial moves.)
1: Frog Splash
2: Moonsault and variants (standing, Asai, corkscrew, etc.)
3: Shooting Star Press
4: Cross body block
5: Missile dropkick
6: Macho Elbow (exactly what it sounds like)

-Submission Holds-

Special Note: (Omega is not really known for his technical prowess. That said, he does occasionally use a "Canadian" hold or two.)
1: Sharpshooter
2: Arm-trap Crossface
3: Canadian backbreaker

-SPECIAL/SIGNATURE MOVES-
1. Lockdown
(Shining Wizard in the corner, immediately followed by a bulldog off the second rope)
2. Breathtaking
(A huge Stinger Splash, immediately followed by a release Northern Lights suplex out of the corner.)
3. Thunderclap
(A Tae Kwon Do 540 hook kick
-PAY PER VIEW ONLY MOVES-
1: Flying neckbreaker
(Blockbuster)
2: Falcon Arrow from apron to floor
3: Imploding 450 splash
4: Springboard Shooting Star plancha
5: Diving headbutt from top rope to floor
(rarely used, ONLY against personal rivals)
-FINISHERS-Primary Finisher:
Ride the Lightning
Description:
Pumphandle drop into a double knee backbreaker. Omega will hold the opponent's arms to add impact to the backbreaker. Secondary Finisher:
Over the Top
Description:
Turnbuckle climb, rebounding corkscrew moonsault into a Dragonrana.
Special Notes:
This move is designed to showcase Omega's speed and style. He generally attempts it when he's feeling cocky, though it can also be used as an "out of nowhere" reversal.
Submission Finisher:
One Night At the Palace
Description:
Cobra Clutch -> Bulldog -> Camel Clutch Weapon Finisher:
Skullfucker
Description:
(For use in matches that allow weapons, or if the referee is distracted/unconscious.) A front Russian leg sweep onto an open chair.
History:
Jay Omega's history is long and storied, involving a wrestling career which spans nearly two decades, full of heartbreaks and accomplishments most men would have crumbled under. A passion for combat burns in his chest, hotter than Satan's ballsack, and it's coupled with the "never say die" attitude of the clinically insane. Although "a controversial chain of events" is an apt summary of Omega's life, a controversial chain of events led to The Omega Man becoming cybernetically augmented - though not in any manner which enhances in-ring performance - genetically superpowered, and eventually becoming the semi-heroic captain of a starship. Though Omega's intergalactic escapades and advanced alien medical technology keep him in peak condition, Jay has a soft spot for the sport which opened the door to the weirdness his life has become, and now uses the sport as - and I quote - "mild calisthenics". Though his motivations remain unclear for the moment, it can safely be assumed that Jay Omega has returned to the WCF to kick some ass.