Post by Chase Michaels on Dec 22, 2013 17:57:40 GMT -5
I feel I should explain, my appearance has change some what dramatically since I was last seen on television as I agreed if the fan site of mine TheLoneWolf.net raised enough money for charity I would let the hostess of the site Suzie decide on my look, which to no surprise they did and she choose one of my earlier looks shortish hair and 5 o'clock shadow.
Scene 1:
Too Late To Go Back
A Few Days Ago
The scene opens on my home in Redwood, California. I'm dressed in a black pair of combats, a black hoodie with my Saints cut over the top and a pair of black Nike Air Classic trainers, I've just got back from a trip to the shops to pick up a few necessities and I head into the kitchen to see Aeryn sitting at the breakfast bar cradling a cup of coffee in her hands. I walk past her stopping to kiss her on the forehead before putting the groceries away.
Chase: You alright babe?
She looks up at me with a look saying that there's something on her mind that she wants to tell me but isn't sure how to.
Aeryn: We need to talk...
I stop putting the groceries away as I instantly get that uneasy feeling in the pit of my stomach as I know I'm not going to like where this is going as she hasn't been the same since the accident. I walk over and sit down beside her at the bar resting my hand on hers in an attempt to comfort her.
Aeryn: I did something really stupid and something I regret with everything I am...
I spot a tear running down her cheek and gently brush it off with my thumb. She takes my hand and kisses it gently...
Aeryn: I slept with Ryan... I don't know how it happened...It was a mistake... It was a big mistake...
She might of continued to talk but by the point it was like my world was shattered and I was stuck right at the center of a black hole. I take my Saints cut off before I kiss her passionately one last time before I head for the front door and as I past the hall table I lift a photograph of myself and Aeryn as well as the keys to my father's '67 Chevrolet Impala before I head out of the front door and drive off in the Impala.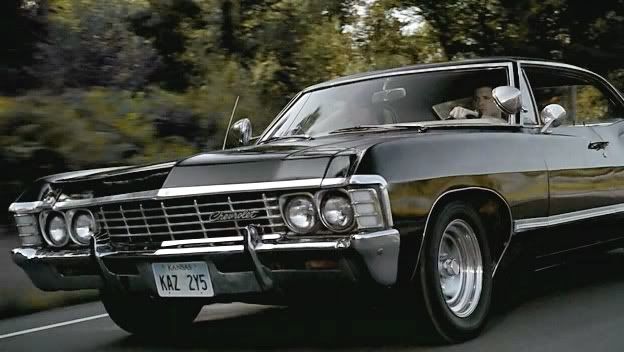 As I drive through Redwood my mind is racing but also in a state of complete shock not being able to focus on one thought more than second. I feel the familiar bump under the Impala's tires as I enter the lot beside the club house. As I park up I see the reason why I drove myself here, Ryan's bike is parked up next to Caine's and Eddie's, I came here to confront my best friend since childhood about sleeping with my fiancee. I get out of the Impala and make a beeline for the club house, as I enter I get a few puzzled looks on the faces of several of the Hang Arounds... I look at them...
Chase: Get out!
I hear voices coming from the chapel and a few seconds later I see the patched in members of the chapter emerge from the chapel... Several of them look happy to see me, several look unhappy to see me and some don't quite know what to make of it.
Caine: So the prodigal son retu...
I don't even look at Caine instead my attention is focused on Ryan.
Chase: Shut the fuck up old man... I'm here to speak to my... You know what I'm here to speak to my supposed best friend since childhood... Right now calling him brother makes me sick to my stomach...Caine: You better show me some damn respect...
My gaze remains focused solely on Ryan...
Chase: I'll show you respect when you fucking earn it and don't piss it away...
Several of the others hold Caine back as Ryan steps forward.
Ryan: I'm right here brother...
I clench my fist as I hold back as every part of my being yelling for me to knock him on his arse where he stands.
Chase: You don't get to call me brother anymore...
I look him directly in the eyes...
Chase: How could you... We've known each other since Childhood... I know you're grieving for Kensi but... How could you...
I fight back the tears as I feeling the anger rising in me...
Chase: You know what I don't care...
I stand directly in front of him and look him dead in his eyes...
Chase: You're dead to me... The only reason I don't bury you in the ground where you stand is because of my sister and your brother... But from now on you're dead to me...
I look down and see the Vice President patch on his cut...
Chase: Congratulations on the promotion... I hope it was worth it...
I look back up at him staring him dead in the eyes...
Chase: Cause if I see you again... I'll fucking kill you were you fucking stand...
I go to turn away and I feel a hand on my shoulder... I feel the anger take over me as I turn and drop Ryan where he stands with a right hook to the jaw... Irish is the first one to rush over to me and pull me away from Ryan...
Irish: What the hell was that about...
I look down at Ryan...
Chase: Thou Shalt Not Covet Thy Brother's Old Lady...And that piece of shit did more the covet...
I look at Irish...
Chase: You know what I'm done with this...
I look over at Caine...
Chase: And I'm done with you... I see your face... Hell I even feel your presence.. I'll fucking kill you without a second thought...
I turn and spit on the ground in front of Ryan before I leave the club house and drive away in the Impala. A while later I find myself entering Redwood cemetery where both my brother's and father's ashes are buried in our family plot. I've always found the cemetery quite a peaceful and tranquil place, a place where I could go to think and in a somewhat weird way a place speak to my father and brother. I pull the Impala up by the curb and get out heading through the remembrance garden to a little grove of trees at the center of which is the family plot. I bend down and clear the leaves off of their headstones before taking a seat on the stone bench facing them and I just sit there thinking of what I should with the only sound coming from the wind through the trees.
Chase: I don't know what to do anymore dad... I love the club you founded but it's costing me the one thing I love more than it... Aeryn... If I had been there... If I had put her first before the club things wouldn't be the way they are now... I wouldn't of lost her and my brother Ryan... I meant what I said to him, he's dead to me... But how can I want to forgive her and not be able to forgive him... I'm not like you dad I can't put the club first... I can't save it by risking losing her for good...
Irish: Thought I would find you here...
I turn around to see the familiar figure of Callen "Irish" Mcgarrett , my godfather and my dads best friend.
Irish: You know as much as your father loved this club he greatest regret was allowing it to cost him his family... The day your mother left him was one of his darkest days... and then when she agreed to allowed him to have custody of you, it was the happiest day of his life... Sure he worshiped the ground your sister walk on and loved your brother Max, he always called you his little cub... Pretty fitting don't you think...
I smile at him as he walks over and sits down beside me on the bench...
Irish: Your father loved you very much but when you used to sit on his bike with his cut draped over your shoulders... That was he worst fear... For you to get sucked into this life... He wanted better for you... He wanted you to have a life away from the club... He saw what the club was doing to those he considered his brothers and that scared him to his very core, your father was one of the men I rarely saw any type of fear in, you take after him in that respect... But when we talked I could see the fear in his eyes at the thought of you joining this club... And know I see why... Brother I would never tell you what to do but I think it's time you put your life with Aeryn before this club... She's the best think in your life and what ever happened with Ryan and her... You need to forgive her for that... It was my fault... I should of done more to protect her from Caine and your aunt Kate... They got in her head and had her thinking up was down and down was up... I'm not saying it's going to be easy to forgive her or trust her but brother she's the one thing that has kept your heart beating... You need her in your life as much as you need the air in your lungs... You need to man the fuck up and put that lady first... This club is for damned souls... You have a chance to get your soul back all you got to do is leave this club... No one will blame you... Hell as much as love this club... I love you more brother... If you don't leave this club it will kill you... Not because your weak but because you've still got some good left in you...
I smile at him as he pats me on the back.
Chase: Thanks... You soft old fart... I needed to hear that... Can you do me one last favour... I'm going to call Connors and get him to take her to...Irish: Safer for all of us if I don't know... But I'll keep her safe for you till he gets here...Chase: Thanks
Irish gets up as do I and we exchange a manly hug....
Chase: Don't be a stranger okay?Irish: I'll see you around boyo...
Irish walks out of the grove as I reach in my pocket and bring out my cellphone and call Connors...
Connors: Hey Rob what can I do for you?Chase: You still in Sacramento?Connors: Yeah we've just tied our last bit of business up...Chase: I need a huge favour... I need you to come down and pick Aeryn up and make sure she gets to her family's place...Connors: Sure thing... I'll be down within the hour...Chase: Cool Irish will be there till you get down... I appreciate this...Connors: I consider you and your brother family so I'm glad to help out... You bailed my arse out more than once...
A smirk comes across my face
Connors: One request... You make sure you make it to your sisters for christmas!Chase: Wouldn't miss it for the world... Connors: Good I'm holding you to that... I'll down with in the hour to pick Aeryn up...Chase: Thanks man...
I end the call and dial Aeryn...
Chase: I need you to listen to me carefully... Irish is on his way over now... You stay with him until Connors gets that and you follow what he tells you to the letter... I need you safe...Aeryn: You're sending me away aren't you?
I take a deep breath...
Chase: I need you safe...Aeryn: Okay I'll go but I need to ask you this... Do you think you'll ever be able to forgive me? Chase: I want to but I just don't know right now... I need time to get my head straight...Aeryn: I'll be waiting... I love you Robert...Chase: I love you too...
I hang up and slide the phone back into my pocket, I say my goodbyes to my father and brother before I head back to the Impala and drive off leaving Redwood the place I've considered home for most of life in the rear view mirror and as if a message from above "Day is Gone" by Noah Gunderson And The Forest Rangers
A Few Words
Scene Two
The scene fades as I drive off in to the distance.
The scene reopens at a community centre in Los Angeles where several professional wrestlers and celebrities are holding a autograph session a head of the One PPV. I've been place in one of the far corners of the centre as I tend to draw a pretty decent crowd seeing as I've spent most of my life in California so I'm seen as some what a local star. I'm dressed in my usual gear, black hoodie, jeans and a pair of black Nike trainers. As a somewhat local star I've been asked by one of the higher ups to give the fans a behind the scenes glimpse to the events leading up to One which means I have to put up with Hank Brown for the entirety of the autograph signing. He arrives a bit after I do dressed in a cheap suit and a camera man in tow. I watch them set up as I start to sign autographs and when they ready Hank sits besides me.
Hank: So Lone Wolf at the PPV this week your set to face off...
I finish signing a Lone Wolf t-shirt and take a picture with the fan.
Chase: I'm facing off against a bunch of no talent newbies because I lost to the country bumpkin the other week... I ain't going to sugar coat it I really don't want to be apart of the match I mean it's pretty much a newbie battle royal to see who gets to be given a few minutes in the spotlight when they before getting beaten by the tag team champions... I mean I'm a pretty good tag team wrestler but teaming with one of those idiots even I'm going to struggle to be victorious... I mean it's the WCF Tag Team Champions... They've beaten pretty much every team in WCF so management feeds them so of the new folk and me... I guess I should be happy to even be on the PPV that alone still employed by WCF... Hell even I realise I haven't been on much of a roll here in WCF... I mean I've lost to Jack Happy and the Country bumpkin for christ sake... Next I'll be losing to Biohazard or Tyler Walker, hell knowing my luck I'll even lose to the dancing queen itself Jorge Diaz... But it like they say it only takes one moment to make your name for yourself in a new federation... I mean I could have been the next Television Champion if I had managed to beat the country bumpkin last week.... Hank: It sounds like you're saying you could beat the Television Champion Chelsea Black Armstrong....
I smirk....
Chase: I'm not saying I could beat her I know I can beat her on any given day whether it's for the Television Championship or just for shits and giggles... You see little miss darkness and I have torn the roof off of arenas all over the World and lets just say I've normally come off better than she has the majority of the time... She claims to be the mistress of the darkness and I've proven she's nothing put a poor deluded fool that can't tell the difference between reality and the make believe in her pretty twisted little mind... She's pretty much learnt it doesn't matter what you want to believe when you step in the ring with me it'll be exactly what the rest of the fools in the battle royal will realise along with the Tag Team Champions later in the night...
I look into the camera lens...
Chase: It doesn't matter who you are or how good you think you are, you'll soon realise that it doesn't mean a damn thing when your in the ring with the Alpha Predator... The Lone Wolf... Chase Frelling Michaels!...
An emotionless look appears on my face...
Chase: You'll be DEAD wrong... I've come here for a fight... I don't care if I win or lose... I just care about providing for me and mine... So be warned boys... Step in the ring with me... And it'll be the biggest mistake of your lives... Cause it's going to be all out war... And the message will remain the same... Come One the hunt is on... Win if you can... Survive if I let you. The mood is about to change. You're about to be just...another...victim!
Scene fades.