Post by WCF Results Account on Nov 3, 2018 8:23:28 GMT -5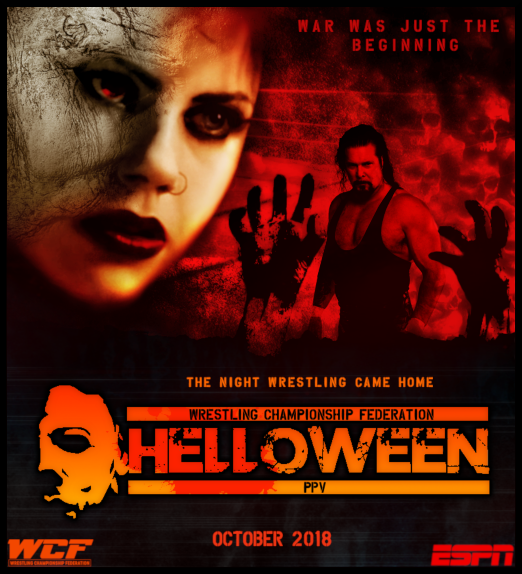 10/31/18
Live From The Town Square In Haddonfield, IllinoisElectrified Steel Cage Match
DW Wolf vs James Wolf
Zach Davis: Freddy, I have it on good authority we are going to test the limits of adrenaline and how far it will actually take you!
Freddy Whoa: Zach who was it that actually tipped you off through your head set?
Zach Davis: Nobody! I was making my own observation!
Freddy Whoa: Zach you never make your own observation. That is something I personally know!
Zach Davis: You're not a know it all Fred. Stop playing like you are!
Freddy Whoa: I will not! So shut your dumb ass up!
Zach Davis: Look at that sight! They are putting the finishing touches to the Electrified Steel Cage right now. They also refuse to tell us how many volts will be pulsing through this cage once it goes live but we know the WCF does everything to extremes so these two men will not be very comfortable in the ring. The only man who might be comfortable except a little nervous is our referee Skip Windinger.
Freddy Whoa: And we must absolutely point out that there are no submissions in this match. That's not to say you won't see them but they won't count. The only way to win this match is by pinfall! We are going to get a lot of pain amongst these two men. I have to say this challenge is more about survival. Just to make it out of this match will be an accomplishment in, and of itself!
Zach Davis: Very true. I'm being told right now through my head set that this cage is timed to go live as both men enter. That's pretty smart to me so we don't have any hiccups. This match could very well still the show even though its opening this match.
Freddy Whoa: Also don't forget that we will see James Wolf again later in the night. He has time to recover while DW Wolf does not!
Zach Davis: And we don't know exactly how that will play out either. Now DW Wolf will be the first to enter, and then James Wolf will follow.
Freddy Whoa: Let's get ready to witness the destruction and rebirth of both of these men. We know they don't like each other, and going forward my reinvorgate some paths that weren't there before.
Zach Davis: That's also true. These men may be put on a crash course running back into one another, or they may not. Time will ultimately tell!
"Of Wolf and Man" by Metallica
Wolf marches down to the ring, staring straight ahead the entire time with a wide eyed look on his face. He rolls into the ring and holds in right arm up in the air as he walks to all sides of the ring acknowledging the fans.
Zach Davis: DW Wolf enters the cage first, and he bounces against the ropes as he stares outside toward the audience. He then turns his attention back toward the ramp way as he motions for James Wolf to come down next.
Freddy Whoa: He thinks James wants to keep him waiting but that's not the case at all!
Zach Davis: If you say so Freddy. I'm more inclined to believe DW Wolf over you but now James Wolf is coming out.
The arena is dark with orange strobe lights on beat with the beginning of Michael Myers' theme song. The song continues but there's a pause. The chorus of Villain I'm Not by Three Days Grace plays and Scott Slayer starts making his entrance with a Michael Myers mask on.
Kyle Steel: Weighing in at 250 lbs, and representing Southaven, MS here is James Wolf!
He moves in a cryptic and mysterious way. He enters the ring and takes of his mask with pyrotechnics from the corners erupting.
Freddy Whoa: I do say so, and you're believing the words of a fucking loser Zach. Don't give me any shit about how I'm wrong because you know I'm always right!
Zach Davis: Well, we're going to test that little theory Freddy. You go for James Wolf, and I will go for DW Wolf. Let's bet on it!
Freddy Whoa: You got yourself a fucking bet!
You hear a click signifying that the steel cage is live with electricity and the camera displaying the action catches a smile on the faces of DW Wolf, and James Wolf at the same time. We also see Skip Windinger in the ring only there to count the pin. Windginer raises both of his arms, and we're ready to go.
DING! DING! DING!
DW immediately rushes James. James immediately uses a german suplex with extra leverage, and he lets go as DW crashes against the cage. DW falls as you see the lock on his face is sheer agony. James bends down to pick up DW. DW sends a thumb to the eye of James. DW then whips James into the corner turnbuckle. DW then kicks James in the gut, and uses a buckle bomb that sends James into the cage back first. James then falls to the mat hard. DW is staring down, and he raises his arm as the fans come to life with cheers. James slowly rises with a low blow as DW falls to his knees. James sends DW down with a ddt. James begins stomping away onto DW. DW then grabs the leg of James, and twists over sending James to the mat. DW is up on his feet. James slowly gets up and DW takes him down with a running STO. Wolf is back down. DW tries to follow up with a running elbow drop but James rolls out of the way as DW hits the mat hard. James then hits the ropes and comes back with a baseball slide into DW's ribs. DW rolls over to the ropes. DW uses the ropes to help him up. James attempts at running clothesline but DW out of no where sends James into the electrified cage with a fall away slam. James falls to the mat and looks like he if finished. DW calls for Windinger to count. Windinger has no choice and begins to count as DW makes the cover. James then kicks out before a count can be made. DW rises shaking his head unable to believe it.
Zach Davis: I'm not sure what I'll get if I win this bet. Maybe a modicrum of respect but knowing you Fred you'll back peddle quickly.
Freddy Whoa: I'll never back peddle my decision Zach win or lose. You're just dying to be right for once. But its just your life you're destined to be wrong.
Zach Davis: Yeah keep talking Fred, we're going to see who wins or not!
Freddy Whoa: Zach, you're an idiot. Let's just continue watching this!
DW then tries for a short arm clothesline but James reverses into a falling neck breaker. DW goes down as James picks up DW sending him to the corner turnbuckle. DW hits hard as James follows up with a big splash, and then some mud hole stomping. James continues putting the boots to DW in an effort to slow him down. DW some how manages a shoulder roll through the attack ending up behind James. DW then picks up James sending him down with a shinbreaker. James falls down holding his knee like he is seriously hurt. DW then grabs the hurt leg of James and then James rolls up DW with a small package pin. Winding immediately counts
1!
2!
The crowd then yells NO! together as DW kicks out. James looks down at him in disgust violently pulling him up. DW sends a knee to the gut of James. As James doubles over DW lands a "Double A" spine buster! James cringes in pain as DW heads toward the ropes. He leverages himself up for a spring board attempt but James is up and he quickly runs hitting the ropes sending DW back into the electrified cage shoulder first. DW falls holding his shoulder. James picks up DW, and hitting a classic shoulder breaker onto DW. DW then rolls over gasping as a the sole of the boot of James connects to the face of DW. DW is sent down. But then we see the look in the eyes of DW. He isn't going to take this shit any more. DW hits the ropes and comes off with a chop block of James. DW drags Wolf slowly over to the cage. DW picks up James hitting a dragon suplex which sends James into the cage. DW picks up James again and gives another dragon suplex onto James. James goes against the cage again and then falls hard back onto the mat. DW motions the cutt throat symbol. He mouths that's it as he covers James. DW rolls up James for the pin as Windinger counts
1!
2!
James kicks out again and DW cannot believe it. Windinger shows DW two fingers, and DW is relunctant to believe it. James is up. DW hits the ropes and comes back trying for a drop kick to the knee of James. However James side steps as DW awkwardly almost loses his balance. James turns around lifting DW, and putting him down with a Death Valley Driver. DW hits the mat hard. DW gets up as James attempts a big boot but DW moves as James runs right into the electrified cage. James immediately falls to his back as DW takes a little time to admire his handy work.
Zach Davis: That looks like it must have fucking hurt. Smart move by DW Wolf. James Wolf must be feeling the effects of this match now!
Freddy Whoa: Didn't you see the promo of James Wolf air. He promised win or lose he wasn't going to stop in this match.
Zach Davis: I must have missed that because I went to bed early!
Freddy Whoa: Your mom still gives you a curfew huh Zach? It must suck to live in her house!
Zach Davis: I don't live in her house Fred. I live with my girlfriend!
Freddy Whoa: Your own hand doesn't count Zach!
This doesn't last long however as James is back up. DW attempts a running boot to the face but James takes DW over with a power slam right into the electrified steel cage. DW immediately falls hitting his face hard against the canvas. James falls back due to exhaustion but then his adrenaline kicks in again, and he pops back up. DW is up as well. Both DW, and James take off running and take each other down with a double clothesline. Both men go down hard as Windinger has no choice but to count.
1!
2!
3!
4!
5!
DW pushes himself up off of the canvas and leans against the turnbuckle.
6!
7!
8!
James is now back up using the ropes to hold himself up.
Zach Davis: I don't use my hand you idiot! I really have a girlfriend now Fred. DW Wolf almost won this match but James made it to his feet. DW doesn't even have a look on his face. He looks exhausted this electricity has zapped out most of his energy, but the same can be said for James Wolf. We saw James fall back before his adrenaline kicked back in.
Freddy Whoa: I simply don't believe you Zach. I don't even think mail order brides would work for you! Of course both men are exhausted. They both have been putting all their power behind punches, kicks, and of course all of these wrestling moves. DW Wolf may be the Hardcore Champion and the title is not on the line but this match came out of who the better Wolf actually is. And regardless of the winner I can tell you that both of these men still think they are the best. We don't know if this match will lead to series of matches against these two men but we'll always have this match to look back on.
Zach Davis: After this match, and we get a break I'll show you a picture of her! To prove to you that I am right. You make a very good point Fred. I never considered both of these men were putting everything into taking each other out.
Freddy Whoa: Well that's your problem Zach! You never stop to think!
Windinger looks at both men and we can tell he is shocked that both men are standing. James takes off running, and so does DW, but instead of another double clothesline happening. James gets the big boot to the face of DW. James then picks up DW and rakes the face of DW against the electrified cage as we hear DW scream in pain. James then takes the back of his head and throws him back down! DW rolls back and is up. James doesn't notice however until its too late. DW with another chop block. DW whips James to the corner turnbuckle. DW sets up James to the top. DW climbs over to the top and looks at the cage. The crowd roars in approval. James is putting up resistance, but DW some how manages a super plex into the electrified cage. DW takes some of the punishment himself as he falls back on the mat. We see James hit the cage as well and then fall back to the mat with such impact he bounces. James then rolls over holding his ribs.
Not knowing if James is feigning his ribs being hurt again DW immediately raises James up in a double elevated chicken wing, and quickly runs him into all four corners of the electrified cage, and on the fourth DW holds him against there for a few extra seconds. James falls to the mat but gets up purely out of instinct. DW mouths "you done fucked up now!" and DW hits James with "The Kill" and then covers him hooking the leg.
Windinger drops down counting.
1!
2!
3!!!!!!
Zach Davis: And DW Wolf wins this match!