Post by WCF Results Account on Oct 1, 2018 10:40:12 GMT -5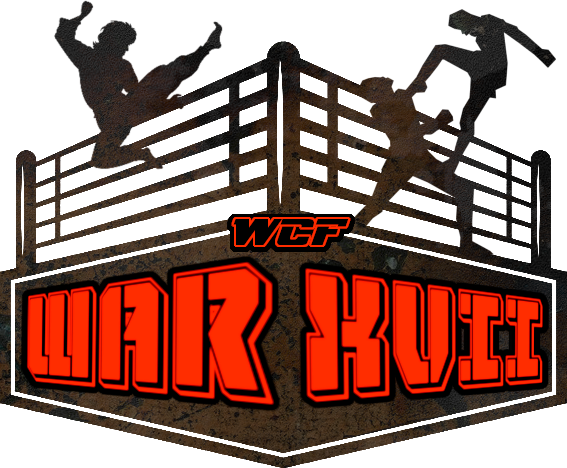 9/30/18
Live From The Scotiabank Arena In Toronto, Ontario, Canada
War XVII Intro
Zach Davis: We've got pyro shooting off like crazy, "Symphony Of Destruction" by Megadeth is blaring over the arena's speakers and the fans are losing their minds, which means it's time to say welcome to the 17th Annual WCF WAR PPV!
Freddy Whoa: I can barely hear what you're saying! This is nuts!
Zach Davis: We are live from The Scotiabank Arena In Toronto, Ontario, Canada, home of the NBA's Toronto Raptors and the NHL's Toronto Mapl-
Freddy Whoa: Nobody gives a shit about those sports! Tonight it's all about WCF and WAR!
Zach Davis: Hang on, am I actually hearing a "Mama Mustache" chant from this crowd?
Freddy Whoa: Well WCF does attract a certain type of fan base and WAR is known for bringing out the crazy in people.
Zach Davis: Indeed! Now let's talk about tonight's show so that we can get going with the action.
Freddy Whoa: In the main event we have the WAR Match! WCF's no holds barred, anything goes version of the Royal Rumble where going over the top rope doesn't mean jack.
Zach Davis: That's right, you only get eliminated via pinfall or submission.
Freddy Whoa: As for the participants in the match, we've only got about 25 confirmed names, but we know darn well to expect the unexpected in terms of returns when it comes to WAR.
Zach Davis: That's right, we could easily see 10 or more unannounced men and women show up tonight!
Freddy Whoa: As for who we have confirmed, there's names like Steven Singh, Alex Richards, Roy Speede and Jayson Price.
Zach Davis: Those are the old guard of WCF, you're forgetting about the likes of Noble Savage, Kurt Navarro, Karma Bishop and James Wolf.
Freddy Whoa: Those are all good but let me raise you some names that aren't being discussed. Names like Samuel McPherson, Buff Mustache and Eccentrix.
Zach Davis: We'll be here all night if we keep listing off names, but the point is that this may be one of the most wide open WAR Matches in years. Everyone has their favorite to win!
Freddy Whoa: And let's talk about what they're all fighting for…main eventing One with a shot at the WCF World Title. There is no bigger prize and no bigger night for anyone in WCF.
Zach Davis: But before we get to that match, we have a match for that very title!
Freddy Whoa: That's right! In our opening match Odin Balfore is going to be defending his WCF World Title against Bonnie Blue!
Zach Davis: A lot of people were surprised when it was Bonnie that answered Odin's call for a challenger to step up and face him. But we weren't!
Freddy Whoa: Bonnie is one of the few people who can say that they've had Odin's number recently. Let's not forget that Odin missed the Champion's Ultimate Showdown Match because Bonnie beat him for the final spot.
Zach Davis: That's right! Odin was then forced to be in the Altimate Showdown Match, but in the end it worked out fine for him because he became the #1 Contender and then won the World Title.
Freddy Whoa: But you know Odin has to still harbor some kind of feeling about that loss to Bonnie and being forced to wait a little longer to reclaim the title he considers to be his and his alone.
Zach Davis: Absolutely! All right well we've talked about this night long enough, it's time to-
Freddy Whoa: Hang on Zach, there's something happening behind us. I'm not sure what exactly, it seems like the fans are paying attention to something...hang on. Is that...it is! Seth Lerch is here!
Zach Davis: The ex owner of WCF is in attendance for tonight, the first time we've seen him on camera since he sold the company to John Rabid back in early January. But what is he doing here?
Freddy Whoa: Well this is the first time we've had a WAR Match when Seth wasn't the owner, perhaps he's just come to see if it's a train-wreck or not.
Zach Davis: Well here's to hoping it's a success! Now let's get to the action!