Post by Deleted on Feb 21, 2015 23:58:26 GMT -5
"I never thought I'd feel this high," Robert Cairo spoke in a solemn, trance-like tone. His voice was steady, unwavering, though void of the passionate verve that typically colored his dialog. "I never thought I'd feel this low. It's been a hell of a week. A week or two, actually. You asked me to tell you my story?" The Godfather sighed. Inside, he shook his head. Maybe he was shaking his soul. Maybe he was too tired to entertain the trials and tribulations of this game any longer. Maybe he questioned whether it had all been worthwhile. Finally, he offered a kind of ultimatum to his captors. "Do you really wish me to impart that burden upon your cranium?"
It was decided.
"The Godfather of Professional Wrestling" sifted through Hell. He scoured the rising and ebbing tides of a raging red sea of turmoil and neglect. He wafted through the sands of his own reckoning. Cairo knew that the barbarous hands of the hourglass were unkind to his ambitions; they did not sway to his favor by any stretch of portent or potion.
Though not ancient by any means, Cairo was a learned and world-weary man of vast international experience.
He knew how this story had ended in heartbreak so many times before. Not for him; not so much anyway. Cairo'd had a good shake at it. He'd gotten his end away most every time that he pleased.
There was something else though; Cairo knew that he wasn't immortal. He wasn't A Jam Willis Hey-Zeus. He wasn't even the walking undead in the form of A Coked Up Mad Man. The Father of God was curiously... mortal. Flesh and blood. Bones and thick. When Cairo was hit-- it hurt him. When Cairo was sad-- that raging red sea inside of him churned ever the harder for it. If Cairo contracted AIDS-- well, if he contracted AIDS amid his deluge of sexual conquest, he would be a goner like so many before him. And if he blew his shot at Timebomb-- who knew whether he'd ever be afforded another opportunity?
Yes, Robert Cairo'd had a good shake at it. Better than most. It just... it wasn't good enough for him. Not for an athlete and competitor of his caliber. His accomplishments, though plentiful and worthy of acknowledgement, were insufficient for a man who had scaled the WCF mountain as both a wrestler and a manager, a man who was determined to reach that peak one more time. When Cairo was a Dub See Eff rookie in Two-Thousand-and-Six, he defeated Hall of Famer Victor "Outcast" Taylor to capture the Worlds Championship a mere three months into his career. It became a tale of legend; Cairo enjoyed one of the longest undefeated streaks to begin a career that major professional wrestling had ever witnessed.
Cairo was a Slickie T before there was a Slickie T; a Jonny Fly before there was a Jonny Fly. Indeed, he was a Natural "ICE" Beckman before there was a Natural "ICE" Beckman. But... but, Bobby was too young and dumb to appreciate the gravity of his achievements. The belt slipped through his hands a mere month after he'd captured it. To The Godfather's lament, he hasn't held it since. He came close. Oh yes, he did. Bobby nearly regained the Championship during his feud with Skyler Striker in Two-Thousand-and-Seven. He fell short. Bobby made a run at the Championship once again in the inaugural WCF Classic in Two-Thousand-and-Eight. Again, he fell short. Then, for a while, for some time indeed, he was content to mold and manage the careers of others. Bobby's most prized pupil, Chad Evans, ultimately accomplished what Bobby could not, defeating Slickie T to capture the Worlds Championship in Two-Thousand-and-Ten.
Bobby wasn't bitter when it all went down. He was proud of his charge. Still, there was something inside of Bobby, a voice that said 'If he can do it... why can't I?' Bobby reflected upon that question in the here and now; he conceded that over time the moment of pride when his pupil conquered such great heights had become a burden that fell squarely upon his broad, Poon Guinean shoulders. "If he could do it... why can't I? Why haven't I? Chad was great. I mean he was GREAT. One of the best talents that I've ever seen. But truly... truly? He was not committed to this business. Not as I am. Chad was the type who would use any injury, no matter how minor, as an excuse to step away from the sport.
"I've taken my share of time away from competition, but never for lack of love or for want of passion. That's something that many people do not understand. They attack me for taking what they view as extended vacations, paid leaves of absence. Yet I ask them to reflect upon the truth and answer me honestly: Have I ever really left? Have I ever been more than a heartbeat away? Was there ever a moment, a single Jam Willy blessed moment, when my name and likeness were pushed from the forefront of your conscious mind? Answer me honestly, my children.
"They want to know my story. They want to hear every agonizing detail. They want me to apprise them of every tear shed, every drop of blood spilled. Every harrowing bout of heartache that I've ever incurred. Every regret. Every shortcoming-- and yes, even a thick motherfucker such as The Godfather comes up short on occasion. So it'd wrench my heart and sever my guts, but if you want to know then I'll spill it for ya. This is not... it's not always a fun business. Competition is what drives me, it drives many of us. We hang our hats on being able to rise to the occasion, time and time again. Sometimes you just fall flat, like words that go unspoken because you didn't have the nerve to open your mouth, even though you should have.
"That's the human condition, or at least part of it. We're not toys. We're not dolls. We're men. We're women. We're boys and we're girls. We're white and we're black. We're Hispanic and we're Asian. We're every color of the rainbow, or at least damn near-- and sometimes we're more than one. But yet when you look inside of yourself, I don't care who you are, you know you've made mistakes. You know you've got limitations. You know there's enough regret inside your soul to open up a GodFatherDamn WalMart store selling nothing but that regret. It's not because you wanted it. It's not because you understood it. You probably didn't even deserve it. But it's there and it's yours and it's not going anywhere.
"If you fought long enough and hard enough, could you absolve yourself of that burden? Could you ever just... let it go? I don't know. Search my soul, Jam Willis, because I do not know. I cannot even pretend to have the answer to that question. I can hardly pretend to know where I'm going when I wake up in the morning, sometimes afternoon, and once upon a while in the evening. That's why we need our passions, our hobbies, our loves. Cuz without 'em? All you got is them knots inside of ya. They'll eat ya alive, yes they will. I'm a man who knows that to be true.
"If I cannot be absolved, if I've gone too far off the deep end, dived head first inside that raging red sea of turmoil and neglect, then I'll do my GodFatherDamnedest to fight the fading light with every breath that's left in my being. I'm not going out like a punk. I'm not squandering the time and opportunity that I have left in this world. I'm taking a stand, staking my claim. First and foremost, when I look at Timebomb, I see an opportunity for redemption. That's the part of my story that you'll really want to hear. Redemption is that shit inside of you that wrestles with regret. Redemption is that heart and guts that drives ya forward in the face of what should've, would've and could've been certain defeat.
"Re-dempt-shun is when a man or woman stands up on their own two feet and gives no fucks to what the naysayers spout. I don't need their critiques any more than I need a handful of false hopes, a hatful of hollow. Spiritual emptiness ain't my bag. The beggars banquet ain't my scene. Excuses? Excuses can take a flying leap off the Brooklyn Bridge. You want me to regale you with tales of regret, pain, calamity? Why? So you can feel better about yourself? So you can pick apart my brain and document my weary soul? So you can pinpoint a diagnosis as you check off the correlating items on a chart? A chart? A piece of paper?
"I think that I'm more than a statistic. I think that I'm more than just another victim. I think The Vapor Kings are gonna find that out the hard way at Timebomb. Those motherfuckers wanna run their mouths about The Poondock Saints? They wanna run their mouths about A Bobby Cairo and A Kaz Mazy? They wanna talk about 'conquering the hate'? I don't need to conquer the hate! I embrace that shit! I embrace that hate every time I see A Natural "ICE" Beckman or A Zombie McMorris flapping their gums on my Dub See Eff Network stream. I'm paying eight-eighty-eight for that joint... eight-eighty-eight Poon Guinean every month to hear two bum ass jobbers who ain't fit to lick A Poondock Saint's boot running their mouths on some kind of supremacy tangent?
"That's what I gotta listen to? I could tell ya some stories about that, if ya wanna hear stories. I could tell you some stories about how many times I'd R-CAIRO Natural "ICE" Beckman before his bulbous noggin finally popped the fuck off his flabby shoulders and hit the ground rolling. See, now that might remind you of a joint called 'The Legend of Sleepy Hollow', what with the Headless Horseman (A.K.A. Paul Roma) and all, but I call it something different; I call it 'Natty ICE Gets His Shit Pushed In By The HAHDEST Mawfawka Who Ever Did Live'. Put that in ya regret pipe and smoke it, ya unthick midcardin jobbahs.
"I hear all about how ICE Beckman is some kinda intrepid World Champion, fearless in his manner, prepared to take on all comers. Really doe? How can that be? How can it be that The Poondock Saints have made more title defenses in Two-Kay-Fifteen than the fightin'-est Midwesterner who ever did hold that World Title belt? The Poondock Saints-- sheeeet, man. We beat four dudes on Sunday Night Slam just to get into this Winner Takes All joint at Timebomb, who are all tougher competitors than Steeltoe Joke. You remember Steeltoe, right? He's the one and only opponent who ICE has defended that World Title strap against since the calender flippety flopped to the New Year.
"This is Dub See Eff's Intrepid World Champion? This is the specter of the ICE Age that we're supposed to be all so wary of crossing, lest we slip and fall face first unto the abyss from which we shall never recover? Gimme a muddafukkin break, Jack! Beckman! BECK-MUN! I know you can hear me, muddafukka. I know that the NSA is spying on me, even when I'm all the way up here in-- nigga, I don't even know where these muddafukkas took me. Tall, skinny, gray-lookin niggas wearin' that Michael Jackson garb from the eighties. Shit looks re-dick-a-less, on the up and up. They tried to probe my shit and ERR-THANG, nigga. I told em-- yeah, you gawkin at me with that oblong noggin? Why don't you open this door, son? OPEN THE DOOR! CUM CATCH THIS EYE JAMMY, NIGGA.
"Nothin. That's what I thought. Punk ass." Cairo strutted his stuff, puffed up his chest like the cock of the walk. He was a captive. He was THEIR captive. But he was a captive on his own GodFatherDamn terms. And that's just how it was gonna be. "You know, I always thought there was intelligent life out there in the universe outside of our own species, but these muddafukks who done abducted me, me and my bitches and my homie Jesus-- they done proved me wrong. They gonna get jacked da fawk up just like some punk ass Vapor Queenz. I'm biding my time, biding my time, BIDING MY TIME, until..."
/R-CAIRO OUTTA NO-WYAH!!
In a flash, the first gray alien in the Michael Jackson spacesuit hit the ground like a sack of rusty bedsprings. Cairo had busted through his cell door via the sheer force of his thick, and now? Now he was on a killin' spree. He grabbed that next Michael Jacked-UP alien and--
/IRRESISTIBLE BLISS WIT DAT BRIDGIN' PIN!!
That nigguh got counted out by a Robert Cairo wearing his zebra stripes and zubaz, payin' tribute to a late, great Mistah Perfect Curt Hennig. Cairo kipped up to his feet and brushed the dirt off his shoulder. Two gray alien niggaz was down already and who was gonna be next?
"It's like I was saying, Vaypuh Chumps: Though not ancient by any means, I am a learned and world-weary man of VAST international experience. So what is it you was singing, and OH-- excuse me while I drop a couple more of these extra-testicle-less-SPACE-jobbahs."
/WHAM!! BIG BOSS BOBBY CAIRO YAKUZA KICK DECAPITATIN' A PUNK ASS MOON MAN!!
/ZING!! CACTUS CLOTHESLINE DROPPED THAT LAST GRAY NIGGUH OUTTA DA SHIP INTO A STRAIGHT UP FREE FALL!! GIVE FELIX BAUM-GAHTNAH THE GAWDFADDUH'S REGAHDS, PUNK ASS!!
The Godfather was sowing his oats. He was fucking Mars bitches double-triple time, with a thick in one poon and a fistful of hey-nah-nah goin to the othah. You don't keep a Bobby Cairo locked up. He don't like that shit. Nigguhs be gettin GAWT. Bitches be gettin SMASHED. Bobby murk you and fuck ya ho. Let that be a lesson to any other alien abductin' kinda mawdafawks that be out there: ZETA RETICULANS, WE CUMMIN FAH U, NIGGUH!! YOU AND DAT WACK ASS VAYPUH QUEENZ CREW!!
A Robert Cairo stalked to the Property Room like this was some kinda county jail. He fumbled through boxes and boxes of old shit that nobody wanted-- discards formerly belongin' to white trash abductees that had been sittin' on the shelves for a long ass time, kinda like that Chelsea PoonSmashed box that was runnin' wit dem Pack Rats on a hopeless and fumblin' CUMback spell. You know the one; Natty ICE's bitch.
Anyway, Cairo tossed all them Chelsea boxes to the side and dug out his belongings from that solid gold joint that was reserved for The GawdDaddy. He found his iDroid, his pinky ring, his Star of David Cross (Arrested Development FTW), his Glock, his Gold Shitkicker Boots, and the like, and took off down the hallway to find his abducted comrades.
It wasn't long, within minutes in fact, that Cairo happened down a long white corridor with pulsating lights that throbbed ever brighter, then ever softer, then brighter, then softer--AWW IT DIDN'T MATTAH THEY GOT /R-CAIRO'D OUTTA NO-WYAH!!
An absolutely furious Robert Cairo pounded his feet through the surface of the floor, lowered his head and shoulders, and busted down walls until he found his way to the spot with them holding cells. It didn't take long for him to get there. CairoPopz had a way of navigating through them troublesome spots in lyfe. Call it a sixth sense, a knack, intuition, or Jam Willy intervention. Call it what you want, but know that when he got to that spot, Cairo put his Gold Shitkicker Boots to work on them supposed 'bulletproof, lazerproof, GawdFadduhproof' glass doors that trapped the captives within their cells.
Bobby licked his chops as he shattered them shits under the sheer POWAH of his uberthick thrust kicks, one by one by one, knockin' muddafukkas out for no reason as an almighty racket reared up in his wake. By the time he was done: The Rihanna poon was freed, naked save for a pair of platform heels. The Vida Guerra poon was freed, naked save for a pair of kneehigh socks. The Jam Willy thickness was freed, clothed in His white satin robe swayin' and flowin' every which a-way, just like the day Momma Cairo made it.
"Jesus, Riri, Vida!" An overzealous Cairo exclaimed. "GawdFadduhDamn, it's good to see ya! I thought ya was gonerz for a right said minute thurr, like them punk ass Vapor Queenz!"
"Bobbuh!" Riri leapt into Cairo's thick and shuddercummed with thunderous aplomb. Ya know babygurl can't go more than ten minutes without that BobFadduh thick.
"My Son, My Son," Jesus offered His plaudits as He mounted Vida from behind. "Thank you! I needed this!"
"Don't mention it, Jam Willy. You my nigguh." Cairo stroked his Revolutionary Style Beard whilst considering the Vida dilemma. "Did she, uh--?"
"Yes," Jam Willy perceived. "She took the anal probe. In fact, she insisted upon it. I secretly recorded the event in its entirety on my Blacktooth. Gonna turn a tidy profit with that shit once I shop it around Vegas. Sheet, I might even take it to the Dallas Buyers Club."
"Silly bitch," Cairo growled as he unholstered his Glock from his thick. "Our kids are gonna be sum kinda fukked up Poon Guinea-Alien hybrids! You never seen the movie Species? Fukk dat!" Cairo pointed the Glock squarely at Vida's delicate, brainless, Cuban Pooncranium.
"Wait, Bobbuh, wait!" Vida implored as Jam Willis reamed her keister with his Holy Crusadah thick. "Your sperm was too strong! The alien jizms never hadduh chance! Don't ya see, Bobbuh baby bwoi?!"
Cairo paused his finger on the trigger, paused whilst considering the point that the ass poon-smashed dullard had raised. "Das right, Vida baby. You-- yeah, ya speak da troof."
"It didn't mattah how much Martian goo they shot inside me cuz they ain't had a chance against yo Jew goo, Bobbuh baby bwoi!" Vida was gleeful in her declaration as she gritted her teeth and loosened her ass cheeks for the thirty feet of Jesus inside her. "Just like it don't mattah how many Vaypuh Queenz they throw at cha at Timebomb! You gonna murk them foo's like it was yo thick turnin' my ass poon tah smashed poon!"
Cairo's Jew noggin bounced just as Riri's mocha tinged titties did whilst she got shellacked by Duh GawdDaddy. "You speak prophecies, Vida Poon," Cairo affirmed. "It don't mattah wut them Vaypuh Queenz be bringing at Timebomb! The only competition The Poondock Saints gonna face is amongst they own GawdFadduhDayum selves! Cuz, see--" Cairo let the jizm flow down her buttocks, her thighs, all the way to her ankles and toes, yet still there was enough for an ocean of goo to spurt thick inside her. Rihanna fell to the floor and drowned in hot white spunk. She died for the sixty-ninth time as Cairo assumed that position and began the prosexx once a-GAIN.
"Robert H. Cairo is primed and ready! Kazakhstan Mazakhstan is primed and ready! You think A Kaz Mazy don't wanna be Whirled Champ-ee-yun? Of course he do! You think Bobby Cairo don't wanna be Worlds Cham-peeeen? Of course I do! If I don't win that belt at Timebomb, then A Kaz Mazy is the only acceptable alternative. Cuz, don't cha understand? I'm tired of looking at this bumbling idiot Beckman parade around with his clan of rejects, his drug addict lackey ZMAC, his quivering, whimpering, spineless coward of a father Buddrick Roman. I look at the three of ya and I see there ain't no competition for them Poondocks!
"I look at cha and I ask Jam Willy on high: 'Jam Willy? When is Beckman gonna hit me with the HAHD shit? When is he gonna fight me like a man? When is he gonna dig deep within hisself and show me that he's somethin more than a one-note joke?'"
"Well, Bobby," Jam Willis offered. "That's seeming like it's a not-now and not-EVAH probability."
Cairo nodded his thick in the affirmative while goin' WOP BOP A LOO BOP A WOP BOP BOP in that Riri ass clap, on sum 'Tutti Frutti poon-smashed booty!' kinda trip. "That's what I thought, My Lord and Saved-YA! That's what I GawdFadduhDamn sure thought!"
Jesus, ever the perceptive mawfawk, slipped that Blacktooth from outta his thick and hit da RECORD AND SEND TO DUB SEE EFF dot CUM button as Bobby percolated on his latest verbal rampage.
"You're supposed to be the King of that Vapor Kingdom, Natty ICE! Oh yes, my child, but you wear the crooked crown of the court jester. That's a defeat right from the get-go. That's like going from the penthouse to that doorman job just cuz ya wuddn't thick enough to roll wit dat 'I'M DA KING O'DURR WHIRLED!' DiCrapio joint. You're a paper champion, son-- the definition of the term. Poondock Saints is puttin in work every damn week, bringing more prestige to these Tag Team Straps than you ever brought to that World Title, and you wanna act like you high and mighty? You wanna talk big and carry a shriveled thick? Nah, son. NAH SON. Ya ain't bamboozling The Godfather on no kinda claptrap. I deal in poon, my man. I've seen every dirty, MAN-GINA stankin trick in the book, from the blue waffle to the whoops ween.
"You ain't showing me no kinda clandestine tactics that I ain't already seen and discredited. And might I ask, sir, precisely who wears the pants in the Roman Family; is it you or your deadbeat daddy? We know it ain't ZMAC. That muddafukka still wearin Bermuda shorts and bootleg Doc Martens that he stole from K-MART. So tell me, Natty ICE, who's the man in the family? Is it the paper champion whose claim to fame is that he got lucky and bopped a Robert Cairo on the noggin at ONE long enough to hold that GawdDaddy down for a three count, or is it that effeminate Jew who claims to be the leadah of ya wack ass crew?
"Oh yeah, you know who I'm talkin' about... the one who be actin all hormonal and sheet, talkin' 'bout STEEEVEEENN STEEEEEVEEEN WHAA WHAA WHAA." Bobby sniffled and snotted into a box o'Puffs Plus that THE JEEZUS made magically appear. This actually prompted Bobby to pause from his diatribe long enough to ask Jam Willy some questions. "Jesus, I don't understand-- you can turn Roman into whine, and make the Puffs Plus appear outta thin air, but you couldn't zap them gray alien nigguhs into anothah dimension on some Divine Intahvention joint?"
"Nah, man," Jesus shrugged. "That Poon Guinean KushCaine is a helluva drug. Zonked me da fukk out. Furrealz."
"True dat, my nigga Hey-Zeus, true dat." Bobby gave Jesus dap and returned his focus back to his HAHD STYLE SHOOT. "I think I just made Brent Alpine ragequit again, but anyway, that whole Vapor Kingdom be sheddin' sum surrious tears of late. First they shit the bit against us Poondocks, dropped them Tag Belts. Then Orbit got whammy-jammied by a DVS Dan Van Super Man at Payback, lost his Hardcore Belt, decided to run home to Momma Meredith and Sister Jenny Fly. Natty ICE, you the last Queen who actually got some gold. How does that feel? How does it feel to know that once you get dropped on your jobber ass noggin at Timebomb, them Vapor Kingdom vaults are gonna be cleared out like a GOIN OUTTA BUSINESS SPECIAL at Radio Shack?
"That's gotta be a sobering reality, even for a bottom shelf drunk like you, Pisswater Beer Beckman. It's gotta give you DA FEELZ. It's gotta make you tear up and soil your panties, just like Daddy. I guess the nutless, gutless apple don't fall too far from the tree, does it? You just a chip off-a that three inches of dangling Buddy Roman fury, Beckman. Yeah, this shit has gotten personal, man. It's gotten real personal because a guy like you-- you got handed shit in this company that you ain't never had to work for. You got opportunities pelted at your feet that I had to bust my ass for, and when you won that belt, beating lesser competition than I beat to win WAR, you got handled with kid gloves from that point forward. Look at the record, nigga: You got booked into one soft-shelled title defense every couple of months.
"The only real challenge you had to withstand, my manz, was me. And you had how many months to rest up for ONE while I was droppin mawfawks left and right on Slam every week, preaching that Jam Willy gospel, stumpin on that
Magnum Opus: Liberation
platform? Yeah, that's what I thought. You got nothin to say, cuz you know you got gifted junk-bottom tag and six-man matches every damn week, showin' no finesse, no gumption and no fortitude as a Worlds Champion. Well, here's a tag match for ya, Beckman: VAPOR KINGS versus POONDOCK SAINTS, and POONDOCK SAINTS be poundin' yo VAPOR KING ass into the mawfawkin mat like ya name was Vida Guerra gettin' GEE-LIFTED by DA HEY-ZEUS!"
Bobby and Jam Willy pounded thicks together with that BARON SALAMI CAUSIN' EARTHQUAKES IN POON GUINEA kinda force. But this time around it wasn't Poon Guinea that absorbed any damage. No, no. Not at all. It was that Vapor Kingdom that lie shattered, scattered, crumbled, tumbled, and torn ASSunder, buried six feet deep in a pit of despair.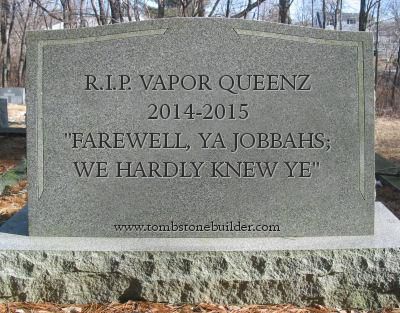 There was no moment of silence cuz nobody gave enough of a fawk to memorialize a group of post-mortem job squad foddahs. Robert Cairo scowled as he perished the thought of such mercies and leniencies. "Nah, son, we ain't bowing our heads, we just piling more dirt on ya grave. Ain't anybody round this way, in DEEP SPACE WHERE-EVER-DA-FUKK caring about them crestfallen, disenchanted, lugubrious, WHAA WHAA WHAA WHERE'S MY STEVEN, Jobbah Queenz pretending to be sum kinda Vapor Kings. That's that demarcation point, son. That's that decline. The known unknown. A downtrodden kingdom that got clobbered in the Honoré de Balzac quicker than you could process the information or express a lucid thought.
"Imagine that: A monarch in ruins. Just like when the Thousand Thick-ni Army ran roughshod on King Jimmy Dean's queer kingdom in the former Papua New Guinea, turned A Poon Guinea. History repeats itself all the damn time, but when you too blind to learn the lesson you not gonna see it cumming till it hits ya straight upside the head. That's why I know, ICE Beckman, that you don't have any more tricks up your sleeve for A Bobby Cairo. You ain't gonna show me nothin I didn't already see the last time we threw down at ONE. I'm evolving every time I step into that ring. Nine years into a Hall of Fame career and I'm still improving. Is you? Nah. Ya ain't. You're plying them same gimmicks as you did last summah, hoping it's enough to get cha in the good graces of Jam Willis one MOE time."
Cairo cawked his thick and turned to Jam Willy. "What chu think, Lord and Saved-YA? You think Natty ICE got one more prayer wit cha, one more Houdini trick ya gonna spare him this time 'round?"
Jam Willis shook His head in the negatory. He slipped that thumb across His neck, MS-13 sty-lee. That meant cha dyin', son. Make no mistakes about it. OFF WIT CHA HEAD, NIGGUH! sayeth DUH LORD.
"When The Good Lord Jam Willy don't even have no mercy on ya soul, you know ya done goofed, Beckman. You gon' meet cha maker on Sunday night, son. And he gon' drop you on ya noggin jus' like dem Poondock Saints will. And you can drink yo domesticated
beers
tears to that, Natty ICE 'FOE-POE-CENT' Alcohol. Lightweight chump stain. Cut that video feed, Jesus. Dis nigga ain't worth my time. I already done shit bricked dat nigguh and we ain't even hit the ring yet. Lord have no mercy... Lord have no mercy, indeed."
GAWD FADDUH DAMN an ICE BECKMAN