Post by WCF Results Account on Dec 5, 2018 0:07:19 GMT -5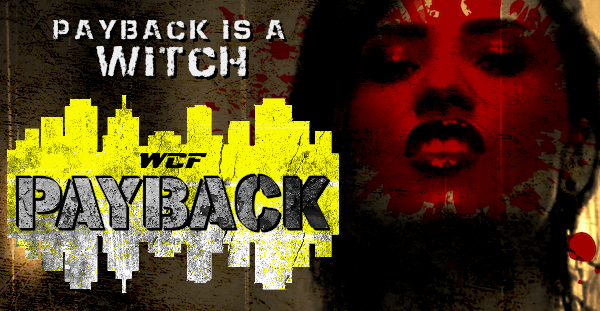 12/3/18
Live from Boardwalk Hall in Atlantic City, New Jersey
Payback Opener
The camera cranes around a corner somewhere backstage in Boardwalk Hall just in time to overhear the dying sentiments of what appears to have been a heartfelt conversation between a young man and somebody else on the other end of a seriously in need of update cellphone.
Danny McVay: ... Naw, ah mean listen mate, it's no that easy. What am ah meant ti dae? Swagger up to Singh, the interim GM, a former world champ and give it: 'awrite chief, av got a bad case ae the para' wi' aw these feral chicks tryna crack ma heed like a walnut. Wid ye mind geen me a few mare security guards or something?' It duznae quite work like that. Am no even the undercard yet mate. Never even stepped foot in a WCF ring but nae for lack ae trying.
McVay immediately acknowledges the presence of the phantom camera and offers a shy smile up to the viewer as a bargaining chip of sorts whilst he wraps up his phone-call.
Danny McVay: "Right ma brer, ah better make tracks. There's some floating unmanned camera thing here noo and it's proper freakin' me oot. Am better geen it a wee showin' ae some sort eh. Give ma regards to Maw when she's aff the White Lightnin'... an' the girls tae. Ah love yeez aw tae bits."
Hanging up the phone Danny continues to sport his semi-convincing smile as he fumbles through thoughts in his head. The corridor stretches as far as the eye can see in every direction and remains empty throughout. All the staff, competitors and fans who had frequented this hallway had already settled into their seats or locker rooms respectively. Leaving not behind but this abandoned foyer and the gyspy-turned-wrestler himself who still looks out of place in his knock-off Burberry jacket and black faded jeans, despite being scheduled to compete in the next match.
Danny McVay: "Bit ae an awkwardo intro ah ken, but you'll hae to just roll wi' it seein' as ah was bludgeoned wi' a fuckin' stool afore ah got a chance tae chinwag wi' you folks last week. Cheers for that yin by the by ya wild belter. We'll meet again doon the road-aways am sure ae it slag."
He scuffs his feet and looks away from the lens shiftily, leaving him looking like a child failing to meet eye contact after some cookie related crime.
Danny McVay: "Last week ah was meant tae pure storm tae the ring and tak' the world by the bawsack ken. And that chance was snatched fae me. So tonight am takin' nae chances. Tonight av went tae the bother ae buyin' wan ae they 'freelance security' dobbers. He's stood aroond the corner ben there... makin' sure nae rogue dykes try tae tak' me oot the game afore it starts... Look, check him oot!"
Danny motions for the camera to follow him down the hall and past a few vending machines to where we expect to find a burly security guard. But instead...
Danny McVay: "... Aw man, what's gawn on?... This cannae be good like!"
The motionless body of a middle-aged man dressed in black lies face down in a small pool of head blood. Around him, the scene shows a great struggle. He'd put up a fight, but in the end the security guard had fallen here after being struck with a ball-and-peen hammer. A bloodied weapon which now lies next to him among the remnants of the fight. Danny immediately rushes forward and checks to see if his bodyguard is breathing, a question which remains unanswered as the man who was yet to actually debut scurries backwards and tries to get back to a vertical. In doing so however he slips on a splinter piece of wood from a near-by buffet table and falls flat on his back. In a panic, he grabs the hammer and holds it to his chest for protection, breathing heavily he finally stands up success fully and scans the scene for any possible assailants.
Danny McVay: "Ah just want tae wrestle fur fuck sake. Get these crazy fuckin' wifeys away fae me man. Am oot like... Fuck this."
Without any further interaction with the camera Danny darts his eyes left and then right, clutching the hammer in his right hand tightly. Deciding after a minute or so of scouting that it is indeed safe McVay breaks into a panicked jog and flees the scene in the direction of the car park as opposed to the ring where he is due to compete. The camera switches to inside the arena where we see the announce team waiting by,
Zach Davis: Was...was that guy dead?
Freddy Whoa: I think it's best we just act like we saw nothing and get to the action!
Danny McVay vs Mischa Killings vs Richard Dweck vs Matt Draven
The camera comes back to focus on the crowd inside of Boardwalk Hall who cheer in anticipation of the opening contest.
Kyle Steel: The following contest is scheduled for one fall and it is fatal four-way match!!!
'White Rabbit' by Jefferson Airplane booms out of the sound system as Mischa Killings emerges from the curtain, immediately turning the fans' cheers into boos.
Kyle Steel: Introducing first... from Ladera Heights, California. Weighing in at one hundred and twenty pounds. MISCHAAAAA KILLLLLLLLLINGS!!!
The arena suddenly breaks into frantic applause as their hometown boy's music, 'Could've Been Me' by the Struts echos out of the PA system and Richard Dweck steps onto the stage. He slaps hands with the fans all the way down to the ring before sliding under the bottom rope to join Mischa in the squared circle.
Kyle Steel: Next... from RIGHT HERE IN NEW JERSEY, weighing in at two hundred and thirty-eight pounds. RIIIIIIIIIIICHARD DWEEECCCCKKKKK!!!
"Take another shot at me
I love the way you
HATE ME!"
As "Love The Way You Hate Me" by LIKE A STORM hits the arena's PA system, the WCF fans look up towards the stage while the various spotlights strobe along to the beat of the song. Faint cheering from isolated groups of fans already being heard.
"I don't care if I'm not good enough for you
I don't care if I don't live the life you want me to
I don't care what you wanna think of me "
With the song continuing, the isolated cheers became a collective as a man walked out from backstage and out into the full view of the people. Once he had roughly made it to the center of the stage, the man darted forward and dove into a forward roll before popping back up to his feet just shy of the top of the ramp. Pausing long enough to pluck a few items of company merchandise from the cargo pockets on his shorts, the man soon made his way down the ramp to the ringside area. A bit of pep in his step as he tossed the items in random directions out to the nearby fans.
Kyle Steel: "Making his way to the ring from Washington D.C. at a weight of two hundred and eighteen pounds, MAAATT DRAAAAAAAAVEEEEEEN!"
With his identity now revealed to the people, Matt continued to throw free merch' out to the crowd while he walked around the outside the ring. Of course he would high-five a few fans along the way as well. He wasn't an unhumble fool after all. Regardless, after he had made it all the way back to the bottom of the ramp, Matt faced the ring before darting towards it with an impressive burst of speed. After sliding in underneath he bottom rope, Matt sprang up to his feet just so he could run across the ring and leap up onto the second turnbuckle. Still riding the short adrenaline rush from his sudden sprint, Matt threw his arms up and back as he leaned forward. A primal scream escaping his lips to further excite the crowd for the upcoming bout. Once he had completed his silly indulgent absurdity, Matt hopped down from his perch and began any last minute prematch stretches that came to his mind as he waited for the final participant in this match.
"Everybody's fucked up off the beat
The words are in our mouths, but we don't speak"
The opening lyrics to 'None of the Above' by Papa Roach pound out of the speakers as the arena stews in anticpation of Danny McVay's debut after his earlier cameo appearance. Suddenly however a referee begins jogging down the ramp in his place
Kyle Steel: "Making his way to the ring now..."
The referee makes it down the ramp finally and slides under the ropes, immediately handing a small piece of paper to Kyle Steel before panting heavily to catch his breath. The announcer quickly reads the message to himself, crumples up the paper and tosses it over the ropes to the mercy of the ring crew.
Kyle Steel: Ladies and gentlemen I have just been informed that as Danny McVay is unable to compete in this match...
The crowd begins to boo and mutter things to one another as they wait to hear the official word that this match has been called a no contest.
Kyle Steel: "This contest is now changed to a TRIPLE THREAT match between Mischa Killings, Richard Dweck and Matt Draven!"
The three wrestlers stare one another down as the news is met with cheers from the Jersey crowd here for Payback. Kyle Steel hands the microphone off to a stage hand and steps through the ropes as the match is made official and the commentary teams comes to life.
**DINNG DINNG DINNG**
Freddy Whoa: Great decision by our interim GM in making this match into a triple threat. Danny McVay can't seem to catch a break. Last week we seen him laid out by Edwina Lockheart and then whatever happened back there a few minutes ago...
Zach Davis: The kid must be cursed. Aren't gypsies into all that stuff? Anyway, that's a question for another day. We've got three wrestlers looking to debut tonight and make a lasting impression!
The bell doesn't really do much for Mischa who remains relaxed and still as Dweck plays to his hometown crowd who offer him nor but a tepid applause in return. Suddenly, as quick as a flash of lightning, Dweck is flattened by a bicycle knee strike from Matt Draven who unleashes a primal scream as he lands flush on his feet and directs his attention to Killings.
Freddy Whoa: WOW!! That came out of nowhere!!
Zach Davis: Matt Draven charging out of the corner and just laying waste to Richard Dweck with that bicycle knee strike-- I think I saw a tooth go flying!!
Draven wastes no time in clearing the distance between he and his prey, sprinting forward and unleashing a second bicycle knee strike. This one landing flush on Mischa's jaw and causing her to topple backwards through the ropes and land on the arena floor with a dull thud. The crowd explodes into a cheer as Draven offers them a smile, all-the-while examining Richard Dweck. Ensuring he was in the perfect position for what always came next.
Freddy Whoa: BOOM! A second bicycle knee knocks Mischa Killings out of her shoes, out of the ring and I've gotta think outta this match! Thanks for coming darling.
Zach Davis: I'm being told he likes to call that move 'Honorbound' Freddy. And now it looks like he's ensuring Dweck is in position for his finishing move the 'Draven Effect.'
Draven climbs the turnbuckle and dives into the sky, throwing caution to the breeze before crashing down atop Richard Dweck with a picture perfect Swanton Bomb that knocks every last breath of air from the native New Jersey boy's lungs. Even as their home grown talent lies dead to the world with his shoulders on the mat the crowd cheer and applaud Draven's dominance.
1
.
.
.
2
.
.
.
3
.
.
.
Kyle Steel: The winner of this opening contest by pinfall... MAAAAAATTTTTT DRAAAAAVVEEN !!!
The crowd loses their collective shit as the victor gets to his feet and brushes the dirt from his body in a nonchalant manner. He smiles with confidence out at the crowd, sporting an 'I told you so' look laced with a cheeky grin. Mischa lies motionless at ringside with several officials checking to see if she was conscious while Dweck lies in the fetal position. Payback cuts to a video promo with Matt Draven standing tall, surrounded by the broken bodies of those he had beaten.