Post by charlietheghostrossi on Feb 10, 2018 20:34:48 GMT -5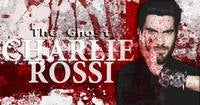 "I haven't blocked out the past. I wouldn't trade the person I am, or what I've done – or the people I've known – for anything. So I do think about it. And at times it's a rather mellow trip to lay back and remember."
"I just liked to kill, I wanted to kill."
"You learn what you need to kill and take care of the details…Its like changing a tire…The 1st time you're careful…By the 30th time, you can't remember where you left the lug wrench."
"You feel the last bit of breath leaving their body. You're looking into their eyes. A person in that situation is God!"
-Ted Bundy-
Confessions of a Killer

Charlie "The Ghost" Rossi Chronicles

Journal 23 entry 2nd dated: February 10th,2018.


Betrayal. in my life I was always good about the illusion that we paint on the canvas in the ring and the story that we tell is
scripted or so they say. What some people in this business call a work and when it becomes reallity its a shoot. In my life
outside of the business my wife had become involved with real life drama as the identity of Nameless and my constant
chase for a monster that took my daughter out of wives hands kidnapping her.

He would brain wash my daughter and trying to convince her that her identity and who she was was false. He changed her name from Cierra Rossi to Pandora Black, So what began the cat and mouse game Vanessa Rossi and her betrayal. She joins Nameless and his cult following. Funny, was it was in the cards the entire time. They had planned out this game for years.

What they failed to bank on is the level of insanity and the level of pieces to this puzzle that I had at my disposal. It become
more than personal it became an obsession. Reminder, they had no idea the level that I would go to one hide my true
identity and my love of killing and two taking back what is mine and that is my offspring. -Charlie "The Ghost" Rossi


Flashback to Price Manor
Redwood Estates, Montana
Alistair Price, Nameless, Vanessa Rossi, Hell Deamon
Continuing the saga of Charlie "The Ghost" Rossi
February 19th, 2006

Price Manor. The Montana woods are the perfect getaway from the distractions of the big city. Not only is this mansion of tranquility a diamond in the rough of the woods, this is also the place where an elite group meet. For this is the home of Alistair Price.. and his group. The Black Trinity. Just days away from the biggest night of the Trinity's career, the group is relaxing and preparing themselves with a visit to Price Manor. Today, we find Namless sitting in the Professor's study, awaiting the arrival of his associate, who has asked that the entire Trinity gather, for he has some news. But at this moment, Nameless is alone. He sits in one of the black leather chairs with a letter in his hand. A letter from someone he thought was gone forever....



Namless: The definition of a ghost is a wayward spirit that cannot die.. resolved to forever linger because it cannot cross over to the other side. Never before has a description been as fitting as that one. The ghost I speak of.. Charlie Rossi. No matter what happens to you, you will not stay dead. You are not content to simply fade away into the shadows and cease to exist. Did Atlanta teach you nothing? Charlie, I have taken everything from you. You have been defeated. And yet still you choose to torment yourself further. For what reason, Charlie? Do you seek reconciliation with that which is now lost to you? I can assure you that is quite impossible. Pandora is safe from your clutches. She has a real family now. One where she knows she will be cared for. Vanessa's divorce from you is nearly final. So why, Charlie? What motivates you to keep returning when you know the only thing awaiting you is certain peril once again? What will it take, Charlie? What do I have to do to put you out of our lives forever?



At that moment The Black Queen, Vanessa, makes her way into the room. She stands behind Nameless and starts rubbing the back of his neck. Nameless sighs softly as he succumbs to the touch of the woman who mothered his child..and who he has formed a strong bond with.



Vanessa Rossi: He'll never leave us alone, Namless. You know that. Charlie is a man who needs control. He thrives on it. He lives for it. And it burns him that this is the one time he has none. We took it away from him. He has been in a downward spiral ever since Pandora was taken from him. My leaving sent him even further over the edge. He is like a nomad, walking the earth with no direction and no destination. He is no different from the sand on the beach. He simply exists for no purpose.



Namless: Perhaps so, my dear. But this time I want him to come after us. He has still not paid enough for what he did to you. What he did to Pandora. The suffering I laid on him and his lackey was only the beginning of what I want to do to him. I want to scar his soul. The wound that festers and bleeds and causes him insatiable agony, but never heals. As long as he chooses to continue to come after us, I want to compound his suffering. He took three lives from me. I freed two from his clutches. That means there is still one more to balance the equation. He was very fortunate to have found the twins. I will give him credit- he has done a good job of hiding them to where not even our vast resources have been able to locate them. But I will even the score.


Vanessa Rossi: No, Namless. You won't. WE will. Together.



Vanessa stops rubbing Namless's neck and moves swiftly around the chair, wrapping her arms around Damien and giving him a long kiss. The two of them do not notice Alistair Price and The Hell Demon standing in the doorway.



Hell Demon: And me without my video camera...



The couple stop when they hear the words, turning to glare at their partner. Hell Demon chuckles and makes his way into the room, The Professor right behind him with a manila envelope in his hand. He sits down behind the ornate mahogany desk and places the envelope on the blotter.



Professor: I have some fortunate news, Vanessa. I spoke with our attorney this morning. The hearing is scheduled for next week. He is optimistic that the judge will find in our favor and grant the request. There is a good chance that you will finally be free of him very soon. And as for Silhouette, do not worry. We've got her eyes on her still. She has not yet paid for her part in the Orlando incident. But she will. Things are falling nicely into place. And Pandora has been accepted into the school we were looking at. She's quite a bright one. She was lucky to have such a fortunate gene pool. But that is a matter for another time. We have important business to discuss. Namely what awaits us in Los Angeles.



Hell Demon: Sorry for them? After what they pulled? Namless, sometimes I wonder if you're going soft on us.



Namless: I said ALMOST, Demon. Even though I have no love for the Vixens, what happened to them was uncalled for. This Pitbull that they have brought into our yard has gone and sent a message that seems to be aimed directly at us. It would appear that the Miracle Of Violence Crew are of the impression that because they have the numbers on their side, they have the upper hand. It is our job to show them the flaw in their thinking.



Hell Demon: Sounds to me like he's their insurance policy to make sure they keep those tag titles.



Vanessa Rossi: They fear us. Plain and simple. I've seen this before from Charlie. Strength in numbers. They are playing the same game. They seek to intimidate us by bringing one more into the mix.



Professor: Perhaps. But either way, we cannot lose sight of the big picture. They have something we want. And we have the chance to take it from them. Last week, the MVC sent a message to the world. Now it is time for us to send one of our own. And the best way to do that is to take what they hold most precious- those ICWA Championship belts. Take those,and their morale falls. And they will be weakened for the final strike.



Namless stands up and walks over to the bay window of the study. He stares out at the scenery that exists on the other side of the glass.. the deer scurrying across the woods, yet making sure to stay clear of the electric fencing that surrounds the compound. A light rain is beginning to fall, and Nameless places his fingers lightly upon the windowpane almost as if longing to touch the droplets of water as they begin to tap against the glass.



Nameless: The Black Angels of Vengeance will deliver their judgment of retribution. We will cripple them and leave them open for anyone who chooses to pick the bones. And there have been whispering s of another group rising to challenge them, two of whom will be at Epicenter along with us. Let's hope they see the light and stay away from our business. Otherwise they could find themselves with more on their plate than they could handle.



Hell Demon: You're talking about-



Professor: Well put, Namless. Yes, that is exactly what we must do.



Hell Demon: Okay, then.. so what the hell are we waiting for?



Hell Demon's cellphone suddenly chirps. He smiles and pulls the phone from his jacket, opening it and holding the receiver to his ear. He place his hand over the mouthpiece and motions that he has to take this call. As he leaves the room, the Professor opens the manila envelope on the desk and slides it across the desk to Nameless, who picks up the document and smiles. He hands the document to Vanessa, who also smiles and nods her head.



Vanessa Rossi: Two weeks, then?



Namless: Two weeks. I think it is time we made it official.



The Professor stands up from the desk and goes over to the corner bar, pouring three glasses of champagne. He brings two of them over to Vanessa and Damien and returns to grab the third glass. He lifts it in a toast.



Professor: To the future.



Vanessa Rossi: To the future.



Nameless: To our destiny.



The trio clink glasses and drink as the camera fades to black....



Charlie "The Ghost" Rossi's Internalized Monologue

Little Jack Horner
Smith
Sat in the corner,

Eating a Christmas pie;

He put in his thumb,

And pulled out a plum,

And said, "What a good boy am I!"


Jack, my dear Jack like this nursery rhyme you are child's play for a man with my resume and
pedigree and my experience. Two, decades my life has been this business and I have lost so
much. and given up to much that a piss ant like you cannot hold a candle to what I have done and what I will continue
to accomplish. What has spanned through multiple generations the constant every changing business I have
stayed true to who I am and the man I have become.

My experiences is what has shaped me into what the business would call a true innovator and constant student of this
sport. My goal at hand with you is a simple one and that is to run through you steamrolling my way to bigger and better
things. You are a spineless jellyfish that has something that does not belong to you. I will be damned in two days time if
I allow you to walk away. The one thing you will be lucky to leave with will be your wounded pride.



From the day I stepped into this business I always have prided myself on keeping my
mind, body, and soul primed to go the
distance. Still, to this very day I am a scholar of
this business but when most will fall to there pride I still know that the student and

teacher are equal. Daily ,I still study footage and break down the offenses and defenses
of my opponents. Without, preparation there
always leaves a chance for loss and I
can guarantee that Jack I will not fail in my attempt to pin your shoulders to the mat.


A cold and very calculated game plan is put into place. There is a visual target on your
back Smith and my arrow will be the very arrow
that hits the bulls-eye on the very first try,
Jack Smith a stealthy veteran such as myself only needs only one shot and all it takes is one
little crack in you
proverbial armor and your shit up the creek without a paddle my friend.

I will and have sacrificed for the sake of being one of if not the very best in this business
and you Jack will be on the receiving end of a very
disappointing night when you are
ft dazed and confused kissing the ring lights. It only takes three seconds to dismantle

and disorientate an opponent. Jack dropping you on your head just once will with out a
shadow of a doubt be the cause of your loss and my gain.