Post by Kevin Bishop on Oct 11, 2017 20:14:19 GMT -5
FADE IN:
Kevin Bishop sits in a dark lit room with a single black gothic long body mirror sitting in front of him, all that can be seen in the dark is his face reflecting off the surface of the mirror.
"Bishop…"
Kevin nods.
"You failed at WAR, didn't you?"
Kevin hesitates for a second and then slowly nods.
"You were suppose to allow me to run through everyone and do the one thing Corey Black couldn't do and that is WIN WAR…"
The voice pauses for a second, the voice that obviously belongs to The Creeping Death.
"In that light you're just like fucking Corey Black… He ran away, didn't he? He tried to rid himself of me… Are you doing the same, Bishop? Are you too good for THIS POWER I OFFER YOU?!"
Kevin goes to talk, but Creeping Death cuts him off.
"OF COURSE YOU THINK THAT! That's why I'm not going to assist in your destruction of the Monster Oblivion!"
Kevin smirks.
"Well not that you're going to need it anyway… The monster has been neutered over and over again… He's only gotten worse by going to UCI, at least in WCF he had the higher ups pat his ass for him and tell him he's scarier than what he really is… Poor bastard allowed Lilith to fuck over his career and he thought he could resurrect IT over in UCI, but that hasn't been as worthwhile either. The Monster scampers around looking for his next victim, when realistically he has been self inflicting his entire career… He 'PUNISHES' people to feel alive or some shit… He has suffered for so long, but yet he hasn't found peace, let alone success through all of his struggles… 5 hardcore title reigns, you know, stick to what you know I suppose… 1 tv title reign that lasted a lackluster filled 7 days… And 2 tag title reigns that were just as much of a flash in the pan as anything else Oblivion has ever done."
Kevin speaks up finally.
"Here's the thing CD… Oblivion demanded this match and the powers that be who threw it together wanted to give the fans what they wanted… Creeping Bishop vs The Monster Oblivion."
Creeping Death snaps back.
"I don't give two shits about what the fans wants, let alone what the powers that fucking be want! They're already jerking it to the idea of UCI vs WCF in the Hellimination match and I'll be damned if you leave me out of that massacre. I want to choke out that little hipster faggot SJW and I want to finally shut that Johnny Rabid the hell up! Those two fighting for the WCF World title at ONE, the fuck kind of booking is that?! WE should be in there shutting that shit DOWN!"
"First let me show The Monster how tiny he is in OUR world and then we can go to war with WCF in Hellimination."
Bishop grinds his teeth.
"My power will silence your haters, Bishop… I see the likes of Everest who are sharpening their spears to take you out at a moments notice… You came back to WAR in their house and you proved to still be a serious threat in the WCF waters… Without question you ruffled some feathers…"
"The entire UCI ruffled their damn feathers, because they see us as second rate… Hellimination is going to be our chance to silence them once and for all. Hell, I saw that look in Seth's eyes when he saw Z and I standing there… Especially when he noticed that Spencer took a chance on guys like Z and myself to hold that World title. Seth would've never done it, hell I'm sure Rabid had to blackmail Seth to get his shot in the first place… You know, what happens behind the scenes in Seth's office stays behind the scenes in Seth's office..."
"You earned your shot in UCI and you broke records, no one can take that from you… If they think they could do it better, then where the hell are they? In Hellimination you'll get to show them just how much a competition driven company UCI really is… But this isn't about them this week, is it? Oh no, we were talking about that giant masked idiot who has been around longer than the wrestling industry truly needed him for. XIII is a gimmick, but the punishment you will inflict on Oblivion is going to be gimmickless. You're going to cause him to bleed and you're going to cause him to rethink his career choices. The monster doesn't think much, but after the destruction you're going to cause, he's going to only be left to his thoughts as he is left a crippled mess on that blood drenched canvas mat."
"As much as I know I'm going to get the best of Oblivion… Do you really believe he's fallen from grace that hard?"
"Oblivion hasn't been the same since…"
Kevin pauses for a second waiting for the answer to come.
"I can't even think of a time when he was on the up and up on his own… People speak of Oblivion as if he is a future legend of the WCF… How'd he get that status, because he just won't go away? People attempt to forget him and he hangs on for dear life… Even shipping his ass off to UCI hasn't kept him away. He called you out on social media for Christ's sake. The monster is probably secretly some awkward dad who gets high on pot in his quiet suburbia home… Wears sweater vests and sneaks shots of Jameson when his wife isn't watching him. Oh but that's not kayfabe huh? I can't create some fictional world where the Monster is only a monster in his head, can I? Let's be honest then... Oblivion is a charity case and the donations have dried the fuck up… It's time you show him what happens when you see yourself as more of a monster than what you really are. He claims to be some methodical, crazed maniac, who leaves no one in his wake… But his record says other wise and it is about time you SHUT THAT SHIT DOWN."
Kevin smiles from ear to ear.
"Oh it shall be done and that mask… Yes, that mask that he chooses to wear to hide himself from the world. He will be stripped down and shown to be a fraud to the masses… The very same people he tries to keep locked away in their very own fear… He parades himself around as a pure hatred fuel villain who is sadistic…"
Kevin pulls out a replica of Oblivion's mask and he looks at it.
"But this mask that he chooses to hide behind, so he can put out the image he WANTS people to see… It will be torn away and I will dispose of it once and for all… Oblivion figured our match would be one to showcase competition in the UCI, but it's not… No, it's going to be gruesome, the kind of match that Oblivion craves… Just as a junky would do anything for their fix, Oblivion chose to approach me for a match at XIII, the reason being… He already knew the outcome… Oblivion knows that he's going to be destroyed by me, that's why he asked for the match. That's the kind of sick bastard that he really is and we all thought Adam Young was 1 Sick Bastard…"
"Destroy it…"
Kevin looks to the mask and he drops it to the floor below his feet. He pours some liquid onto the mask and he lights a match, but his eyes zoom in on the flame.
"They say through the ashes, a new beginning can be birthed… I stand here now and say that is not the fate for the Monster… IT will not find new ground… IT will only know pain and anguish… IT will know what the end is really like… His time is up and it's best to go out in a blaze…"
Kevin drops the match onto the mask and it bursts into flames. Kevin pours more of the liquid to feed the fire and he smiles as the red and orange glare illuminates his face.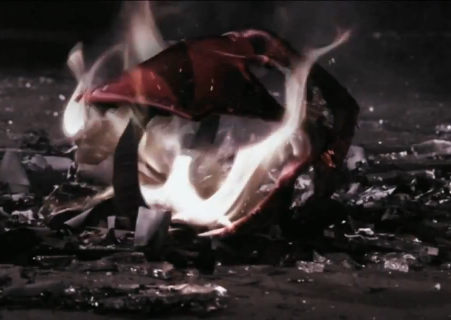 "There may be a half wit stipulation with an iron gauntlet on a pole, but the true stand out moment will be The Monster burning to the ground… Physically and mentally… I will reveal IT as a cowardice man who hides behind a mask and projects false bravado wrapped in sadistic bull shit."
Bishop smirks into the mirror.
"So you don't fear the Monster?"
"The only thing we have to fear is fear itself and Oblivion doesn't personify fear my master. Oblivion personifies what happens to a man who can't control his own reality…"
"Oblivion is going to attempt to destroy you and cost you the momentum in your rise… Don't let him succeed, Bishop. As I said, you don't need me to finish him off, you're already superior to the likes of Oblivion, just go out there and shut that shit down so we can move on to bigger things."
Kevin nods with a slight smile still on his face.

FADE OUT:

FADE IN:

Kevin exits the dark room he was just in and he is now standing in the middle of his penthouse apartment in New York City wearing a black cloak. Karma walks up to Bishop, her stomach showing her looking pretty pregnant under her black Nightmare Before Christmas t-shirt.
"How'd it go in there, honey?"
Kevin shrugs.
"I think we are on the same page about WCF, UCI, and XIII."
"Good, speaking of XIII, I'm still pretty bummed out over that this year…"
Kevin lowers his head and shows his empathy.
"I'm sorry babe, I know you were looking forward to representing The Final Girls at XIII… Did Black or Price call you back about at least being there to crown the next winner?"
Karma blushes a bit.
"Both had crude things to say about their male members… I'm thinking I'll just show up out there with or without their approval."
"The fuck did they say to you?"
Karma rubs Kevin's left shoulder.
"Don't worry about it, they're just being little boys, you have Oblivion to think about disposing of anyways."
"Forget about that joke, I want to know what those two ass clowns said."
"I said it's not a big deal… Actually I said that exact thing to the both of them."
Karma laughs and Kevin doesn't budge.
"Kevin, I said it's okay, so it's okay."
Kevin backs off a bit.
"They come near you and I'll drop them. I don't even care if Price and I are cool. Black cursed me with CD, so there's no love loss there… I will not lose you to another man again, god damn it."
"Kevin… Honey, you have nothing to worry about."
Karma lowers Kevin's hands to her stomach.
"We have something more important to think about, don't we? You're fighting the world Kev and the world wants to see you fall down… Back to that life you climbed out of… A life that we have bettered ourselves through walking amongst the flames…"
Karma presses Kevin's hands on her stomach reaffirming the baby's importance.
"We have been burned my love, but even you and The Brotherhood spoke of Betterment… Speaking of it and teaching it… That's what assisted in your rise… Can we continue our climb… Together?"
Kevin slightly smiles to reassure Karma that he's with her.
"I hear you and I am going to keep fighting. You're right, the world is going to throw punches and they're going keep coming for my blood…"
Kevin looks down at Karma's stomach.
"Our blood…"
Kevin smiles.
"Our family is the most important thing to me, dear and I'm going to give our child the world… A world that neither of us got to have at a young age."
Karma holds Kevin's hands.
"I know you will and that's why I'm behind you on everything you're setting out to do. You are capable of great feats especially when people are betting against you. Do you really think the WCF powers that be want you to defeat their monster? Hell, do you think they want you to make it to that little Hellimination match at all?"
"They always bet against me… When I carried their People's title, the powers that be were desperately waiting for me to drop the belt… Seth got off on dangling the main event spot in front of me and the hope that he'd come to his senses and let me compete for his grand prize… Oblivion is going to be the release of pent up WCF rage that I have been looking for… I WILL shut Oblivion down and end his career once and for all… The Monster has over stayed his welcome in this industry and its about time someone steps up to the plate… IT can no longer stay in this business because IT is a cancer… I am IT's antidote."
Karma chuckles.
"You boys and your inside jokes… Just go finish off that giant waste and come back home to me."
Kevin nods and kisses her.
"You got it my dear."
Karma smiles as she looks up to Bishop.
FADE OUT: