Post by Odin Balfore on Oct 1, 2016 21:45:09 GMT -5
RP 4 WAR ____________________________Scene One
:
Glorious Domination
Madison Square Garden. Fan Access. The Night Before WAR
:: Odin Balfore sits at a table by himself in his ring gear, signing posters, replica championships, photos and programs. Periodically he takes pictures with the fans, either sitting next to them or picking up the brave and seating them up on his arm for a bicep pose. Everything is going fine until some fans show up in "
Omegas
life Matters" T-Shirts(read Sharts, because Jay Omega is shit) ::
Jay Omega
Fans: Hey Man, can you sign this?
:: Odin looks up at the fansand puzzles at the situation (read SHIT-u-ation, because Jay Omega is shit). ::
Odin Balfore: Omega is at the other end :: Odin cuts himself off:: No, wait, no. He's not. He's not here. Said he had important inter-galactic business to attend to, but he did leave me a couple of his shirts to sell.
[ FLASH BACK TO EARLIER IN THE DAY

A production crew member approaches Odin in the area with a cardboard box in his arms.

Crew Member: Hey, Odin, Omega couldn't make it today but we have his Merch, can you hand it out, if it isn't too big of a problem.

:: Odin thinks it over and shurgs. ::

Odin Balfore: Sure, no problem.

:: Cut to Odin some time later throwing the box away.::

FLASH FORWARD TO THE PRESENT ]

Odin Balfore: What are you guys, larges?
:: The fans look at each other and agree. ::
Omega Fans: Yah, larges.
Odin Balfore: Well, see. There was a problem with the shirts and only the youth smalls came in. Something about Omega wanting them that way, so that come WAR, he can tell who all his fans are. Said something about showing off the mid section- I – I don't know. Although to be fair, you're the first fans to ask me about him today and I've been here for two hours. So maybe you'll get lucky and the right ones came in.
:: Odin digs into the box and hands the fans the shirts. ::
Odin Balfore: Here you go. Three Youth Smalls for three grown men. Enjoy.
:: They fans take a look at their shirts and are displeased.::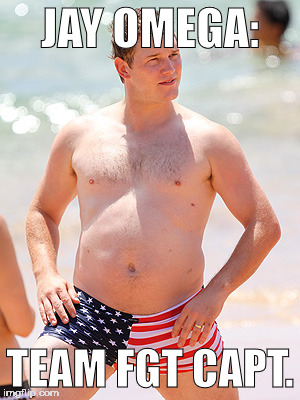 Odin Balfore: Don't look so surprised. What did you expect from the guy; something impactful? Hard to believe that Seth wouldn't let him print a picture of his colonoscopy, now THAT was impactful (read shit because Jay Omega is shit OR read impactful, because Jay Omega is a faggot.)
:: The fans sneer and look saddened as they know Odin is correct. They walk away looking rejected by their hero, Jay Omega who abandoned them now as he did this time last year. Hank Brown walks up to Odin right after and tries to get in a few words. ::
Hank Brown: Odin, if you have a moment can you come to the ring with me and we can do a special Pre-WAR interview with you. We can really hype the crowd.
Odin Balfore: Hank, you the man.
:: Odin stands up, leaving his booth with Hank Brown and heads down from the concession hall to the ring that's still being constructed but is built enough to stand upright. They get in the ring with a camera man who stands in front of him. Hank gets the signal and starts the interview. ::
Hank Brown: Ladies and gentlemen, it is the night before WAR and I am here at the Fan Access with WCF legend and WAR participant, Odin Balfore. Now Odin, Let me ask since we have had a full two weeks to absorb everything that's going on; do you have any thoughts?
Odin Balfore: There are a lot sweet nothings being said in WCF revolving around WAR and people who think, not know and those who are not like me. You have guys like Flash who want to be the conqueror.. Well, I've been a conqueror. Except one of the many differences between us is that:
1. Flash has said that he only wrestled for WCF. Odin Balfore has wrestled all over the world for over fifteen years.
2. While Flash has done very well for himself, he has NOT conquered WCF. I have my own entire era of WCF. In fact, when Flash losses, there will be no Era of Joey Flash. He can just pick up his Jay Omega Tee from Merch and kick his brown sauce can down the road.
3. Flash may be forty four and five in WCF but I have gone double those wins and undefeated in multiple companies, Flash has not.
4. Flash has only won a single world title in his entire career, I have won dozens and retired dozens more.
4 and a half. There is an asterisk next to Flash's world title win. Mine, do not have such blemishes.
5. When Joey Flash talks about Odin Balfore and says that he's done my game better I ask where and how? Where and how has Joey Flash the one company man with a single world title do the conqueror life better than me? Honestly, that is something that Sarah Twilight would say and she's had two weeks to go from General Manager of WCF to taking her ball and going home. I serious think Jay Omega returned to WCF to take these people back to their home world because they are serious out of their mind.
6. Only one man in WAR has conquered WCF, ME. Only one man in WAR has closed WCF, ME. And only one man in WAR has reopened the company, ME. This company exists for Flash to "conquer" because willed it so. Joey Flash, Sarah Twilight, Jay Omega, Mikey Extreme, Adrian Archer, Gemini Battle and Thomas Bates all exist because THE BAD MOTHER FUCKER WILLED IT SO.
So.
To everyone in the locker room, Joey Flash may tell you very long winded like that he is going to win WAR but I made that fantasy possible for him and each and every single one of you. To those who want to get into the big time, sniff the main event and not fall to become of one Thomas Bates baggage handlers, I suggest you ask if Bates like American or Italian leather because after Sunday Night, after WAR, Odin Balfore will have conquered WCF for a second time.
Its funny too because WCF acts like a drunken ex girlfriend calling me up in the middle of the night:
" Oh, All Father, where are you? I'm thirsty, come smash me. Take me, make me, break me."
Ever since I left a few years ago, the company has been wet with desire. It needs to be conquered because WCF gets off to it. It tried Thomas Bates but realizes how inferior Bates is to The All Father. But there's Flash talking about how 'if he was in WAR' but that's where that stops. Because he was not in WAR, he was not even Champion. He was unable to continue. His body, his spirit broke, it quit on him like Jay Omega. It quit on him like Sarah Twilight. It does not matter what Joey Flash says, the truth of the matter is that he has a limit and Dune fucking broke that limit and no man was actually a champion before Jay Omega.
The world remembers when Seth stripped me of my title and the when I got it back it took Seth, Jay Price, Corey Black and Torture to triple team me and screw me out of my ONE victory. Now WAR Fifteen is where the score gets settled. WAR Fifteen is where true injustice is cured by the might of the All Father and not the sorrowing scoff and mal-content of a man who was too exhausted to properly become champion.
Jay Omega was crowned world champion because Joey Flash was NOT championship material. There has not been a true champion in WCF in lord knows how long. Now Joey Flash wants the world, Ze Wardo, to believe in him, that he has what it takes- where was that last year? Where was Joey Flash's epic title run last year, did it disappear like the Thirteen in Thailand? Is some homeless Mexican wearing that title reign like shoes? Because Joey Flash sure is using it like a crutch right now; hobbling down the road, yelling at kids to get off his lawn and out of his ring because he somehow earned, deserved or plain ol' is just going to take, WAR. He's going to WAR alright. He's going to take WAR Balfore's anger and fury as I savagely beat the piss out of Joey Flash for even trying to draw equal moments between he and I or even elude to the fact that he might be better than Odin Balfore.
I have shaped the fabric of this company, crafted it and molded it. Joey Flash just fits snuggly in that mold. He is the child that dares to color outside the lines and declares himself a rebel.
Hazah, Joey Flash! You are a fucking genius. What witt, what retort, such grace and poise you have in the face of the White Man's adversity. Woe is Flash, the man who could not compete at WAR because he got tired and needed a fucking nap. Get the fuck out of here with your sob story bullshit while simultaneously trying to wrap it up into a tale of heroics.
Me, there is nothing heroic about me. There is no story of Odin Balfore in WCF where he did something that was to be bragged out in a beer hall. My stories come from whispers in shadow, the dark looming fears that people have. They hope that the Odin Balfore of legend does not return. They hope that my body is broken and that I just cannot do…. It, any more. Just like you. You do not want me in this match because you know that when I show up, its.. ovah.. baby.. Curtains closed, doors are locked and the building is sold; the company is sold and you will have to pedal your 44-5, single world title to some cheap promoter whose starved for talent to pick you up on the cheap because Snark is a dime if it were a pound, these days. But Hey, Dixie Carter is easy, brother Jack.
I have seen many Joey Flashes in my life. Hello Joey Flash number one-one-four. You got a funny accent and a lambasting perplexity about you. Perhaps you want an award for snark that falls flat and fails to deliver, much like your 'historic' win slash loss record. Forty wins and nothing to show for it. Face it, Joey Flash is the glimmer of what could have been great but then he got tired and needed a nap. Then he quit. Then he realized that what I said was true and that the price of snark went from ten cents to two and he couldn't rub two pennies together if he re-wrote Game of Thrones.
Flash, face it, ya busted, ya through. That's why you're back. You're hungry, you need to eat. You done sold everything you got except for your ring gear because you held out hope.. except hope can kill a man.. just like I'm going to kill you at WAR. I'm going to show you what Conquerors do to little insurrections. Because the Aztecs put up a fight. The Natives always put up a fight. That is, until they realize that they have been invaded by a God with magical powers – then they slowly fade and die to history.
Face it, Flash. You are no better than your predecessor Jay Omega and your twisted sister, Sarah Twilight. You are no better than your Billion Dollar reboot Gonzo Murdock or your confederate brethren Thomas Bates. Nevertheless, you fight your little battle, you fight your little WAR, you and the rest of WCF. I like when my victims have hope. I like when they have the fire in their eyes to fight. I enjoy watching that fire be extinguished from their eyes. I enjoy watching the spirit break; the knees buckle and that bravado crumble under the weight and Shadow of the Maverick Elite, the Nordic Tank, The ALL Father, The BAD MOTHER FUCKER. I have many names, Flash. I have many names, Twilight. Bates and Black. If you fuckers don't like it, try and fucking stop me.
Hash Tag coma underscore SPOLIERS : You fucking cant you Odin Balfore wana be homo faggots. You are straight up dealing with a fucking legend that cannot die.
I have many names and imitators to my throne but after Sunday night you can add winner of WAR Fifteen to that list. You can add WAR elimination record holder to that list. You can add... Three time world champion to that list because I WILL get my ONE main event win and I will dominate WCF once again.
:: Odin motions the WCF World Championship around his waist. ::
And that domination… Shall be… glorious.
:: The feed fades to black, playing a special WAR theme song. ::