Post by bobbycairo on Mar 13, 2015 16:34:52 GMT -5
It did not bother them when the first bombs struck the sandy shores of the Imperial Isle of Maritopia. It did not bother them that their father, the President of the United States of America, had ordered yet another drone strike against yet another third world nation and yet another supplier of DAT CHRONIC. It did not bother Sasha and Malia Oak-Bama because they were Robert Cairo marks to begin with-- and because it was understood that the People's Republic of Poon Guinea produced vastly superior weed anyGAWD-FADDUH-DAMN-day to that Maritopian junk. Shit smelled like dollar store paprika-- not to mention eatin' a York Peppermint Pattie gave ya more of a buzz. Sheet was re-dick-a-less, mang.
Innocent men, women and chillen would be slaughtered wholesale in Amurrica's WAR (available live on the Dub See Eff Network for eight-eighty-eight a month) against Maritopia. That would have bothered Sasha and Malia. It would have bothered them if they hadn't been raised in a socialist household, where compassion and empathy were merely accessories to be worn upon one's wrist such as a fanciful watch or decadent bracelet-- eye candy; a fetching bit of ornamentation for the world to observe, be deceived by, however easily disposable when push came to shove. For their part, Sasha and Malia were concerned about matters of a far more worldly nature than Jay Omega gettin' his shit fucked up by the Jew World Order. Matters such as gettin' they own nigress rocks off wit dat GawdFadduh thickness.
Play on, playa, play AWN.
The truth be told, Sasha and Malia were hardly the prototypical Cairo-staggered poonSMASHIN victims. After all they were still wut? Practically amoebas? Wuz dis legal, even by Poon Guinea standards? Who da fuck knew? Vincent LaGuardia Gambini was the Chief Justice of Poon Guinea's Supreme Court, and it was understood that he'd yet to even pass the bar exam. Damned if that Mona Lisa Vito didn't know how to suck a mean thickness. Anywayz... when Bobbert Cairo received Sasha and Malia's text messages upon the SnappedRat dating app, he was admittedly confused. Bobby laid there in his poon-based king-sized mattress and gazed at the screen of his iDroid with a bewildered expression upon his bearded facade.
"...Fukk is dis, Katy?" Cairo muttered as he turned to Katy Perry on one side of the vagina-formed bedding garb. Then he turned to the other side of the snatch factor and posed a similar query to his Poon Guinean First Lady Rihanna: "...Fukk is dis, Riri?"
Cairo could not understand why the First Daughters, Barry Oak-Bama's chillens, were suddenly tryin tah get at him. "Well, no, I can understand it. I mean-- look at dis." Cairo gestured toward the paved highway between his legs, that international hub of activity that extended from Philadelphia to Bangor to Bangkok. "That's called a penis, Jayson. Someday you will grow one," Cairo mused to no one's ears in particular. Really doe.
He was right.
Still, the Poon Guinea Governor and reigning Dub See Eff Worlds Champion could not help but be flustered by an offer of servitude from girls so young, so virginal, so... "Innocent?" Rihanna offered.
Cairo retorted. "Well yes they're innocent, Riri. I mean they're not all too innocent, after all they are socialist children. Therefore they are children of a collectivist mindset. And in collectivism, what is stated?" Cairo hiked his Jewnibrow as Riri and Katy eagerly touted their bosoms and asscheeks, as if students in a university classroom yearning to be called upon by Professor Thick Dick. "Well sheet," Cairo mused. "If ya both gonna be such eager beavers, get on this thick and I'll wax poetic on that iDroid Pocket Tab for some Dub See Effin shoot."
Riri removed the iDroid from her poon-snatched
orifice
sacrifice and positioned it at the footboard of the master bed. Then she got started on a furious headstorm. Katy took the jungle monkey position upon the headboard, lowering her genitalia upon Bobby's face as he bubbled his mouth goo on some HAHD SHOOT for the Omega and Beckman clown shoes. "What is stated in the collectivist mindest is that reGAHDless of who's in charge, the entire group of classified entities shall be held equally accountable, as they are by definition equally proportioned in such societal courses. Now this sounds eerily familiar-- EERILY SIMILAR in fact to cirCUMstances that proceed a certain Triple Non-Threatening Bout at sum show called Thirteen. Thirteen--- now that's about the same age as a Sasha Oak-Bama."
Cairo chuckled as that charcoal colored Revolutionary Style Beard of his massaged the Katy Perry vagina flaps. "Such inexperience, yet you all deem such fancy misdeeds as worthy of The Godfather's time and talent. If I waylaid everyone who wanted a piece of this thick, I would not have time to defend such Worlds Championships. I would not have time to drive my Vintage Cadillac Eldorado, that Tina Machina, up and down Amurrican highways and byways, savoring the experience of a land so free that I can kill men on pay-per-view for millions of Yankee greenbacks. That's sum good shit.
"Now, it's not necessarily as good as this Katy Poontrap that I'm forcing my tongueTHICK upon, and PREGGERZnating all the same-- but it's sum good shit. It's the antithesis of what ICE Beckman and Jay Omega bring to the table. I'm still waiting for these men to show me something, anything at all -- a statement of hostile intent released via the Jew Tubes; a vigorous poon smashin' threesome with a nigress and a ginger released via DubSeeEffedDotCUM; even a simple, hand-written declaration that they're intent on signing with the Philadelphia Beagles before they IN FACT shift gears and sign with an IndianCRAPolis Pony Show. That would suffice. Why? Because it would troll summa dem South Street nigz that bought tickets at an ECDub Arena. That would be some suave heelish shit. That would be Joe Camel cool right thurr. But do we get that from Omega or Beckman?"
Cairo Jewshrugged his shoulders as Katy farted down his windpipe. He gobbled her flatulence like it was Denny's hamBURGAHS. "We do not get that. No, no. Not at all. Not even close. We do not get that from the Omega and Beckman creed because they are not true showmen. They are every bit the midcardin shoeshine boys, garbage collectors and doormen that I've stated from Day One. I think, I THINK that Beckman and Omega have released promotional materials on the Dub See Eff Network during this past week, trying to hype themselves up. But it's funny-- I've yet to experience a single poon or thick walking up to me on the sidewalk outside of my regal coastal villa here in the City of Brotherly Love sayin': 'Yo Bobbuh! You heard that Beck-Omega-LOLZ-ICE-Manz promo joint? They killed yo shit, nigguh! They cut loose on ya wit dat HAHD SHOOT and Gawd-Fadduh-Dammit if they didn't put cha in ya place! You dead at XIII, nigguh! Hash-taggin-it-YO DEAD!'"
Cairo flashed a shit-eating grin through the Katy poon, right into yo brain drainium as yew was watchin this on them Jewtubez. "And do you know why they haven't said that? They haven't said that because Beckman and Omega have not spoken a word of earnestness, honestness nor truth. They have not spoken within such ways and means because their words are thinly veiled cover for failed careers of a bottom feeding persuasion. See, my Poon Guinean First Lady Rihanna lacks the gag reflex. She's not a choke artist like some. She don't spit up my Great Wall of Chyna sized pee-pee because she's got the fortitude to down it all in one fell beej. That's why she's the mudda of my chillenz. That's why she's my main ho."
"What about me, Bobbuh?" questioned the Katy poon as it skull fucked the BobBrainium.
"Bitch, you better shut the fuck up and rub yo pussy in my face 'fore I murk yew on a Natural ICE Omega Triple non-Threat tip."
Katy shutted da fawk up and did her job, just as Beckz and Megz would job at a XIII fornication joint inside dat ECDub Arena.
"Back on point: With yew, Becks, and yew, Megz? It's this THICK GOT CHA TONGUE posture. Tell me: CAN YA CUT THROUGH THE BULLSHIT AND SPEAK AS GROWN MEN INSTEAD OF A PAIR OF GIMMICKED OUT FUCK TAHDS?" Cairo jus' waylaid half of Poland and three-quarters of France based upon the tone and tenor of vitriol within his construct. And the nigguh ain't even raised his voice yet! "Comb ya hair! Pull on a pair of pants that fit correctly! Knock off dat adolescent MTV melodrama and hit me wit dat HAHD SHIT NIGGUH! I want legit Worlds Title contenders cummin at my shit, not a pair of stumbling, bumbling minimum wage trash collectors with five dollah haircuts who cannot differentiate between their thicks and that nub at the top of the spray cheese can. Real niggaz wit thick dicks! GIMME DEM DICKS, YO!!"
It should cum as no surprise that Cairo emphasized his desire for them HAHD mawfukks wit the premium man-meats. His Jewlips salivated at the mere mention of the term-- or was that the Katy poon dripple drappling as it bore its Amazonian rainfall upon the GawdFadduh's Jewbrainium? Either way, Seattle and London combined saw less annual precipitation than what was developing in this Philly-based hotel suite.
"These guys are still wearin' parachute pants and fade haircuts, Riri." Cairo's jaw was agape in astonishment and disgust-- and his tongue thick was buried a hunnid miles deep in the Katy poon. "Am I fighting Beckman and Omega or MC Hammer and Vanilla ICE? I would tell these jibbah jabbahs to get a grip on reality but they'd just start blastin dat 'U Can't Touch Dis' junk while doin' the Runnin' Man." Cairo flashed that HAHD style cunnilingus scowl as he wore Katy for a Revolutionary Style Facemask. "I'm just so fukkin glad that I finally get to rip their heads off on some Strongman Lariat from Poon Guinea-shit at XIII. I really-- I can't even tell you vagina traps how glad I'm gonna be to get this shit over with.
"It's like, at first? I didn't even think much about this match. It seemed like something to do to fill out my Dub See Eff'emAll bookin' schedule. But then? I was legitimately bemused. It's like 'Dis da best Dub has to offer in the Two-Kay-Fifteen? Naw nigguh fukk dat!' I wanted to change the booking to scrap Omega and Beckman from Thirteenz and promote Kaz and Odin to that main event spot that they deserved, butt see--" Riri flashed her anus and shoved it onto that Godfather thick that she was simultaneously suckling from. "Oohh yeaa baby dats dat spot. See, I'd already ordered the promotional materials for Thirteen with Beckman and Meggerz, and there's no refunds on them joints.
"What can I say? I'm a Jew-- I don't like to waste my rubles, ya know?" Riri nodded her Barbadian cranium as she waxed philosophical on that GawdFadduh thickness tip with both lip and ass poon dip. GawdFadduh-DAMN that sheet felt good. The First Lady was gonna catch a load, that was fo sho, and she knew it too. That was the craziness of the bitch. She rather drown in a CUMphoon of chillenz than live without.
GodDaddy comported the thick and continued his ASSailment of such opponents that were unworthy to perform these deeds of Poontacular servitude. "Now though, these nigguhs is pissin me off. It's like-- I want fighters in that ring across from me. I want dudes who gonna be live underdogs. Like I said-- gimme real niggaz wit big dicks any damn day. Put Orbit in the ring with me. Jonny Fly. Even Jeffrey Purse. At least they'll try. They're not gonna beat me-- but they're not gonna lay down and die furr me neither. Sheet, even these poons that service me bring it HAHDA dan deez nigs-- you think Riri gonna lay down and die? My First Lady Rihanna has defeated me inside of this squared bedroom circle jerk for that Motel 6 Bedroom Star Openweight Championship more times than the whole of the Dub See Eff roster throughout HIS-story has beaten a Bobbeh Kyy-rew."
Rihanna nodded her head and her ass clappah in affirmation, the respective motions of which temporarily caused Bobby to leave his physical plane in a bout of ASStral projection. Like we said-- bitch was good at her job. Da bess, yo.
"That's real talk, on the up and up, my nigguh." Bobby cum-firmed. "Hash-tag that shit. Print it up on a tee shirt. It's real talk. It tells me that a black immigrant woman has more gusto and fortitude than a pair of crackahz who was born with silver spoon in mouth, with Caucasian privilege run amok up in dis muddafukka to boot. And maybe that's the point? Maybe I just gotta beat some sense into ya. Maybe I gotta reformulate them brainiums inside ya craniums to make you stop lookin' for the hand-out, to make you stop lookin' for the hand-job, to make you stop lookin' for the Worldz Title condom strapped around my tongue thick that y'all ain't in any kinda position to stake a claim to in the first GawdFadduhDamn place. Now ain't that somethin' about a bitch named Chelsea?"
Cairo smiled that supremely smug and satisfied grin of Semitic origin whilst wearing the Katy Poon as a handlebar mustache. "See, and that's the most poignant portion of my diatribe because it hits the nail on the head so succinctly. What this match is really about at the end of the day-- and Omega, I know your country is going through hard times right now. You're being attacked by the Amurrican gubberment, just as Poon Guinea is being attacked by a Baron Salami. Butt I really need ya to focus. I need you to focus on the reason why I booked this match in the first Gawd--"
"FADDUH DAMN PLACE!" Riri and Katy chimed in with their vaginas.
Cairo mused. "Hmm, that's a tee shirt. Anyway, Chelsea's unwashed stank poon is at the heart of this Triple Non-Threat Bout, because think about it: She's sucking the Beckmangina. She's also playing part and parcel to a weak-ass Packtheon form-a-lation. No matter who wins this match she knows she's gettin them blue haired, skinny ass, no tits or bootay havin, psycho whore bitch clutches on the Dub See Eff Champ-Yun-Ship... unless the only probable outCUM transpires, and that's--"
"DAT /AWWWWW KYYYYYYY ROOOOOOW OUTTA NO-WYAH!!" Riri and Katy once again chimed in with their vaginas.
Cairo bit his bottom lip whilst still servicing the Katy poon and being serviced in his own right by the Riri mouth and ass poons. "Just a critique? You bitches is gettin a lil mouthy. Now, I'll accept that from Riri because when she's mouthy it means she's suckin on a brudduh's thick. But you, Katy? Y'all gettin them vagina flaps muddered by a tongue thick. Ya ain't even puttin in work yet."
"Butt Bobby!" Katy dropped to her poon-knees (ponies? LMAO) and begged for a more lenient verdict from the Judge, Jury and Exe-CUMMIN-In-Hurr. "You gotz dat poongina fetish and such--"
"OK! OK!" Bobby wavered such things as being condemned to secrecy. "Gotz damn, girl. Ain't errbody on Planet PoonEarth gotta be hearin' about Bobby Cairo's fetishes, knowing the weak points to strike him at and such. Next thing ya know, girlz gonna be wearing them TMNT knee high socks and-- uhh, I mean, I'm not into such things. Fuck that went out live, didn't it? Fukkin, goddamn it, why'd I drink that last bathtub full of Poonglourious Moonshine? Butt the point-- the point I'm tryna make before you vaginas keep double teamin my thick shit and makin me lose my tranny thought, is that I booked this match primarily because I wanted to tease Chelsea. Yeah. I never liked the bitch."
Cairo Jewshrugged like Atlas on an Ayn Rand tip. "Chelsea, I don't like ya. To me, you're a bottom feeding hood rat. You deserve to get beat down by a thousand-and-one R-CAIRO's. Actually, I think I've already dealt that to ya because I beat cha at WAR, then again at Hellimination, then again at Slam during midterm election week, then again at Timebomb when I snatched the Worlds Championship from your stankin poongina. By the way, did you know I had to take this shit to NASA to get it cleaned?" Cairo hoisted the Dub See Eff Worldz Championship upon its petard-- upon his penis. He showcased it for the iDroid that recorded his insane manifesto.

Bobby strapped that Whirleds Peach Cobbler belt around his tongue thick once again as he proceeded to impregnate the Katy Poon with a mere hocked loogie of disgust. "Chelsea, you so much a whore that you make Lindsay Lohan look classy-- and I heard she just joined the Ku Klux Klan-- which apparently is now headquartered at the University of Oklahoma. You got anything to say about that, Good Ol' JR?"
"That damned dastardly Godfather just drove his thick through Rihanna's cranium! No-NO! She's back on her feet-- I mean her knees! Gawd-damn that woman has some resilient knees and Jewbrainium!" Good Ol' JR declared, between bites of barbecued Gila Monster or whatever da fukk dey eat in Oklahoma.
"Thank you, J.R." Cairo posited. "It's always a treat to hear you callin' the action."
Katy's poon beamed with the glow of pregnancy as it continued to hump Cairo's rugged veneer. It spoke. "Bobbuh... guess who's knocked up?"
"no, no NO!" Cairo decried. Ooops. It was too late. Damn shame the same cudd be said bout dat Katy poon too, amirite? "More mouth poons to feed. More child support payments to make. We only gots a trillion in dat humanitarian aid to spare, babygurl! Have a HAHT!"
The Katy poon flashed her troll face as she further teased the Cairo tongue thick. "Don't lay them lines on me, Bobbuh. You knocked up Riri. You knocked up Vida. Now you knocked me up. Don't shoot cha goo if ya don't wanna pay da poon! Hehe."
What a HAHTless bitch that Katy poon was. Still, Bobby had knocked her up and now that the deed was done he was gonna get his money's worth. The iDroid was shuttered. The Katy poon? It was shuddered. There was a Poon Guinean earthquake run amok in dis muddafukk, the likes of which would send chills up Baron Samedi's spine-- and none of that preggerz poon was safe. Much like at a XIII pay-per-poon extravaganza in Philadelphia? Bitches bout to get GAWT.
WE OUT
---
Bobby sat at the foot of the poon smashed, king sized sex cell within his HO-TELL suite. The bed, in other words. He sat at the foot of the bed, prison bars surrounding him and all, as his two spent baby mommas snuggled in a cocoon of satisfaction beneath the blankets. Robert was pretty sure that he had dispensed every last droplet of reproductive fluid from within his orifice, and in that moment he felt as though he had achieved his greatest masterpiece. I mean, Worlds Championships were great, Tag Championships were great, electoral victories were great, but do you know what was really great? Fucking a pregnant bitch that you knocked up in the first place-- and there was two of 'em-- and they still looked good! And them bitches was hungry for the D, yo. Goddamn STAHVIN' for it.
"Maybe I've finally justified the hype," Cairo confided to himself as he massaged his cock and ball-sack beneath the confines of his leopard skin boxer-briefs. Note that he wasn't masturbating; he was trying to regain the flow of circulation. Them poons done wore his shit da fuck out, yo. "Maybe I've become precisely what I've convinced the world that I am?" Cairo unleashed a gentle yawn as he stretched his limbs, preparing to join Rihanna and Katy in the slumber beneath the covers. "If I am the greatest wrestler of all-time, the greatest leader of all-time, the greatest lover of all-time and the greatest father of all-time, what else is left for me to achieve?"
Cairo stroked his Revolutionary Style Beard with his uberthick Uzbeki clobbering paws. "Maybe I should start a funk band? That's what people who are really good at fucking do, right? Hmm... Orbit's black, he probably plays slap bass or some shit like that. Damn it-- do I have his number? " As Cairo reached for his iDroid from within Rihanna's vagina, there was a knock at the door.
"Now who the fuck could that be?"
Cairo wondered to himself.
Bobby wrapped himself in his legendary golden feathery robe and C-Walked to the door. He popped an eyelid unto the peephole and did a double-take at what he saw.
"Sasha? Malia? Fuck is dem prepubescent bitches doin' here? Wearin' schoolgirl outfits, no less... and at this hour? Oak-Bama's daughters is crazy, yo. Fuck did I get myself into?"
Cairo didn't want to deal with the Oak-Bama Daughters. Not at this hour. Not with everything that he had on his mind. But something compelled him to open the door. Them pleated skirts perhaps? Them TMNT knee high socks perhaps? The burgeoning nigress lip poons perhaps? Whatever it was, Cairo unbolted the door and he opened it. The aroma of cotton candy wafted into the suite, a popular scent among adolescent African-American girls. Cairo knew this due to his... studies. Yes, his 'studies'.
Sasha and Malia walked into the suite. They dropped their schoolbags near the door and slipped out of their patent leather loafers. The allure of those TMNT knee highs... Cairo had to shake himself out of the trance.
Bobby finally broke the silence. "What are you girls doing here?" Perhaps it was a test? Perhaps it was preparation? Perhaps the true triple threat match on this Friday the Thirteenth would be the battle of wills between Robert Cairo and President Oak-Bama's teenaged daughters? Perhaps the girls were playing it coy. They did not respond. Not verbally, not at first. Sasha and Malia made themselves comfortable. They sifted through the wet bar and found themselves a bottle of Hennessy. Malia poured the drinks, as she was the older and -- no doubt -- more experienced of the two. Although, Sasha proved that she was no slouch, rolling up them fat joints with that Poon Guinean kush.
Robert Cairo did not know exactly what he was watching as the girls took their drinks and their weed and plopped down on the Cairomel colored sofa in the lounge area of the suite. Cairo Jewshrugged. This was new. This was weird. Plenty of young women had forced their way into his room before, famished for his uberthick unit. But these girls, the President's daughters, just wanted to get crunk and watch Adult Swim. It was too late-- or early, depending upon your perspective -- to deal with all of this now. Cairo decided that he would go to bed. That's precisely what he would do. He would go to bed and sort through all of this Oak-Bama Daughters weirdness in the morning. Katy and Riri wouldn't wake for days, weeks even. He wouldn't have to worry about explaining the situation to them. Yes. This plan would work, he convinced himself.
Cairo turned toward the bedroom and began to walk away.
"Wait, Bobbuh-- come watch with us," Malia beckoned to The Godfather. She wiggled her knee highs in a pseudo-flirtatious tease. The allure was too much to resist. Cairo plopped his ass down onto the sofa and watched some Robot Chicken, mindful that his robe covered his thick as he did. It did not take long for the girls to place their foot poons in The Godfather's lap. Bobby put his magic fingers to work, digits so thick as the double stuffed Italian sausage, yet nimble and swift like the Kazakhstan Mazakhstan whilst springboarding off the ring ropes.
The girls cooed. Words lilted from their lips like sweet music. "Do you know why we're here, Bobbuh?" Malia proffered.
"We can see the future," Sasha afforded.
"The Future? Do you mean Jeff Purse or Jayson Price? Either way I already seen and dismissed both of they jobbah asses, pardon my Poon Guinea."
"The FEW-chure, Bobbuh." As Malia stated these words, her eyes locked with Bobby's. The Godfather was transfixed-- he was transported. To a different world. The middle of a busy city. During daytime. He was naked. He was surrounded by his chillenz. Logan was there. Oblivion was there. Jay Omega and ICE Beckman were there. Even Joey Flash was there. They looked just like him, too. Bobby chillenz looked just like they GawdDaddy!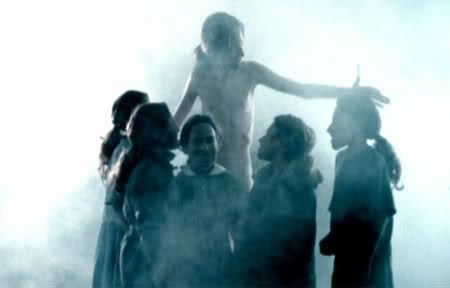 They had long, coal black, linguine-like manes and Revolutionary Style Beards. They wore the traditional Poon Guinea battle robes of gold and black as they marched with their Godfather, marched through the streets of Philadelphia, marched onto XIII, the rockets to Maritopia lighting the sky behind them in a brilliant red hue-- indeed, a brilliant red Jew. Cairo's thick saluted the Old Glory Poon Guinean Flag with its fifty stars and thirteens bars and the hammer and the sickle, the great Bolts Quackenbush whipping the crowd into a frenzy as he waved that shit to and fro for all the thick chicks and poon smashin dicks. Good times. GREAT TIMES. Even Jay and ICE were having a good time walking with their Godfather, despite their rebellious tendencies.
But then, it was over. It was over as soon as Sasha snapped her fingers and brought Bobby back to the present time, back to Friday the Thirteenth, Two-Thousand-and-Fifteen.
"Do you understand, Bobby?" Sasha mused.
Cairo did a double take and contemplated the meaning of what he just witnessed. "That's what can be-- if I make it happen? If I don't let my guard down tonight? If I don't squander this chance to defeat Pantheon and The Vapor Kings in one thick motion of my itchy R-CAIRO finger?"
Sasha smiled. Malia nodded her head. Rihanna and Katy, them baby mommas, snored from the master bedroom.
Robert Cairo shook his head. "Wow. So I actually have to care about this match, after all? Ain't dat a muddafukka?" Bobby's fingers went back to work on them Oak-Bama Daughter foot poons. His brilliant Jew mind churned with notions and schematics. As Maritopia burned, so too would Philadelphia. They would all feel the wrath of Poon Guinean Hell unleashed, the sins of The Godfather delivered upon his chillenz. He knew that they would thank him for it. He knew that they would see the light, that brilliant sapphire inferno that raged inside of his eyes. He knew that he would make men out of them all: Logan, Oblivion, Flash, even Beckman and Omega. Sure they would be disappointed. They would all be disappointed in the heat of the moment, but when they were thick in their own right someday in the future, that uberthick future that The GodDaddy had witnessed... the tough love would bear its fruits.
Tough love for dem chillenz in the Riri poon, the Katy poon, and when the timing was right? Them Sasha and Malia poons. You're wellCUM, his chillenz. Tough love... is thick love.
/UR_WELLCUM_INDEED.EXE